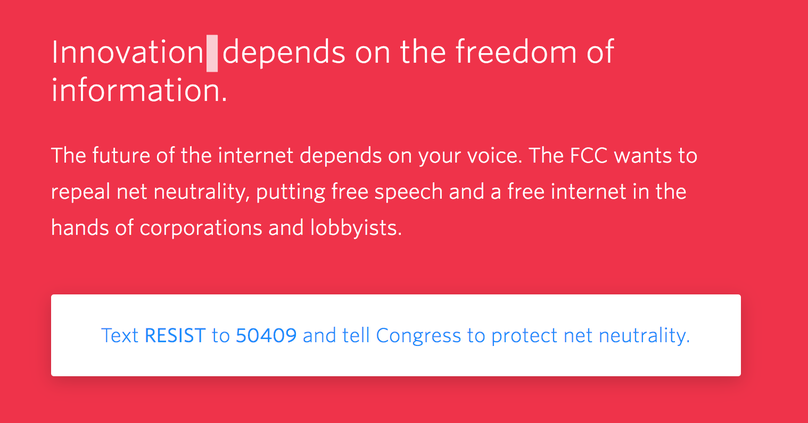 The fight is far from over. Congress needs to hear from innovators and consumers.
Twilio is disappointed in the 3-2 vote by the Federal Communications Commission to rollback the Open Internet Order, which gave internet-based companies the kind of clear, transparent protections needed to innovate and compete free of indiscriminate practices by internet service providers.
Congress should now step in to instruct the FCC to establish clear rules that ensure consumers' communications are not being blocked by providers.
We are proud to power the communications of non-profit organizations helping consumers take action on this issue. Here's what you can do.
Text "RESIST" to 50409
Call 1-844-USA-0234 to be connected to your elected officials.
As a software-based communications platform, Twilio has and continues to strongly support the common sense rules developed under the Open Internet Order. We believe it represents the appropriate legal framework to ensure our ability to support nearly two million software developers, more than 46,000 businesses and more than 1,000 nonprofits and social enterprises.
Without new clear rules from the FCC or Congress, consumers who were protected from anti-competitive behavior will lose out. In fact, this is already happening with text messaging. Each year, wireless carriers routinely block or throttle tens of millions of the legitimate text messages that consumers have opted in and expect to receive.
While today's vote by the FCC is a disappointing setback, the fight to preserve open and accessible communications is far from over.
Twilio will continue to work with Congress, the FCC, and the FTC to provide greater transparency and certainty in communications to ensure our customers get the best possible experience from our innovations.
In response to today's vote Twilio's general counsel Karyn Smith noted, "Today's economy is increasingly driven by communications and online engagement. Preserving access to an open internet is of paramount importance to maintaining competition and fostering innovation. We look forward to working with Congress to enact basic ground rules and a transparent process to enforce them.  They should also direct the FCC to use its authority to ensure that consumers have access to the communications they want to receive."
Congress needs to hear from the innovators and consumers who will be impacted by this decision. Text "RESIST" to 50409, go to https://www.battleforthenet.com/ or call 1-844-USA-0234 to tell your representatives why open and accessible communications matter to you.