A 2019 SIGNAL Conversation on Anti-Spoofing in Voice & Email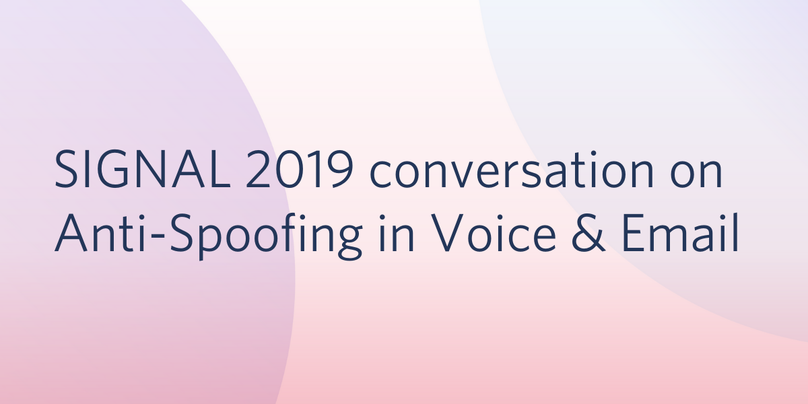 Recently, at Twilio's SIGNAL 2019 Conference in San Francisco my colleague Christer Fahlgren and I had a chance to lead an on stage conversation with those companies and organizations that have played an active role in shaping Internet standards designed to fight calling and email abuse on a massive scale.
The wildly popular adoption and proliferation of email can be credited for helping grow the Internet. The only thing more staggering than the proliferation of email as it ascended to become the provider of the fundamental and most universal digital identifier is the degree to which this open platform framework has been abused. If imitation is the sincerest form of flattery then mass exploits are certainly an acknowledgment of a technology's ability to connect the world.
Email in the early 2000's was like Times Square in the late 70's, a terrifying place. Unsubscribe links were often used as beacons by …
Read More
How Twilio SendGrid Ensures 99.97% of 50B Monthly Emails are Phish-Free
Twilio SendGrid processes over 50 billion emails every month, meaning we touch over half of the world's unique email users on a rolling 90-day basis. With such massive scale and reach, it's imperative that we protect recipients' guarded information and credentials from dangerous phish.
A platform's security and ongoing battle against bad actors only becomes an issue when defenses fail. But open platforms like Twilio SendGrid and other public cloud providers are under attack every day of the year.
In fact, 83% of InfoSec professionals said they experienced a phishing attack in 2018, an increase from 76% in 2017. And with the average cost of a phishing attack for a mid-size company in the neighborhood $1.6 million, it can make or break a business that doesn't have the necessary security protocols in place.
Twilio SendGrid's Inbox Protection Rate measures the success of its compliance efforts to prevent malicious …
Read More