Typography
Typography is a nuanced craft. When all the elements are aligned, ideas are clearer, paragraphs are easier to read, and pages are more scannable. Our brand font is Whitney. It was originally designed as the proprietary typeface of the Whitney Museum in New York. It is beautiful and functional at all scales.
---
Font stack
Note
We no longer use Knockout for any brand communications.
---
Usage
We use Whitney Book for all body copy and Whitney Medium for headers. Additional weights of Whitney may be used where appropriate. Visit the Whitney website for good tips on how best to use Whitney.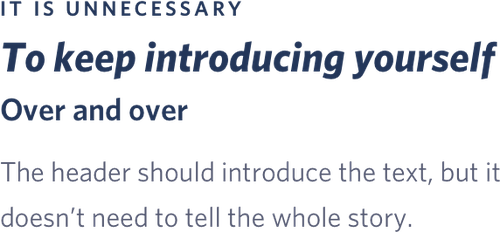 ---
Presentation and email fonts
Font choices in sharable documents like Google Slides and in emails are limited.  In both of these cases we use Helvetica Neue as a substitute for Whitney. These are the only places that we use a font other than Whitney for brand messaging. Helvetica Neue is available as a system font on your computer. 
---
Code snippets
Stay tuned! Styles are in development.
---
International
Whitney supports the Greek, Cyrillic, as well as the Roman alphabet. However, for other languages we have chosen fonts that pair well with Whitney. If you need font support for a language that is not included here, please contact the brand team.
Japanese
Korean
Traditional Chinese
Simplified Chinese
Accessibility and typography
We are committed to following AA standard contrast ratios. Consider the scale and weight of the font as well as the background contrast.
Check your font accessibility
Type virtues
Keep it simple.
Give your typography room to breathe.
Use fewer fonts.
Use sentence case.

Make your lines 55-75 characters long.
Type crimes
Never distort or compress a typeface.

Never use Whitney Condensed or Fira for body copy.

Do not use all caps for main headers.