Illustration usage
Illustration is a powerful tool that can make complex ideas emotionally resonant and visually unify diverse assets. It is important to understand how to appropriately use illustration and when to choose different illustration styles that are part of our brand standards.
---
Hero illustrations
Our hero illustration style is bold, elegant, and whimsical. It is a visual representation of our Brand Values. Hero illustrations help communicate essential Twilio messages and are often paired with a product or category launch or campaign. We use these illustrations consistently and repeatedly to help reinforce the meaning of the illustration in the mind of our customers.
---
What's the big idea?
The core message must be established before the illustration is created. This big idea helps inform the illustration, which, in turn reinforces and spreads the big idea further. It is important to bear in mind that an illustration does not need to be a literal representation of the product or message. Like the accompanying headline, it succeeds when it communicates the high-level value we offer to our customers in a memorable way.
---
Consistency is key
To maximize awareness, illustrations are coordinated across the website, digital campaigns, content marketing, and events. The illustration generally appears in full on our website. To best conform to other media, the illustration may be deconstructed or modified at the discretion of the designer.
Consider the context
Always consider what type of information you are trying to convey and what level of engagement you can expect from your audience. This understanding will help you determine whether you need to use a more specific and technical illustration or an illustration that is more about emotionally conveying a big idea.
---
---
---
Website illustrations
Products
Promote the human side of technology
Tell a compelling story
Make the product itself central
Use iconic imagery when possible
Use simplified and abstracted interfaces
Features
Be clear
Turn down the whimsy to low
Keep it simple
Solutions
Use the style of the hero illustrations
Focus on a simple, fun, and memorable concept
Be evocative rather than literal
Feature people succeeding in novel ways
Use cases
Use simplified but familiar UI components
Tell a story that is relatable to our customer
Show how Twilio technology is embedded in the best customer experiences
Turn down the whimsy, but give a little wink
Sprinkle in one or two illustrative elements like freelines or shapes
---
Event illustration
Generally, event illustration style aligns with hero illustrations
Illustrative elements may be deconstructed to fill space and create texture
In specific cases an event style may align with a large campaign style
Illustrations should align conceptually with core event messaging
SIGNAL has its own style
TKO has its own style
What about SIGNAL and TKO?
Some large events, like SIGNAL and TKO, have unique brands and illustration styles. These styles are updated every year and may or may not include the illustration styles documented on this page.
---
Campaign illustration
Campaigns are specific messaging run for a specific amount of time centered around a specific goal. Often a visual identity and messaging toolkit are put together to align with the campaign strategy. Unless your messaging and goals align with the campaign, always use the core brand identity.
Awareness campaigns and industry marketing
This is general advertising that is not associated with an existing campaign or event.
Use hero illustration style
The illustration should reinforce the message in the headline
Do not use UI cloud illustrations
Do not use free or paid stock illustrations
Report campaign
Includes ebooks and State of Customer Engagement Reports, among others.
Illustration must align with the style of the report
Illustration may appear within a mockup of the report
Do not use free or paid stock illustrations in campaigns
Brand campaign
Brand campaigns are tied to a specific business objective.
Large campaigns may either have a unique visual style or align closely with hero illustrations
Visually, campaigns must be internally consistent
Keep it simple, a complex story or concept will get lost
Boil it down to one idea and make sure that that idea sings
If you need unique illustrations, remember to budget for the art
Do not use free or paid stock illustrations in campaigns
Event campaign
Includes SIGNAL, Engage, Webinars, and Twitch.
The style of event campaign illustration must align with the event visual identity
Do not use free or paid stock illustrations
---
Ebook illustration
Use the hero illustration style on covers and in internal spreads where appropriate
Use simple techniques like scale, repetition, and color to tell a story related to the title of the ebook
Do not use free or stock illustrations
---
Office illustration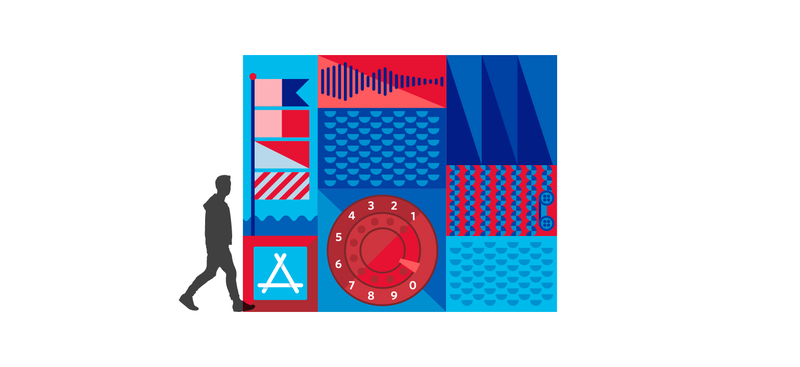 All illustrations should contribute to the larger "Museum of Telephony" theme of our offices
Stylistic liberties may be taken at the discretion of the designer
Must align with the Twilio Brand Personality
Create a unique environment for employees
Generally, avoid using hero illustration style
Use the extended brand color palette
---
Editorial illustration
Treat editorial content like The Current and The State of Customer Engagement Report like a magazine
Styles should be carefully curated, but not strictly related
Avoid using hero illustration style
Use styles or hire artists that complement the hero illustration style
Be evocative in illustrating the concept
Tell the story emotionally, not necessarily literally
Must align with the Twilio Brand Personality
Make use of the extended brand color palette, but be restrained
Feature Twilio Red
---
Internal brand illustration
Designers may choose to use hero illustrations or create unique illustrations
Consider the stage of an employee's relationship with the Twilio brand
Align illustrations with Twilio values
Be engaging and evocative
This is the only time that it is appropriate to depict an owl in relation to Twilio
---
Console illustrations
Hero illustrations are used occasionally in the Twilio Console to maintain a consistent brand presence.
Primarily useful at key moments of success or failure
Uses the hero style illustration
Not necessary to display throughout the console environment