Twilio Changelog
Additions and changes to the Twilio platform
Twilio customers sending messages via US A2P 10DLC can now log into Twilio Console - Trust Hub - A2P Messaging to check whether they have been incurring penalty fees from sending unregistered message segments.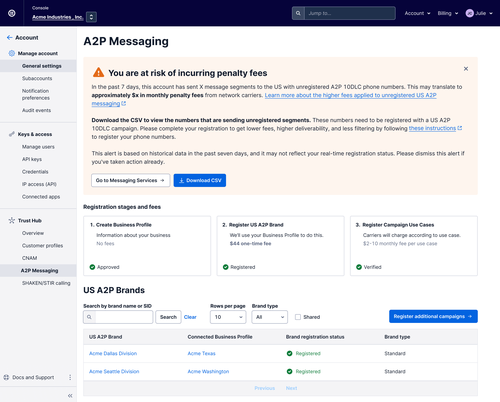 Unregistered segments incur penalty fees at ~$1-3 USD per thousand segments as they have higher per-message carrier fees than registered segments. In this banner, we have calculated an approximate monthly penalty fee you're at risk for based on your traffic pattern in the past seven days to provide you with greater visibility.
To avoid these fees, please first make sure you've completed your A2P Brand and Campaign registration; direct customers can follow these registration instructions, and ISV customers can follow these registration instructions. Once you've registered, please download a list of Phone Numbers that have sent unregistered traffic in the past 7 days by clicking on "Download CSV", and add them to a Messaging Service associated with your A2P Campaign. Note that if you are a low volume direct customers sending less than 3,000 segments to the U.S. per day, no action is required from you at this point and you have not been charged any penalty fees. 
Lastly, please note: this analysis is based on historical data in the past seven days. If you've registered for US A2P 10DLC recently, this may not reflect your latest registration status, and please feel free to dismiss this banner by clicking on the "x" on the top right corner.
For more information, please check out our support doc here.
---