Hatch Apprenticeship Program
Building bridges to successful engineering careers
Hatch is a 6‑month software engineering apprenticeship program for underrepresented persons.
Twilio recognizes that an applicant is more than their application. The Hatch program is designed to provide access to software engineering roles for persons with non traditional educational, professional and personal experience.
Hatch ensures apprentices have the resources and on‑the‑job experience they need to grow their careers — without compromising their identity or rounding down their personalities to an expected norm.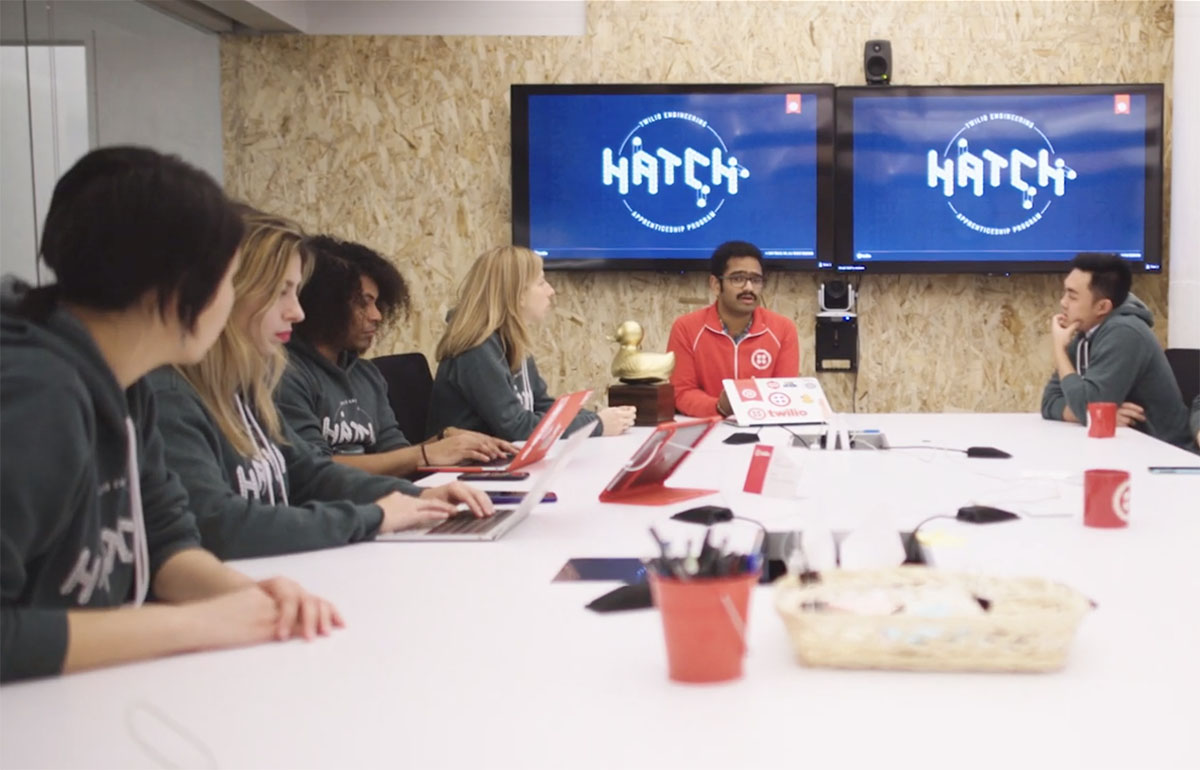 Apprenticeships
Apply to Hatch
Hatch brings small groups together to accomplish large goals.
Each Hatch cohort works together for the first part of the program. After that time, every apprentice pairs with an engineering manager with support from one or more technical mentors.
Our goal is to place Hatch apprentices in full-time positions and get them on a path to senior positions. By 2023, we hope to offer 100 Hatch apprenticeships to bolster our commitment to equity, diversity, and accessibility in software engineering.
Hear from Hatch
Every voice counts. These are the voices of the folks involved in the Hatch program.
Vivek Nair
One of the things that makes me unique is that I have a strong technical background but I've been allowed to flex my interpersonal skills and got the opportunity to launch the Hatch Apprenticeship Program.
Andi Oneto
Hatch provided a safe space to learn and grow at a top tier company. Having the opportunity to work with other engineers allowed me to flourish and I grew tremendously as both a person and an engineer.
Michael Morel
Hatch pushed me into a new level of engineering that I think would have taken much longer elsewhere. The support system they provide is unmatched and the trust they place in you to deliver on projects that matter is empowering.
Allie Glotfelty
I can't imagine kick starting my career as a software engineer in any other way. Hatch gave me the mentorship, confidence, community and skills needed to thrive!
Benjamin Stephens
Hatch was an amazing opportunity to grow and thrive with a group of incredibly talented engineers, in an environment that encourages exploration, experimentation, and ownership.
Jadzia Thomas
Hatch equipped me not only technically and professionally, by surrounding me with mentors who were personally invested in my success, but also with amazing friends for life. I was never alone if I struggled at any point.