Manage and deploy fleets faster using Twilio IoT
Leading micromobility operators connect their vehicles and automate global operations on Twilio IoT's cellular connectivity platform.
Get instant global reach
Twilio gives you instant access to reliable, Tier 1 network connections in over 180 locales, all from one platform. Get up and running in new markets using one universal SIM.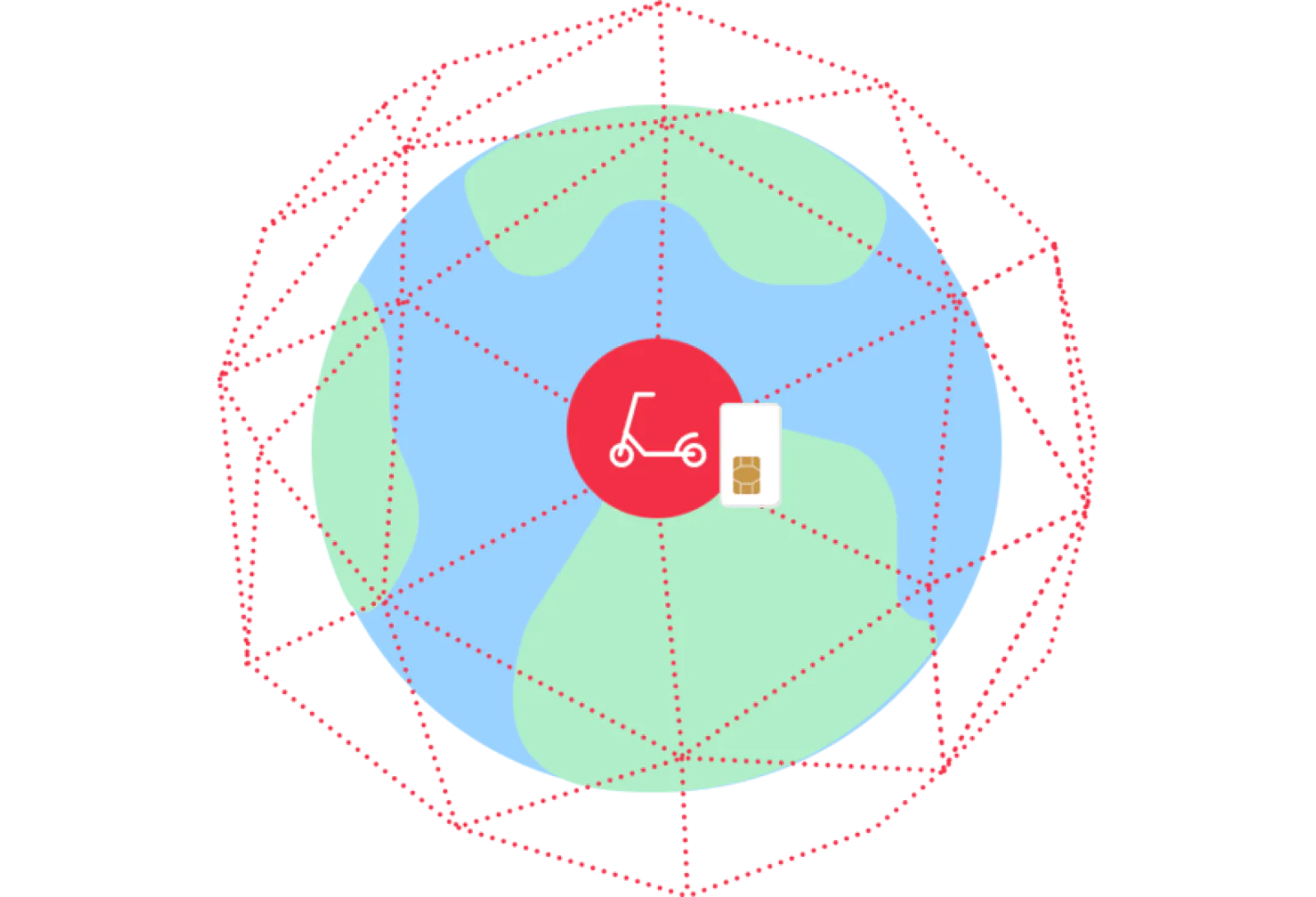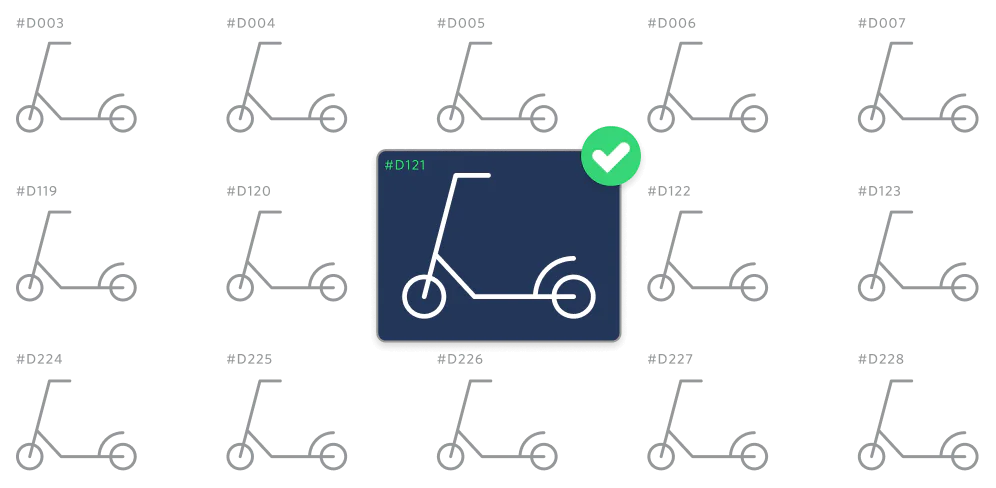 Get to market faster with Twilio IoT
Twilio sends as many SIMs as you need directly to your manufacturer, anywhere in the world, in just five days. Minimize SIM errors while deploying fast with API‑based control over SIM states during manufacturing and shipping.
Keep more vehicles up and running
Control all aspects of your vehicle's SIM lifecycle using APIs. Twilio gives you the power to view your entire fleet and identify any connectivity issues, including SIM theft, so you can keep vehicles on the road.
"Twilio's easy connectivity solution has fueled our 1100% growth in daily average trips."
The Twilio IoT difference
In the micromobility business, the small stuff is critical to your success. Twilio delivers unparalleled connectivity and high API availability, alongside scale and speed. With Twilio, you can win new markets and expand your business.
All‑in‑one communications platform

Use one platform to communicate with users on any channel from WhatsApp to voice, video, email, and SMS.

Reliable API platform

Twilio's base of powerful APIs gives you the tools to build fast and stay up and running. Choose the developer platform with 99.999% API uptime.

Unified billing without the hassle

Using Twilio, you don't have to negotiate rates in different locales with different carriers. Twilio IoT gives you one pay‑as‑you‑go bill for your IoT connectivity.
Developer tools

Cut down your development cycles using intuitive APIs, developer kits, and crystal clear documentation.

Pre‑loaded vehicle identity

Define unique vehicle identity using X.509 certificates built into Twilio SIMs. Authenticate vehicles using your own backend service or any cloud service of your choice.

Verify users at sign‑up

Phone numbers are incredibly hard to fake. Twilio lets you securely authenticate user identity using phone number validation and two‑factor authentication to reduce fraudulent or duplicate sign ups.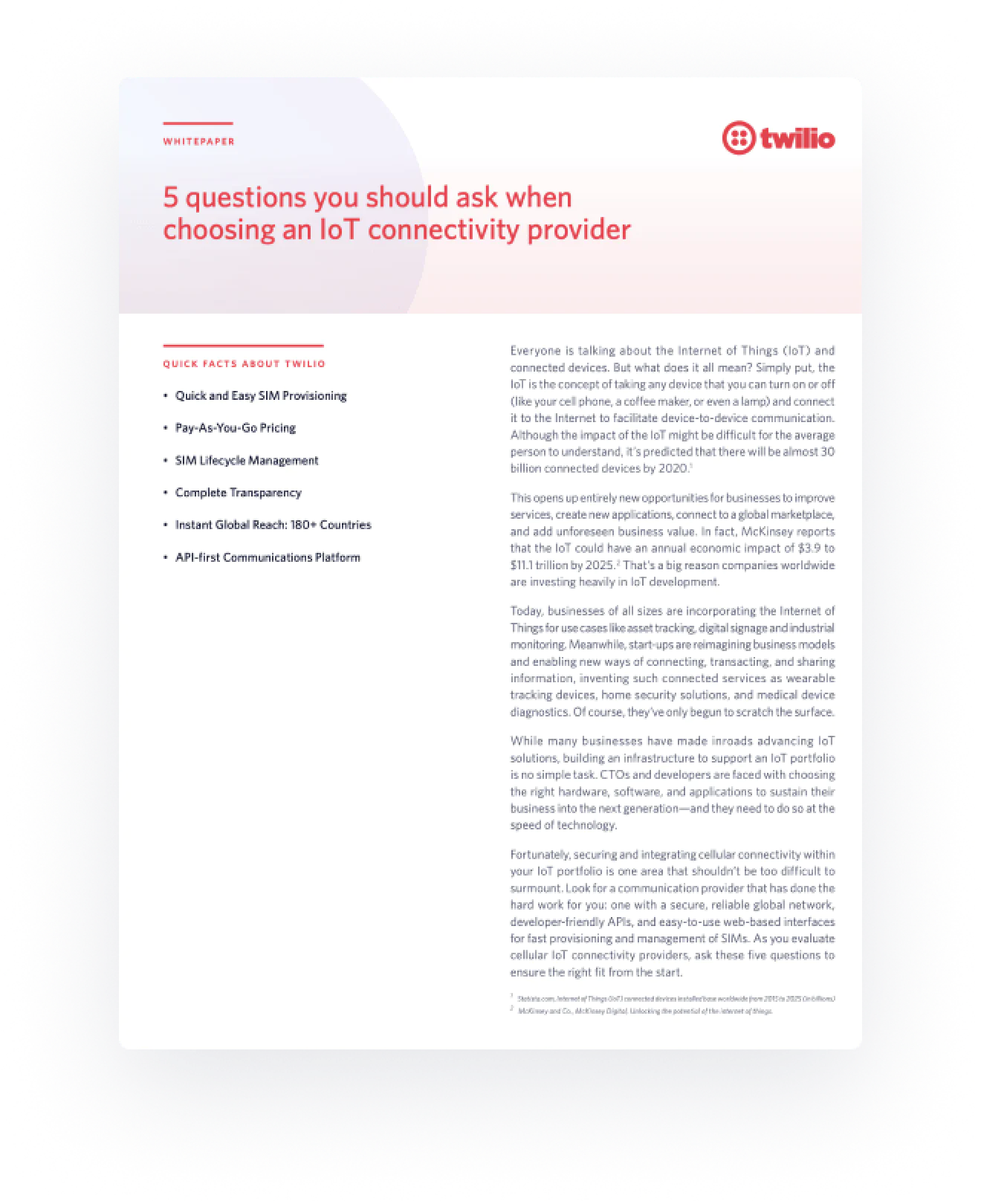 Read the whitepaper
5 Questions to Ask Your IoT Connectivity Provider
In this guide, you'll learn how to determine what the best connectivity option is for your business. Find out what questions you should ask, and what critical capabilities you need.