Build lasting relationships from anywhere
A programmable application for sales teams to securely connect with customers everywhere.
Compliance and user-friendly
features—built-in
Programmable, mobile-first user experience
Twilio Frontline is a pre-built application with customizable workflows that integrates with any CRM or customer database, and is available for both iOS and Android devices.
Built for security and compliance
Use your existing SSO identity provider to authenticate users and manage teams. Maintain control of conversations and contacts with proxied phone numbers that keep personal numbers private.
Employee-friendly UI
Drive sales efficiency and improve customer outcomes with integrated features like audio notes, message templates, cross-channel SMS and WhatsApp support, Voice, and more.
Build customer relationships,
not an application
Launch quickly with an out-of-the-box solution
Develop custom routing, compliance, and integrations without the need to build and deploy your own application
Support cross-channel messaging and conversational interactions powered by Twilio's next-generation Conversations API
Move seamlessly between messaging and voice conversations with low-latency inbound and outbound calls
Manage data privacy and compliance with SSO authentication and phone number anonymization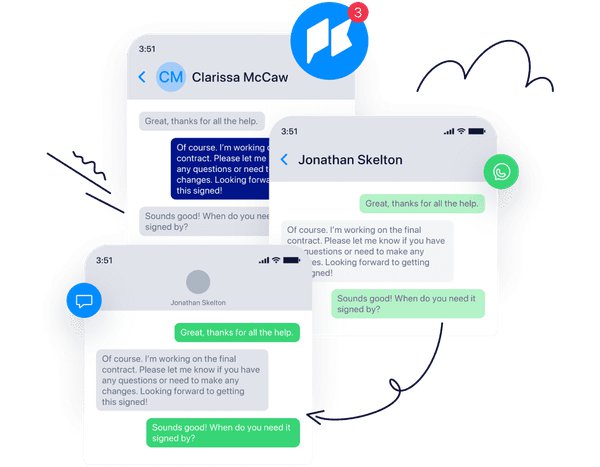 Create a mobile-first experience that drives sales efficiency
Pull in records from your CRM and customize customer profile fields to provide relevant context for employees
Easily connect with customers across digital channels from a single application
Engage customers more effectively across teams with native, in-app transfers
Provide rich, native messaging for more engaging interactions
Track engagement with message delivery status and WhatsApp "read" receipts inline
Add emojis 😀 or any supported MIME type to interactions, including GIFs, images, and audio
Initiate conversations on WhatsApp with integrated Message Templates
Build relationships at your desk or on-the-go
Sales
Route leads to sales teams to build customer relationships, and move prospective customers through the funnel.
Relationship management
Establish a direct line of communication between clients and dedicated employees for ongoing support.
Clienteling
Connect consumers directly to store employees who can provide product information to close or augment a sale.
Pricing
Pay per active seat, per month, based on the number of users who log in to Frontline using your SSO identity provider within a given month.
| Number of seats | Per seat/ month |
| --- | --- |
| 1-5 seats | Free |
| 6+ seats | $20/month |
What is an active seat?
An active seat is an employee or authorized user of the Frontline application who logs in using your SSO identity provider within a given month.