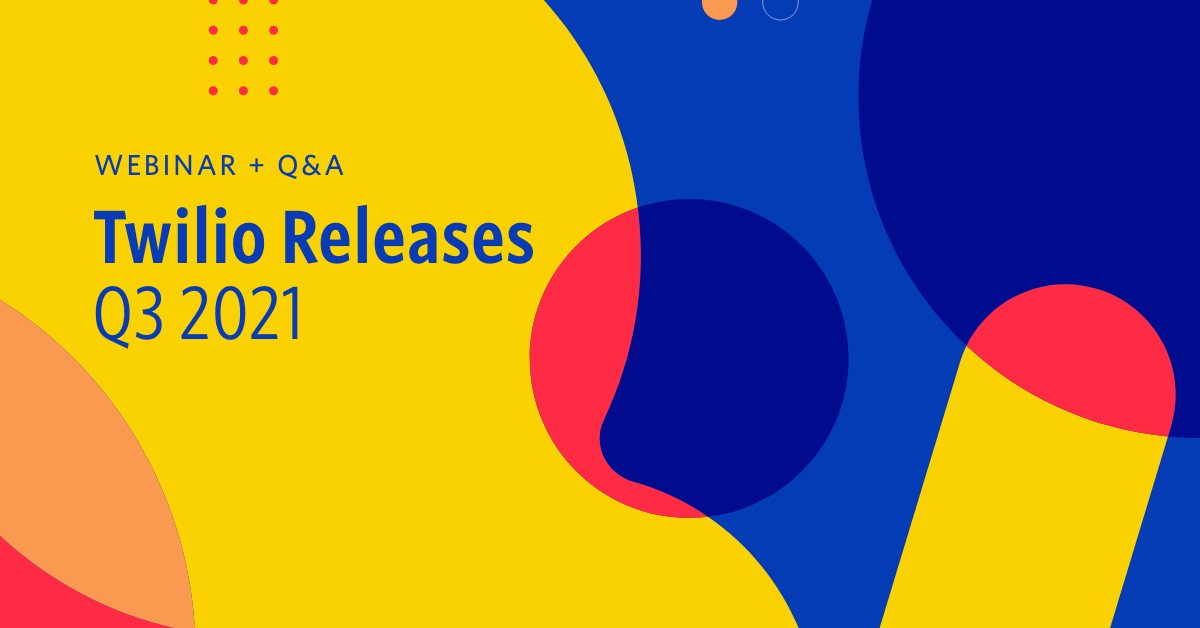 As a developer, you are constantly looking for new ways to develop (and deploy) faster. With so many new features being released, it can be hard to keep up. That's why we've created Twilio Releases -- a quarterly webinar series designed to make it easy for you to stay abreast of the latest APIs, features, and best practices across the Twilio Customer Engagement Platform.
Curated specifically for developers, Twilio's Release Webinars include new releases you don't want to miss, previews of upcoming pilot and beta releases, and lots of live demos -- with free access to code samples from our Developer Evangelists.
Join us for our Q3 Release Webinar on August 10th for the latest across this quarter's themes of Engagement, Connectivity, Workflow Optimization, and Trust. This quarter's demos will include:
Build engaging experiences through video with Twilio Live

Optimize IoT operations with Super SIM Connection in Event Streams

Streamline workflows and empower your teams with WhatsApp Quick Replies



See you there!
Interested in viewing our previous Twilio Releases or want to keep up with the latest? Visit Twilio.com/Releases
Product Marketing Manager, Twilio
Madison is a Product Marketing Manager at Twilio SendGrid, where she evangelizes email as a vehicle for customer engagement. She is passionate about the power of analytics, and leverages data to drive product and GTM strategy. Madison is a MBA graduate from CU Boulder, as well as a University of Michigan alum (go blue). Based in Colorado, you can find Madison hiking, biking, or skiing, usually with her pup Ziggy.
Senior Event Demo Engineer, Twilio
Emily Shenfield brings her background in software engineering, teaching, and theater to her role as a Developer Educator focusing on demo development at Twilio, where she's been happy to find a way to combine those varied passions. Outside of work, she enjoys yelling the answers at the TV during Jeopardy and eating cookies.
Senior Product Marketing Manager,
Segment
Doug is a senior product marketing manager at Segment. During his time at Segment, Doug has focused on new products related to Segment's core platform and integrations. Prior to Segment, Doug worked at Forrester Research for over four years where he spent his time analyzing data and producing research reports that evaluated how businesses could more effectively use data and technology to acquire, serve, and retain their customers.
Twilio Community Champion
Michael Barney is a Brazilian Twilio Champion who is passionate about creatively using technologies. As an expert in chatbots and voicebots, he's traveled the world through his projects and currently works as a UX Developer by day and Youtuber by night.
We'll send you the link to join "Twilio Releases: Q3 2021" webinar and share content and updates about Twilio products as you build the future of communications. We use your information according to our privacy policy. You can update your preferences at any time.
COPYRIGHT © 2021 TWILIO, INC. ALL RIGHTS RESERVED.