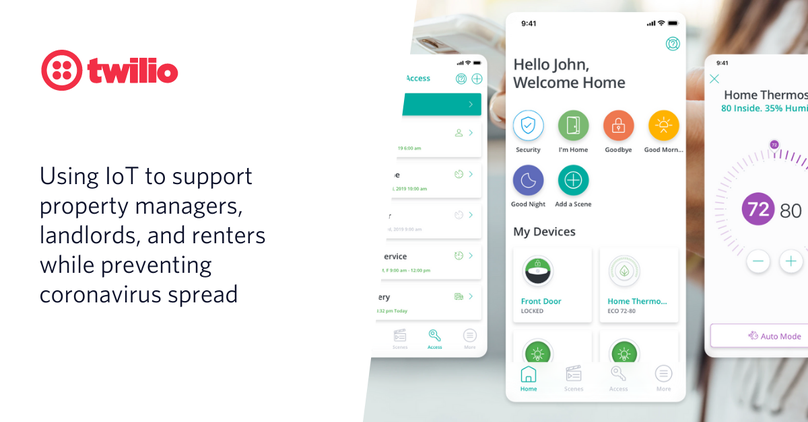 COVID-19 has had an undeniable impact on the real estate industry. Social distancing norms, layoffs, and shifts in demand have sent professionals across all areas of the sector scrambling—but innovators are adapting with tech-driven solutions.
IoT, or the Internet of Things, is already a part of our lives in countless ways. This system of internet-connected devices collects and transfers data through a wireless network, without the need for human involvement. In this fundamental way, IoT is perfectly suited to social distancing, and in the rental industry, innovators like SmartRent are leveraging it to better support their customers.
Despite COVID-19, the rental market is far from stagnant: Renters signed nearly 20 percent more new leases in May 2020 compared to May 2019, according to the RealPage platform. On the commercial side, a May 2020 survey of commercial tenants found 44 percent of respondents were ready to commit to lease an office—only 11 percent of them said they are postponing due to the pandemic.
Those actively looking at properties, though, are risking potential exposure to the virus when they meet with a property manager. To better serve their customers while keeping all involved parties safe, SmartRent uses IoT to make it safer for building managers work while minimizing risk of COVID-19.
We recently spoke to SmartRent's co-founder and chief product officer, Mitch Karren, to learn more; read on for a summary of insights, or listen live in this free webinar, Emerging stronger with IoT in homes and buildings.
---
Founded in 2017, SmartRent leverages IoT to help property managers and residents conduct business. At that time, there were a lot of great solutions for consumers but few had a strong offering for property managers. SmartRent built enterprise software features that help the multifamily, single family, and home builder space become more efficient, protect assets, and provide resident amenities.
SmartRent also manufactures connected hardware and offers construction services. A cellular gateway at each respective property connects sensors throughout the property to offer enhanced living features, such as contactless access for maintenance workers and residents.
To empower property managers and give prospective renters the option to view rentals on their own time, the company also offers self-guided tour functionality, which has been especially useful during a pandemic.
Image Source: SmartRent
Below are some of the key questions live attendees asked in the webinar.
What challenges did you face when you launched your new self-guided tour product during COVID-19?
Karren: In terms of software adoption, we didn't face many challenges; a lot of our customers and prospects were looking for this solution even before COVID hit, so implementation was smooth in that way.
Property managers were quick to adopt it too, because they had to close their offices, which disrupted operations; they needed a way to continue to manage their properties in a socially distant way.
The challenges arose in nuances around which locks are compatible with existing doors; to quickly deploy the hardware, we needed to rely on property staff to confirm compatibility, but with social distancing and timing challenges, that wasn't always possible.
To adapt to this, we shifted our onboarding process to be high-touch but remote, to lessen friction during the actual installation process.
What technology considerations did you take into account?
Karren: We use a variety of technologies, not just in self-guided tours, but in other products, including BLE, or Bluetooth Low Energy technology, LoRa (a low bandwidth technology mostly used for sensors), and WiFi.
In some situations, we ran into issues where cellular coverage was nonexistent, and in those instances we used BLE as it provides a reliable connection to a smartphone.
We used LoRa for long distance communication, as it is great for simple, binary communication so long as you're okay with messages taking a bit longer to transfer.
And we used WiFi devices, but only where a reliable managed network existed; if you want to include cameras and voice assistance to enhance your self-guided tour, WiFi is the way to go.
---
Twilio's Elle Grossenbacher, product marketing manager for IoT: Because WiFi is not always available, many IoT solutions require cellular connectivity. Relying on a big carrier, though, is not a sure bet: IoT solutions are typically deployed in the thousands (and even hundreds of thousands). It's simply not scalable to negotiate rate plans with every carrier of every country you want to operate in. Furthermore, as you scale, product availability will become increasingly important, and cellular connectivity control has a big impact on it.
Using a single powerful SIM (like Super SIM) ensures high-quality cellular connectivity that builders of IoT can use anywhere in the world; that your solution will be both highly available and scalable; and that you'll no longer have to manage any carriers.
SmartRent's use of Twilio Super SIM enables SmartRent's gateways to access the internet via cellular for immediate connectivity. A vast majority of existing apartment buildings do not have a community wide high-speed internet connection. Leveraging the cellular backhaul instead of relying on a local internet connection speeds up activation, especially if no local WiFi connection exists. With the recent addition of the Super SIM, SmartRent has been able to expand further than before to help more than 1,000 communities enable self guided tours since the pandemic started.
Image Source: Emerging Stronger with IoT in homes and buildings; SmartRent + Twilio
---
How are you able to enhance the in-person experience via self-guided tours?
Karren: For one, our solution supports a variety of on/off wall switches and dimmer controls. The property owner and manager can choose how many switches they replace; the more switches, the better experience for the resident and prospect. For the self guided tours, we have an option to let you schedule a scene to run before and after the tour so it can turn the air conditioning and lights on before the tour and shut it all down after to save energy.
Image Source: SmartRent
How do you ensure user privacy?
Karren: We don't share or sell user data, and we safely dispose of personal information. We encrypt data by using the strongest available transport security (TLS 1.3, AES 256 for data at rest).
What property management software do you integrate with?
Karren: We currently integrate with Yardi, Realpage, Entrata and Resman. We have also built integrations with Okta, Azure, and a variety of other 3rd party CRM and access control systems. We have even built a few custom property management system integrations that our clients have built in-house and even have a product and engineering team solely dedicated to building new integrations and supporting existing ones.
The technology sounds incredible, but in light of layoffs and shrinking budgets, who pays? How much does this usually cost?
Karren: If you're talking about the self-guided tour technology or non-unit access control, then it is solely on the landlord to pay for it. For occupied unit technology, landlords usually pay upfront and it is on them to charge the resident directly. That can be through increased rent rates or a separate technology fee. The system for the in-unit technology ranges from $200 - 500 per unit/home or more depending on what devices and functionality you want. Perimeter entry or common area controls can run between $1,500-3,000+ per door or access point.
---
Want to learn more about SmartRent? Visit smartrent.com. Miss the webinar? View the on-demand recording here.
Over the coming months, we'll explore more ways IoT is helping industries respond, adapt, and thrive in light of COVID-19. We'll showcase those findings in our webinar series, Emerging Stronger with IoT.
In this series, IoT builders share how they develop IoT-enabled applications in response to the pandemic, the success they've seen with customers, and how they leveraged Twilio to make it happen. Check out the webinar line-up here.