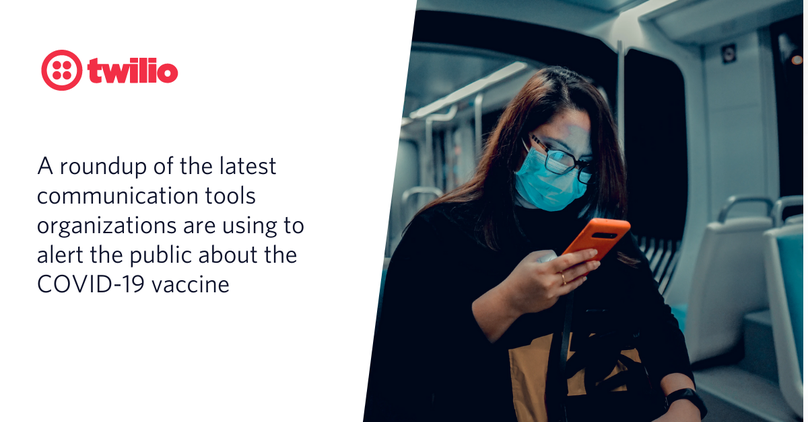 As more news about the availability of the COVID-19 vaccine comes out, having a consistent and trustworthy channel to disseminate that information to the general public is critical.
Below are a few examples of how leading organizations, including the CDC, are sharing vaccine facts with individuals using a combination of alerts and notifications on a variety of channels.
Enabling SMS notifications
One of the most popular approaches to alerting the public about vaccine readiness and preparedness is SMS message communication. It's one of the most seamless and straightforward channels to keep patients in the loop about next steps.
The CDC is leading the way, with two different patient communication tools that use a combination of web surveys and SMS:
V-safe, a mobile-based tool, lets patients provide personalized health updates post-vaccination and sends follow up reminders to get their second COVID-19 vaccination if they need one.
The tool uses a combination of SMS and web surveys and allows a patient to let the CDC know if they experience any side effects after receiving the COVID-19 vaccine. From there, the CDC can call a patient directly to get more information on those symptoms. In this way, it serves as an open platform for patient communication as well as data collection on the vaccine to help the CDC make sure there are no concerning side effects.
The second CDC SMS tool, VaxText, is a free text platform that providers can offer to patients for easy appointment reminders for their second vaccination dose. It also serves as an awareness tool to remind patients to sign up for V-safe and update the CDC about their health post-shot.
Reach out to a chatbot
For individuals looking for communication beyond reminder texts, healthcare communications provider QliqSOFT is creating a COVID-19 vaccine chatbot, available to community hospitals sometime in early 2021.
The COVID-19 Vaccine Assistant chatbot will provide several useful features to patients, including an easy self-serve FAQ option to learn more about the new vaccine from a trusted singular location through text and video. It can also aid in scheduling their vaccination appointments, and even connect patients with rideshare services to get to those appointments.
After the patient has gotten their first vaccine, the chatbot will send reminder notifications and update patient records to show they have been vaccinated.
Once the chatbot has been released, it will also be completely customizable for each provider to update based on their patient population, so they can personalize everything from branding and logos to including bus schedules instead of rideshare services.
Chatbots have been particularly useful during COVID-19 to disseminate information and help patients and the general public quickly access the facts while alleviating hysteria.
Sign up for email alerts
Many organizations are communicating with their patients via email for long-form awareness content, and to alert patients as to when the vaccine will be available.
On both a state-level, as well as within individual healthcare systems, government and health org websites offer communication notifications to learn more via email once you are signed up within their portal.
This two-fold strategy serves as a record keeper for organizations to know which patients have gotten their vaccine, but also a way to share the most recent news in a space that's most convenient for the reader. John Hopkins has been doing this since March, as a way to share the latest data on COVID-19 and most recently, the vaccine as well. The content is bulleted and only shares the biggest headlines and most important links on a weekly basis.
Secure your communication
While these tools and platforms are certainly useful for patients and the greater public to receive the newest info on the vaccine and when they can receive it, it's never been more important to secure the data that's being sent to them.
Cybersecurity experts warn that as the public eagerly awaits their opportunity to receive the vaccine, the likelihood of scamming via email and text messaging will also increase. Alongside giving patients the ability to sign up for SMS and email alerts, providers also need to make sure their patients are aware of the potential for fraudulent communication and speak to the security measures in place to alleviate those concerns.
In lieu of this, several organizations and companies are working to help crack down on fake vaccine scams and misinformation. The FDA allows individuals to report a fraudulent product or website here and both Facebook and Instagram have rolled out vaccine-specific notifications as well as the ability to report potential scams on each of their platforms.
We're monitoring the latest on vaccine digital communications and what you can do to keep your customers and patients safe. See communication insights on how organizations are keeping individuals in the loop as global vaccine distribution progresses.