To better understand how COVID-19 and its impacts are affecting customer engagement, we asked 289 Americans distributed across age groups, gender, and regions about their experiences with customer support during these unprecedented global events.
A majority—58.5 percent—required support since the beginning of the pandemic for everything from resolving medical bills to water heater repairs and e-commerce shipments that arrived broken.
The underlying message? Consumers are still looking for timely resolution of issues—and are not always getting it.
---
In a matter of days, every business had to change to embrace social distancing due to COVID-19, which, in many cases, meant moving employees from offices to home offices, bedrooms, or kitchens.
It's unclear what the next chapter holds for many businesses, but what is clear is that consumers are still looking for support and issue resolution.
Embracing this new normal requires businesses provide new tools and technology to support customers and employees. For some, that transition has been challenging: One major bank reported "long wait times if you call us," and major online retailers have turned off phone support in favor of email or SMS-based support. Twitter is awash in complaints and escalations from consumers unable to speak to customer support agents at all.
Let's take a deeper look at what the survey uncovered about customer support in the age of COVID-19.
How are consumers getting support?
In general, consumers said they prefer phone calls (66.8 percent) and email (61.9 percent) as their preferred support channels, with web or in-app chat (39.5 percent) in third.
During the COVID-19 pandemic, consumers are increasingly turning to chat (47.34 percent) to resolve issues, perhaps as more businesses look to add more efficient support channels that allow for employees to field multiple requests at once. Many of these preferences mirror how consumers told us they'd like for businesses to communicate with them—with some notable exceptions.
While consumers are still turning to common channels for support, that doesn't mean they rank them all as delivering an efficient experience. No more than a third of respondents found any channel left them very satisfied.
Those engaging over phone calls and messaging apps reported the highest level of satisfaction (more than 70 percent ranking their experience as 'satisfied' or 'very satisfied'). Website or in-app chat support earned 'dissatisfied' or 'very dissatisfied' marks more than 25 percent of the time.
This shift to remote support has revealed technological challenges or gaps for many businesses, and that often includes channel support. For businesses who embraced emerging support channels, they saw stronger results. Messaging apps like WhatsApp and Facebook Messenger were well-reviewed, particularly among a younger audience, with 70 percent of respondents replied they were satisfied or very satisfied with how their issue was resolved over messaging applications.
Time is of the essence
Regardless of channel, many consumers pointed to two key challenges:
Long wait times, and;
No response at all.
As one respondent (45-60 years old) wrote, "The time it takes to get someone to answer is ridiculous." Some consumers detailed long, multi-day ordeals trying to get in contact with someone for assistance:

"[My] most recent was dealing with my bank and trying to get in touch with someone which took 2-3 hours on hold a day for four days. I wish they would've had it set up so someone could call me back instead of waiting on hold. The fourth day the connection was so poor I waited on hold for 2.5 hours and got disconnected just to have to call back and wait again thus losing my place in line." - 18-29 year old female
Noting the increase in chat usage and increased wait times, we looked at customer satisfaction around time to resolution. Like overall satisfaction, sentiment around time-to-resolution also varies, though messaging apps dominate: 80 percent of respondents were satisfied or very satisfied with the speed of resolution and 59 felt the same about SMS. Of traditional channels (phone, email, chat) voice ranked highest at 59 percent, but still, it was often challenging to get someone on the phone at all.
While consumers consistently found it challenging to contact a company, they were most critical of live channels like voice, video, and chat, where a more immediate response is expected, especially compared to asynchronous channels like SMS/MMS, email, or messaging apps.

This trend—consumer preferences shifting toward conversational messaging—has been long coming, as discussed in the 2020 State of Customer Engagement report. That said, the challenges many businesses are facing with remote workforces and immovable contact centers exposes a new opportunity for messaging-based support.
Offering self-service to improve efficiency
Above all, consumers consistently said they appreciated the opportunity to work with an agent or employee directly whether or not the outcome was as expected. Another piece of that compassion puzzle is offering tools to allow consumers to solve their question in a self-service manner.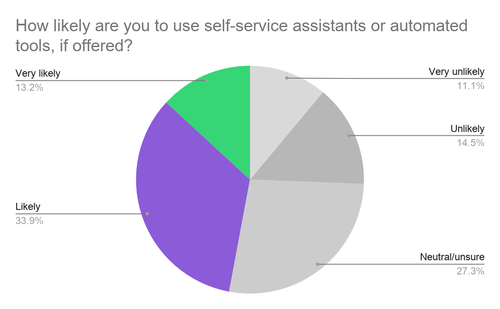 While nearly half of respondents (47 percent) said they were likely or very likely to use self-service tools, only 34 percent said they've actually used them over the course of the pandemic. Not all tasks are suited for self-service or automated assistants, but for common tasks like password resets or order status, there's an opportunity to expand usage. And for companies deploying these tools, there's room to improve efficacy as less than half of respondents were satisfied or very satisfied with their experience.
It's also important to note that bots can be used over many channels, from an intelligent IVR to SMS or webchat-based chat-bot. The insight respondents shared about preferred support channels can help businesses make smart decisions as they plan their self-service strategies.
Opportunities to improve your support
Consumers generally understand there are challenges every company is facing, but that doesn't excuse a lack of responsiveness or support, and that's especially true when they've already made the effort to get in contact with your business. In looking for ways to improve your company's support, consider these strategies:
Proactive beats reactive.
In a previous study, we found only about half (52 percent) of consumers in the US prefer being communicated with more than several times a week. That means every communication matters, so use those opportunities to provide value with timely alerts or proactive notifications. These can help customers stay updated on common questions like "when will my order ship?" or "what are your new hours?" and reduce the number of inbound inquiries. As a bonus, offering a customer the option to reply directly to this update creates a threaded, archivable conversation and can reduce inbound phone calls.
Consumer demographics matter.
It may seem like common sense that only about 6 percent of consumers over 60 would be likely to use SMS for support, but creating an engagement strategy that reflects and incorporates these preferences is another step entirely. Learn more about how preferences shift based on demographics.
Messaging can improve agent efficiency.
It's not uncommon to hear that messaging-based support can improve agent efficiency by increasing the number of customers an agent can assist at one time. After all, a voice call is a one-to-one interaction, whereas a single employee can assist multiple customers over chat or WhatsApp.There are opportunities for every business to expand their asynchronous messaging offerings, and ensure they are highly visible to consumers.
Monitor usage of channels and efficiency and ask your customers what they prefer: 73 percent of consumers told us they're never, rarely, or only occasionally annoyed by business communications. It's likely that if you ask them for their thoughts and preferences, they'll tell you. By making it easier for them to do business with you, you'll nurture a more loyal customer relationship.
We've put together resources to help businesses develop and deploy a successful remote contact center and customer engagement strategy—take a look.

__
See more in our COVID-19 Communications Field Guide. We are committed to helping organizations through this pandemic by reimagining customer engagement:
Twilio Flex, our contact center product, is offering 20,000 free hours per month to organizations helping with direct response through August 31.
We launched a grant round to fund organizations helping at-risk communities recover from COVID-19.
Our team is standing by if you want to connect about technical advice or building solutions together.