A2P 10DLC
Deliver trusted local experiences at scale
The same local messaging experience, verified for greater consumer trust and deliverability.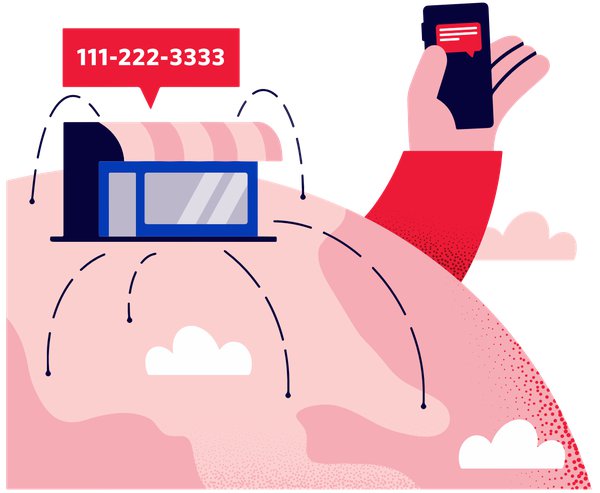 Application-to-person 10-digit long codes (A2P 10DLC) are part of a broader know-your-customer effort to improve consumer trust and the ROI of business messaging. Complete the mandatory registration process to benefit from higher throughput, increased deliverability, and improved customer engagement.
The same local number—
just better
Provide a more personalized customer experience with local numbers
Increase open rates by sending messages with a local 10-digit long code your customers recognize
Use Area Code Geomatch to choose a local number in your Messaging Service
Create a consistent experience by sending messages from the same long code, using Sticky Sender
Find everything for registration requirements in one place: Trust Hub
Register with Trust Hub and apply for KYC initiatives including 10DLC and SHAKEN/STIR
Access Trust Hub in the Twilio Console or via APIs
Handle verification and management in one UI—no need for multiple platforms
Improve messaging deliverability and throughput
Benefit immediately from improved deliverability over A2P routes
Get increased throughput with up to 225 MPS per campaign
Deliver business messages via long code without issue or disruption
Build for today, tomorrow, and the
future of business messaging
Create lasting, trusted relationships with customers
Use Twilio's Trust Hub and APIs to streamline your registration for KYC initiatives like 10DLC and SHAKEN/STIR. Provide the highest level of data protection with HIPAA-compliant products and privacy features like number or message redaction and Advanced Opt-Out.
Build a local experience anywhere in the world
Provide local, compliant messaging with 10DLC, toll-free, short codes, and alphanumeric sender IDs. With over 65,000 local prefixes, you have access to the largest number inventory to reach end users globally. Join the 200,000+ customers that partner with Twilio for powerful connectivity and reliable APIs to support their growth.
Connect reliably with your customers at scale
Twilio has connections across over 1,500 Tier 1 carriers globally. Our intelligent routing algorithm automatically rebalances to optimize traffic based on over 900 million data points daily to get your message delivered to customers at the right time.
A smooth transition to
a verified identity
How can you start sending
messages with 10DLC?
Twilio wants to make it easy for you to do everything on one platform, Trust Hub. It's a centralized place to register your business profiles and SMS campaigns for access to A2P 10DLC messaging.