Fake Twilio API is a simple concept: allow someone to test their application on a version of the Twilio API for free. It also enables testing locally so that you can have callbacks made to your dev version of the application.
To get started, you first create an account which will give you a fake AccountSid and AuthToken. Next you make calls against the API as you normally would, substituting the normal API base URL for the Fake Twilio API base URL and your regular authentication values with the fake AccountSid and AuthToken provided to you. You can then use it as if it were the Twilio API.
The Fake Twilio API is still young, so it doesn't yet provide 100% of the functionality of the real API. Some of the call creating and dealing with "current" calls is still in the works, but the messaging and number provisioning is there.  As well as the listings for most of the different Twilio entities. The project is hosted on GitHub and open to contributions to help complete the functionality.
Fake Twilio API was built by Aaron Frank and was selected as the winner of the Twilio + Python contest. Congratulations Aaron! For his efforts, Aaron has won a Graphite Kindle 3G, a $50 O'Reilly Gift Card and $100 in Twilio credit.
Aaron tells us more about Fake Twilio API:
What's story behind Fake Twilio API?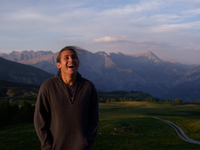 AF: I wanted a way to test locally my Twilio application and do it for free. So I started building a replica for the Twilio API for what I needed.  I think realized that I needed more functionality and started really looking at the Twilio API and how everything is structured and built a lot more of the functionality. So far things are going well, I've covered a good portion of the functionality, but there is still a lot of work to be done.  In the future I'll work on covering whatever APIs Twilio comes up with, particularly the shortcode API when its released.
What technologies did you use to build Fake Twilio API?
AF: The site is built with Python and runs on Google App Engine. I also use jQuery for a console in the web app.
How was the experience of integrating Twilio with your chosen tools and technologies, especially Python?
AF: This has been an in-depth look at how the Twilio API works rather than building something on the API, but its really nice to easily be able to test simply by pointing the Twilio Helper Libraries at my local URL and see if something really works.
---
Want to win a Kindle of your own? We're celebrating our recent SMS price drop with an SMS-themed contest. Get your entries in by this Sunday November 28th for a chance to win!