Latency measurement was standardized in IETF's RFC 2544, based on definitions of latency from RFC 1242. RFC 1242 draws a distinction between store and forward devices and bit forwarding devices, but latency measures from when the last of the data leaves an output to when the first of the data reaches the input. Generally, in IP applications, latency measures the time between when the last piece of data leaves a sender to when the recipient receives the first piece of data.
ping is a utility which sends ICMP ECHO packets to measure network performance. In its most commonly used implementation, ping will send ECHO packets and receive ECHO REPLY packets. ping then rolls up results to calculate statistics related to round-trip times.
Although closely related to latency (especially when routing or network latency dominates), ping is slightly different. On top of taking two trips through the network, there is also some compute time involved for the recipient to receive and process the ECHO packet and to send an ECHO REPLY. However, ping often gives an excellent estimate of latency and can be used to diagnose or identify many latency issues.
In many cases, network effects cause the largest increase in latency. Although physical distance matters, the actual routes taken by packets in a session may be much longer. Take, for instance, the following example:
Two participants are both on the equator, 1,000 miles apart in a straight line.

Their communications path is through a satellite in Geosynchronous (more accurately Geostationary) Orbit exactly bisecting the two, 22,236 miles above earth. Rounding off, the path from A or B to the Satellite is 22,273 miles.

It takes light about 119.6 ms to travel that distance, so if the satellite takes 2 ms to process packets, the minimum one-way latency added by the route is 241.2 milliseconds!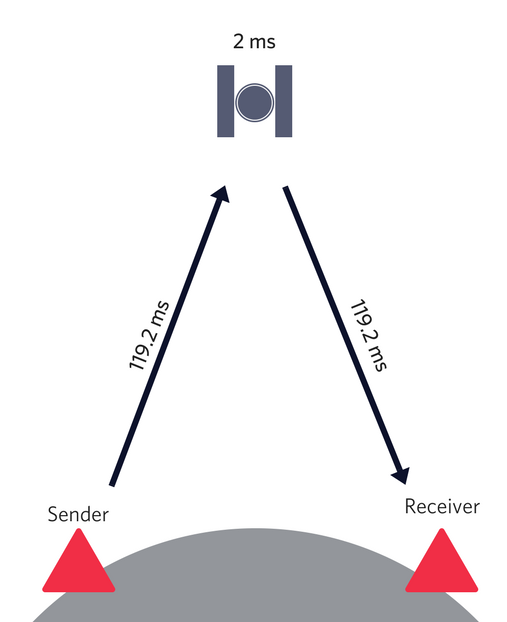 Compare a satellite route with a wired connection around the curve of the earth, which would be around 1,003 miles long at a minimum.
Routing paths can cause a significant increase in latency, as seen in this example. The effect of this latency is often seen in television interviews and talks given via satellite; there is an obvious delay between parties talking.