Webhooks - URLs you expose to handle callbacks - are pivotal to harnessing the power of Twilio in your web application.  A powerful concept, webhooks also happen to be very easy to create in your ASP.NET MVC Project.  We'll prove it - let's expose some webhooks in ASP.NET MVC and receive some text messages!
For one webhook example, when receiving an SMS (text) message, Twilio will call your application with data describing the incoming message. The same process applies for Programmable Voice, Programmable Chat, Programmable Video, and the other Twilio APIs.
This guide will walk you through setting up a basic project for handling incoming webhook requests in your project. The screenshots in the steps shown were made with Visual Studio 2015, but the process is much the same in Visual Studio 2013 and 2017.
Create a new ASP.NET MVC project that can handle incoming requests from Twilio. Open up Visual Studio and select File… New Project. Find the ASP.NET Web Application template for C# as shown here:
Name the project and solution to suit your needs.
After clicking OK, you will be prompted for the ASP.NET Project details:
An "Empty" project is all you need if you will only be handling webhook requests, but be sure to select the MVC option for adding folders and core references. Finally, select "Host in the cloud" if you want to be able to easily publish your app to Azure. Twilio will need a publicly reachable URL to which to send requests and hosting in Azure fits this bill.
If you select the option to host in Azure, the next dialog to pop up will be the Azure Web App Settings: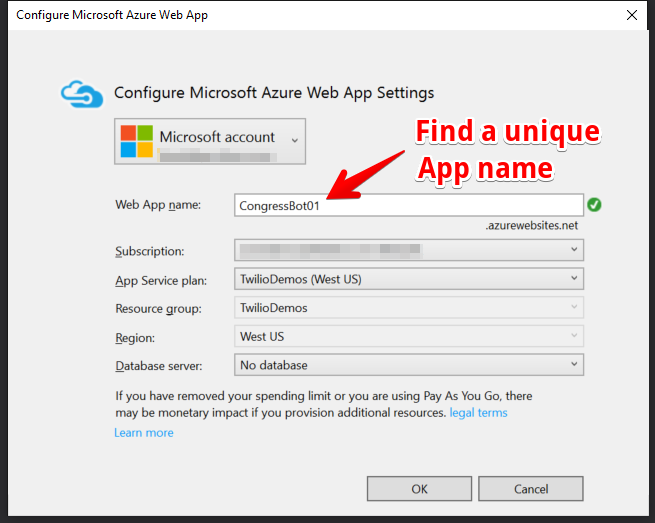 At this point you will need to login to your Microsoft Azure subscription. Once you're logged in, you must enter a Web App name that will be globally unique (you will get a green checkmark once you've selected a unique name). Keep track of that name for later, as it will be part of the URL for your webhook.
You will likely need to create a new App Service plan and Resource group, unless you've already been deploying your own Web Apps to Azure. You can select whatever Region you like and a Database server based on whether you will need one for your app. If you will just be calling other API's, then you likely do not need one.
Once you click OK, Visual Studio will create your new project and publish your app to Azure. You will know it is complete by looking at the "Azure App Service Activity" tab in Visual Studio: