Phone Verification is an important, high-confidence step in a registration flow to verify that a user has the device they claim to have. Adding Twilio Verify phone verification to your application will greatly reduce your number of fraudulent registrations and protect future application users from having their numbers registered by scammers.
This quickstart guides you through creating a Ruby, Rails and AngularJS app that requires a phone verification step to create an account. Two channels of Phone Verification are demoed:
Ready to add phone verification to a demo app? Enter stage left!
Either sign up for a free Twilio trial, or sign into an existing Twilio account.
Once logged in, visit the Authy Console. Click on the red 'Create New Aplication' (or big red plus ('+') if you already created one) to create a new Authy application then name it something memorable.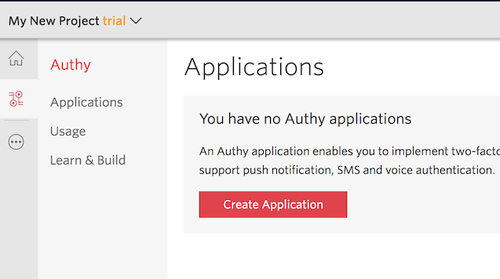 Twilio will redirect you to the Settings page next:
Click the eyeball icon to reveal your Production API Key, and copy it somewhere safe. You will use the API Key during the application setup step below.
Start by cloning our Ruby on Rails repository. Enter the directory and use bundle to install all of our dependencies:
Open the file config/application.example.yml
Change ACCOUNT_SECURITY_API_KEY to the API Key from the above step
Now, save the file as config/application.yml
If your file is saved as config/application.yml, the server will load it automatically as it starts up.