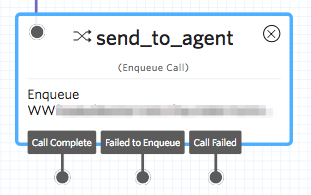 Description:
Enqueue Call enqueues the current call into a call queue. The caller will hear hold music until the call is dequeued by another caller.
Required Configuration:
You must select a Queue or TaskRouter Task when configuring this Widget. The choice may be selected from a dropdown, with additional configuration fields appearing based on the selection.
| | |
| --- | --- |
| Name | Description |
| Queue Name | The name of the Queue to place the call into (e.g. "Everyone"). If this Queue doesn't exist, it will be created on demand. Max length of 64 characters. |
| Workflow SID | The desired Workflow ID for handling the TaskRouter Task. |
Optional Configuration:
You may optionally decide to declare task attributes, priority, timeout, and a hold music TwiML URL for the request initiated by this Widget.
| | |
| --- | --- |
| Name | Description |
| Task Attributes | JSON representing task attributes (max 1024 characters) |
| Priority | The priority of this task in the TaskQueue. Tasks with a higher priority are assigned before older tasks with a lower priority. If not specified, will be treated as 0 during evaluation. |
| Timeout | The number of seconds you want the task to remain in this TaskQueue. Must be a positive integer < 2 weeks in seconds. If not specified, defaults to infinity. |
| Hold Music TwiML URL | The URL for custom hold music TwiML. If not specified, the default hold music will play upon enqueue. |
Transitions:
Need some help?
We all do sometimes; code is hard. Get help now from our support team, or lean on the wisdom of the crowd browsing the Twilio tag on Stack Overflow.