Twilio Startups Founder Interview Series | TS7: Felix Gray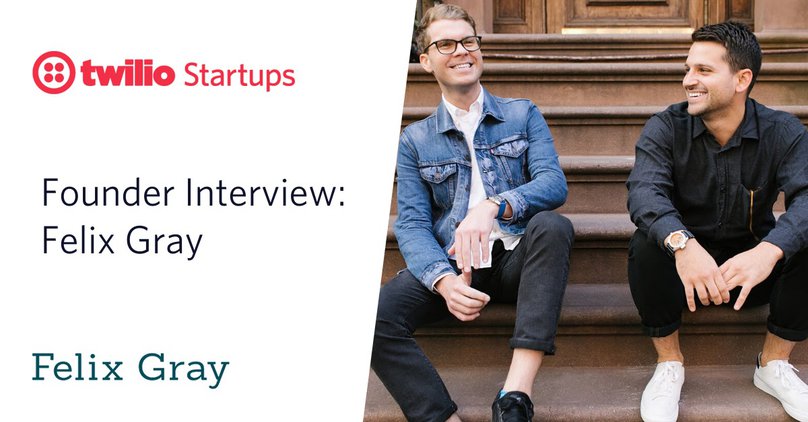 Welcome to the Twilio Startups 7 (TS7, for short) where we feature exciting founders from around the world to share their inspiring entrepreneurial journeys through seven quickfire questions. Today we would like to introduce you to David Roger and Chris Benedict of Felix Gray. Read on to learn more about their path from finance and technology to founding an eyewear brand with a mission to make people happy. Check out their tips for raising venture capital, creating a successful partnership campaign, building a mindful company culture, and managing work-life balance, all while running a high-growth startup.
From the founders of Felix Gray
We reached out to Felix Gray to get insight into how they run their business and what they've learned as entrepreneurs.
Describe your company in 160 …
Read More
Meet the Twilio Startups Team
We're excited to introduce you to our Twilio Startups team! If you're a startup founder, you've probably bumped into one of us at an event, workshop or conference. Our mission is to serve startup founders all over the world through education, mentoring, and introductions. Feel free to reach out to us with questions, or apply to join the Twilio Startups Program.
 Meet the Team
Tony Blank, Director of Twilio Startups
Twitter: @thetonyblank
Location: Denver, Colorado
Tony is a noted speaker at industry events and has delivered hundreds of workshops, mentor sessions, and speaking engagements to help startups grow. Previously, Tony led the startup program at SendGrid, supporting a world-class team, helping over 5,000 startups find product/market fit and grow their first customers. Tony also draws on his technical expertise gained over the years at multiple startups, as a developer evangelist, and a software engineer. In his free time, …
Read More