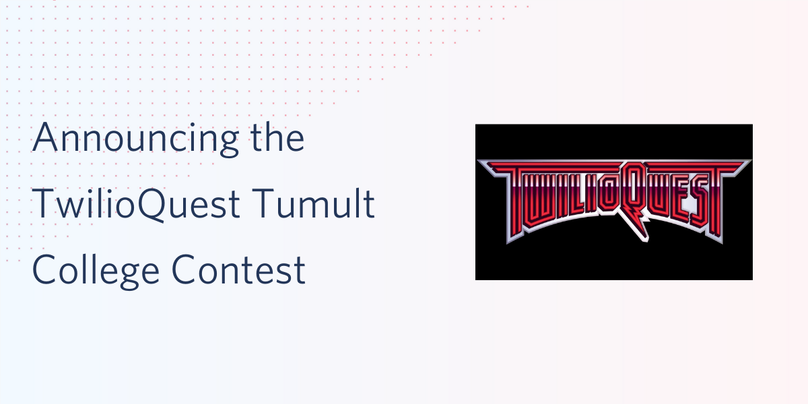 Calling US-based college students!
We want YOU to lead your intrepid crew representing your school on a mission to save The Cloud!
In TwilioQuest, a PC role-playing game inspired by classics of the 16-bit era, you will help defeat the evil Legacy Systems while learning skills related to Twilio and general programming along the way.
At the end of the 2 week-long tournament running from October 19th-October 30th, the team with the most number of missions completed will earn honor and a streaming setup worth ~$1000 per team-member!
How it Works
Some rules:
You must be a current US college student (undergrad or grad). Please use your school email!
You do not need to be studying computer science or have any programming experience.
Each school can have more than 1 team, but we'd like for each team's members to all be from the same school
Teams should be 4-5 people (all from the same school, for school honor) as the winning team will have completed the most # of missions so having 5 people increases chances of winning.
Only missions completed between midnight PST October 19 and October 30 11:59pm PST will count towards the contest.
In the unlikely event there is a tie between multiple top teams, we will look at the number of experience points (XP) earned. If that is still a tie, the tie will go to developer trivia.
The leaderboard will only reflect missions completed and XP earned since TQ Tumult started.
You can and should work together with your team to help each other complete missions!
We will also provide engineering and product mentors and will host a few talks via Zoom, like how to get into streaming and some recruiting tips.
Getting Started
Sign-up with a team of 5 students here by October 14th to participate. The contest itself will take place from October 19-30. Some other background on TwilioQuest:
Questions?
If you have any questions, please drop a note to lsiegle@twilio.com or mstaples@twilio.com.