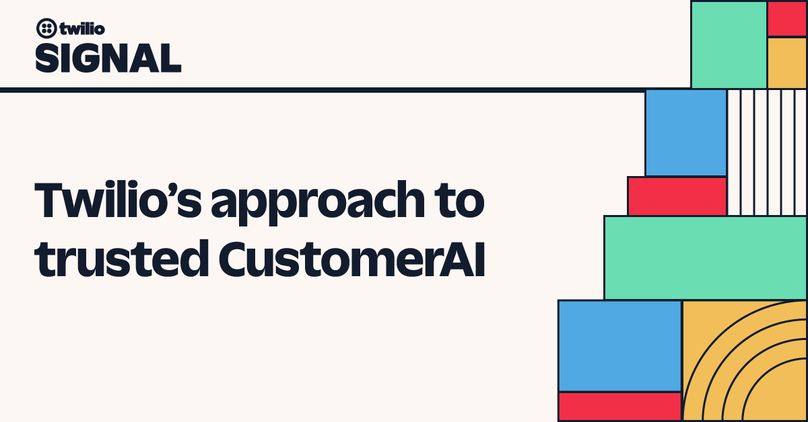 At Twilio, we recognize that artificial intelligence (AI) has the potential to transform the way we work, live, and interact with the world around us. We believe its use will give us the ability to improve our products and services and create new opportunities for our customers.
We also believe the true value of AI is unlocked when companies like yours are able to safely and compliantly harness all of the data across their business—including the signals from each interaction with every individual customer—and use this deep understanding at scale, consistently improving the next interaction that every customer has with your brand in real time. This data-driven flywheel—iteratively understanding and growing deeper relationships with customers—is precisely what Twilio makes possible.
That's why we're incredibly excited about the value that Twilio's CustomerAI technology will unlock for the brands and enterprises we serve. That said, we recognize that AI does not come without risk and are committed to helping our customers use AI in an ethical, legal, and responsible way.
Our legacy of trust, squarely at the center
On June 6, 2023 we announced CustomerAI, which couples the power of large language models (LLMs) with rich customer data that flows through Twilio's Customer Engagement Platform. Ultimately, CustomerAI accelerates how companies unlock the potential of their customers across the entire customer journey, including marketing, sales and support, onboarding, authentication, and more—enabling companies to create a flywheel unlike anything they've had before.
Twilio Segment enables companies to personalize interactions with golden profiles assembled from events and behaviors. But now with CustomerAI, we can better interpret communications—identifying traits and important details, and updating the customer profile. The flywheel effect means that our customers better understand every interaction, enriching the golden profile and, in turn, better personalizing every touchpoint.
CustomerAI starts with its foundations in trust and the commitment that all of your data is yours. While privacy concerns have come to the forefront with AI, Twilio has always taken data privacy seriously. We maintain a commitment to building privacy and security by design into our product development lifecycle to support our customers' compliant and responsible use of their data with our products and services.
For example, we have created a Privacy Pattern for our Flex, Console, and SendGrid products that empowers developers to build privacy directly into their applications. We offer Segment Privacy Portal, a data inventory feature that allows customers to automatically identify and classify data (e.g. high, medium, low risk). You can set rules to manage risk exposure and proactively block data to comply with your company's privacy policy.
In addition, Twilio encrypts data both in transit and at rest utilizing industry standard encryption algorithms. It offers controls for customers to manage their customer data and to delete personal data relating to their users as needed. As we continue to deliver powerful AI solutions across the Twilio platform, we're committed to the same level of rigor and trust, especially when it comes to protecting customer data privacy.
Our commitment to privacy: CustomerAI trust principles and privacy ladder
We view the use of AI and the protection of privacy as a shared responsibility between our customers and Twilio. To support this, we have adopted a set of CustomerAI trust principles to guide the responsible development, use, and deployment of predictive and generative AI across all of Twilio's products and features.
CustomerAI Trust Principles
Transparent
We provide transparency about our use of AI and give our customers the ability to control their data.
We help our customers make informed choices about whether to use different types of AI models by being fully transparent about the AI vendors and type of models we are using, and how customer data is used by those models.
One of the ways we provide transparency to customers is through our AI Nutrition Facts Labels (more on this below). These labels are assigned to each AI-driven product and feature that we launch, bringing all of the key details front and center in a simple and easily understandable format.
Responsible
We select responsible AI vendors and strive to use—and help our customers use—AI in a way that respects privacy, keeps data secure, and minimizes the risk of bias or other harms.
Twilio performs a privacy and security assessment prior to working with any AI vendor to ensure they meet our privacy and security standards and requires specific contractual commitments. These include a specific commitment not to use customer data to train their models.
Accountable
We monitor the functioning of AI to address harms and fitness for purpose in partnership with our AI vendors and customers.
Twilio exercises auditing, logging, and monitoring to ensure our AI is operating as intended. Additionally, we offer a number of guardrails to ensure fitness for purpose, ranging from human-in-the-loop to monitoring for toxicity and other harms.
CustomerAI Privacy Ladder
In addition to Twilio's CustomerAI trust principles, we have introduced our CustomerAI privacy ladder. For each AI-driven product or feature that you may opt to use, this ladder (and its levels) show the type of data used by the model, and whether the model is exclusively for your use or the use of multiple customers.
While some customers may only prefer to use isolated models, we know that others may be open to sharing data and benefitting from models that use broader, more representative data sets.
Level 1: Models with your data for your use, without PII
Level 1 is the lowest privacy risk option and identifies models that use your data for your exclusive use without any personally identifiable information (PII)—that is, information that, when used alone or with other relevant data, can identify an individual.
Level 2: Models with your data for your use, with PII
Level 2 offers more value and requires more caution than the first level as it identifies models that use your data for your exclusive use, including PII.
Level 3: Models with your data for multi-customer use, without PII
Level 3 offers the highest level of value and need for caution as it identifies models that use your data and other customers' data for multiple customer use but does not include any PII. This may include PII data that has been anonymized prior to being used by the model.
We view Twilio's CustomerAI trust principles and the privacy ladder framework outlined above as critical to ensuring that, as a customer of Twilio, you're equipped to make well-informed decisions about which CustomerAI products and features you and your organization are prepared to adopt.
Introducing Twilio's AI Nutrition Facts Labels
Finally, in addition to Twilio's overarching CustomerAI trust principles and privacy ladder framework, we're excited to introduce Twilio's AI Nutrition Facts Labels—a clear, consistent, and transparent way to understand exactly "what's in the box" when assessing all of Twilio's CustomerAI products and features across the platform.
Our AI Nutrition Facts Labels provide key information about an AI model's privacy level and design elements in an easily understandable format, mimicking the food nutrition labels you're likely already familiar with today. Below, you'll find an example of the AI Nutrition Facts Label for Twilio's Generative Journeys and Generative Content (both in Engage) as well as Voice Intelligence—all of which were announced today at SIGNAL. You'll see how each label highlights critical details like:
Ladder level
Model type
Base models and owners
A detailed breakdown for how data is used by each model
Additional links to supporting, public-facing resources.
All of the products and features that are powered by Twilio CustomerAI will feature this label within the product UI/UX, but we haven't stopped there. We want you to have the ability to create and share AI Nutrition Facts Labels in ways that instill trust and a commitment to the privacy of your customers. To help make this possible, we've launched nutrition-facts.ai, a new AI Nutrition Facts Label generator, powered by Twilio, allowing our customers, partners, and the industry as a whole to easily and thoughtfully create their own AI Nutrition Facts Labels.
Bringing trust and privacy to life through CustomerAI
At Twilio, we're incredibly excited about the value and efficiency AI will bring to our customers while, at the same time, remaining aware of the associated risks and complexity. As we continue to deliver on our mission of building the world's most trusted customer engagement platform, we're committed to being transparent, responsible, and accountable in how we use AI in our products and features. We're also committed to adapting our AI efforts responsibly as best practices and regulation continue to evolve.
Amy Holcroft is Twilio's Chief Privacy Officer. She brings over 20 years of experience in privacy and manages Twilio's international team of privacy lawyers, risk, and compliance professionals responsible for Twilio's global privacy program.
Kathryn Murphy is Twilio's Senior Vice President of Product and Design at Twilio, focused on Segment, Engage, and CustomerAI. She brings over 20 years of experience in product management, design and engineering with deep domain expertise across retail, commerce, payments, customer data platforms, and multi-channel marketing.