Take Control with Network Access Profiles for Super SIM
I've spent my academic and professional career — most recently as an Engineering Manager for Twilio's Super SIM — thinking about cellular network technologies and the future of cellular connected devices. As the world starts to really embrace cellular connectivity for fleets of IoT devices, one thing that strikes me is how fragmented the global cellular ecosystem is and how impactful that becomes for our customers trying to deploy low-powered, inexpensive devices all over the world.
The way that the PLMN ecosystem (PLMN = Public Land Mobile Network, or the radio networks that our devices connect to) has 'naturally' evolved makes it really tricky to build one IoT device and ship it everywhere.  To put control back in the hands of device makers, we built a feature called "Network Access Profiles" into Super SIM.
I want to share with you today how we did it, and why we think …
Read More
What is the Twilio Mobile Core?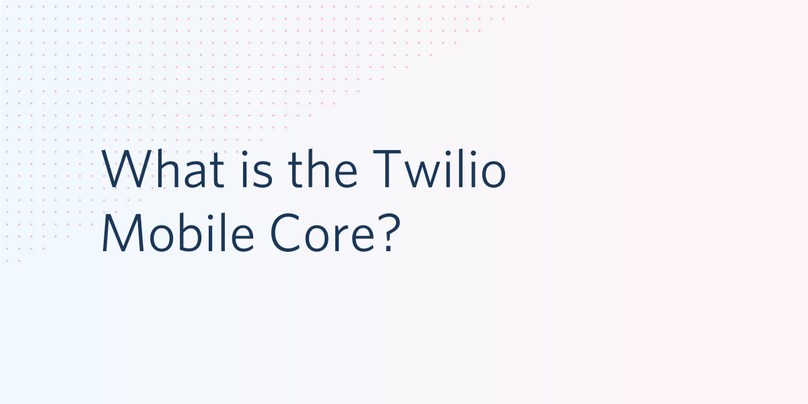 At Twilio's 2019 SIGNAL Conference, we presented the Twilio Mobile Core as the engine behind Twilio's Super SIM. A Mobile Core provides all the functionality required to enable a device with wireless capabilities to connect to the cellular network independent of its radio technologies (4G, 5G, etc.). 
Let's talk about Twilio's Mobile Core implementation – along with how it helps you.
What is a Mobile Core?
A Mobile Core comprises different network functions defined by several standardization bodies. The 3rd Generation Partnership Project (3GPP) is the primary group that focuses on mobile network architectures and protocols. 
In the past decades, 2G/3G/4G network functions have been implemented as dedicated hardware-based appliances. Unlike most other deployments, our Mobile Core implementation is 100% software based and deployed on Amazon Web Services. 
Why does Twilio have a Mobile Core?
You may be wondering: what's Twilio doing with a Mobile Core? 
Our Mobile Core …
Read More