Build an Automated Vaccine Appointment System with Twilio Studio and Serverless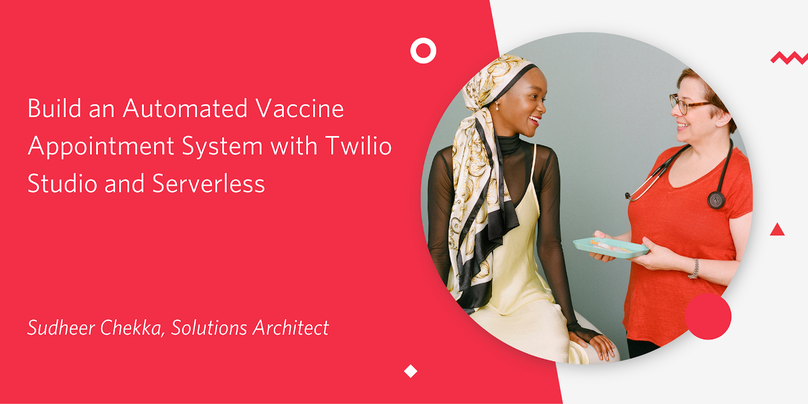 Photo courtesy of AAP and self.com (CC BY 2.0)
Scheduling appointments for the COVID-19 vaccine is at the top of everyone's mind, but setting up appointments at scale is a challenge. In this post, you will learn how to build a prototype of an interactive appointment management system using Twilio Programmable Voice and Programmable Messaging. Patients will be able to reply back to confirm, cancel, or reschedule their appointments and make outgoing calls to the number provided. With this in place, you also optimize the physician's unused time slots due to 11th hour cancellations.
What about connecting with an EHR?
If you work in healthcare, you're probably already familiar with the interoperability problem that exists when accessing and sending data to electronic health records (EHR) systems. HIMSS defines interoperability as "the ability of different information systems, devices and applications (systems) to access, exchange, integrate …
Read More
How to Build an IoT Medication Tracker
Per CDC estimates, medications prescribed to patients are not taken as directed 50% of the time. This non-adherence causes 125,000 deaths per year in the US.
Common reasons for patients not following the healthcare provider prescription instructions are:
Not understanding directions
Forgetting
Taking multiple medications each day with different schedules
Inability to order medication refills timely
In this digital era, technology is transforming healthcare with continuous monitoring of patients. If we are able to make it easy and fun – think Fitbit, for example – to keep track of our steps per day, calories burnt, heart rate, oxygen saturation, and more, why should it be hard for patients and their healthcare providers to keep track of the medication schedule and automate prescription refills?
It shouldn't. In this post, I'm going to show you how to build a demo IoT medicine tracker. While you'd have to build more …
Read More