Instant
Lead Alerts
Double lead conversion rates
Use text messages and phone calls to alert sales reps of new leads from a website.
Trulia

Converts online leads into clients

ShowingTime

Confirms home showing requests

iCracked

Arranges device repairs quickly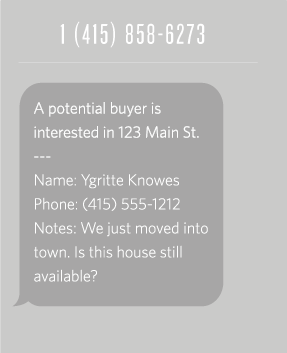 Increase productivity and decrease response times
Double conversion rates

Improve response time by immediately notifying partners and service professionals of new leads no matter where they are.

Escalate hot leads

Add escalation logic to a CRM. Leads that sit too long can automatically be routed, along with an SMS alert, to a new agent.

Deploy in hours

Integrate into an existing web server stack and database.Twilio speaks standard HTTP and works with any language.
SMS & MMS

Send text and picture-message lead alerts with customized data.

Voice

Deliver alerts with an automated outbound call with rich functionality.

TaskRouter

Intelligently route leads based on skills and location.
Delivery assurance & calls

Track all SMS, MMS, and call status to identify when delivery fails. Automatically send an alternate message so sales professionals never miss a lead.

Multi-lingual

Make calls using text-to-speech (TTS) in 26 languages and dialects. Send SMS using characters in any language.

Pay-as-you-go

Get started without upfront investments. Pay per-minute for phone calls and per-message for SMS and MMS.
Twilio 101
How to
$AccountSid = "ACXXXXXXXXXXXXXXXXXXXXXXXXXXXXXXXX";
$AuthToken = "YYYYYYYYYYYYYYYYYYYYYYYYYYYYYYYY";
$client = new Services_Twilio($AccountSid, $AuthToken);

/* Your Twilio Number or Outgoing Caller ID */
$from = "NNNNNNNNNN";

// make an associative array of server admins. Feel free to change/add your
// own phone number and name here.
$people = array(

"4158675309" => "Johnny", 
"4158675310" => "Helen", 
"4158675311" => "Virgil",

);

// Iterate over all admins in the $people array. $to is the phone number,
// $name is the user's name
foreach ($people as $to => $name) {
// Send a new outgoing SMS
$body = "A new lead is available in San Francisco. Reply 'yes' to accept";
$client->account->sms_messages->create($from, $to, $body);
echo "Sent message to $name";
}
We can't wait to see what you build