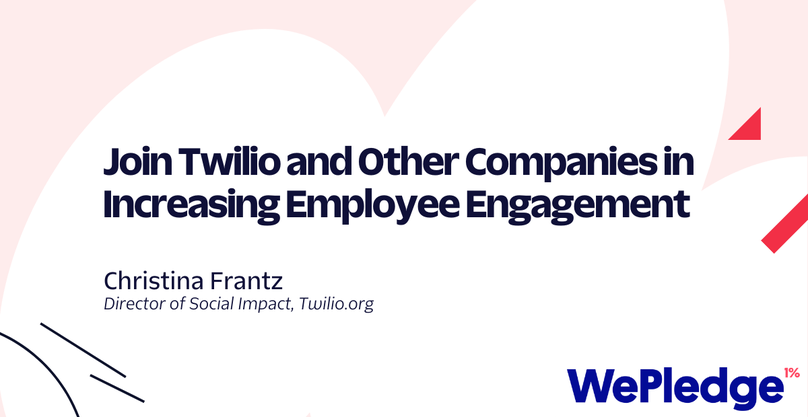 By signing up for a Twilio-led Accelerator program, you will have access to a playbook and tools to help you launch a high-impact employee engagement program and make a positive impact on issues that matter to your employees.
At Twilio, we believe that one of the most effective ways to prioritize social impact is to empower our employees to do more of what they love. That's why, inspired by the Pledge1% model, Twilio created WePledge 1%, a volunteer employee impact and giving program in which Twilio supports employees in pledging to give 1 percent of their own time, income, or equity (or any combination of the three) to causes that resonate with them.
Since Twilio created WePledge 1% in 2019, 3,605 Twilio employees have signed onto the program, and participation in our volunteer and giving programs has increased to over 50% from single digits. And there are other ripple effects, too. We've seen that over the past year, employees who donated and volunteered were 2.3x less likely to leave Twilio than those who didn't. And it's not just Twilio seeing positive results. Data shows that companies with giving programs have 2.3x the employee retention rate than those without one.
Inspired by the increased impact we saw among our own employees, Twilio developed the WePledge 1% Accelerator, which is a comprehensive program that equips impact leaders at companies with all the tools, templates, and support needed to successfully launch an employee impact program of their own within 5 months. 25 companies including Atlassian, Zoom and Okta have already joined the program. In September, we're launching our third Accelerator, where we'll walk even more companies through how to stand up a similar program to support their employees in making a difference.
How the WePledge 1% accelerator works
Throughout the Accelerator, Twilio will provide companies with a blueprint for how this type of program can work within their unique structure and employees' affinities. And by working with and hearing from other companies looking to create similar programming, you create a network of support as you launch your own employee engagement program.
Lorinda Brandon, Vice President of Engineering at BetterCloud, participated in the first Accelerator earlier this year. She shared with us why the company participated and the impact it has already made:
"We launched WePledge 1% at BetterCloud to make it easy for our BetterClouders to give back to our communities, either through volunteering or donations. While we launched the program to make social impact easy, we found an unexpected benefit in how it brought BetterClouders together in a unified purpose and allowed them to support our [Employee Resource Groups] and fellow BetterClouders while also giving everyone that altruistic high."
Companies that participate in the September Accelerator will have the opportunity to:
Identify your employee impact/WePledge 1% goals for the next 6-12 months
Learn what elements of employee impact programs have worked well, explore and understand the WePledge 1% movement, learn best practices from leaders in the field, and explore the tools built to help you build and launch your volunteer impact program
Create a right-sized employee impact program and launch or pilot plan for your company and
Develop key milestones of your employee impact launch or pilot program
Heather Jin, Head of Global Social Impact at Medallia, participated in a previous Accelerator and noted,
"Being part of the WePledge community was critical for us to revamp our 2021 Global Week of Giving (GWG), our annual week of giving across our global offices. Having guidance, learnings, and brainstorms with other Social Impact Leaders was so helpful for us to redefine our strategies for success metrics, engagement, championship building, and communication. With their help, we were able to support 16 nonprofits across 6 countries and engage over 600 of our employees during GWG. I cannot recommend joining the WePledge 1% Accelerator enough!"
Let's chat
Programs like WePledge 1% can be a game-changer in activating your employees to do more good. And Twilio is excited to work with companies to make these programs a reality.
Interested in joining our September Accelerator? We're accepting applications until Friday, September 16. Fill out the application today or email wepledge@twilio.com with any questions.
Christina is the Director of Social Impact at Twilio.org, and is passionate about helping companies use their unique assets and people to positively impact communities. Over the last 17 years, she has driven socially responsible strategies for Twilio, Empower Retirement, Janus Henderson, and The Denver Post.
---
Companies who have participated in previous Accelerators include: