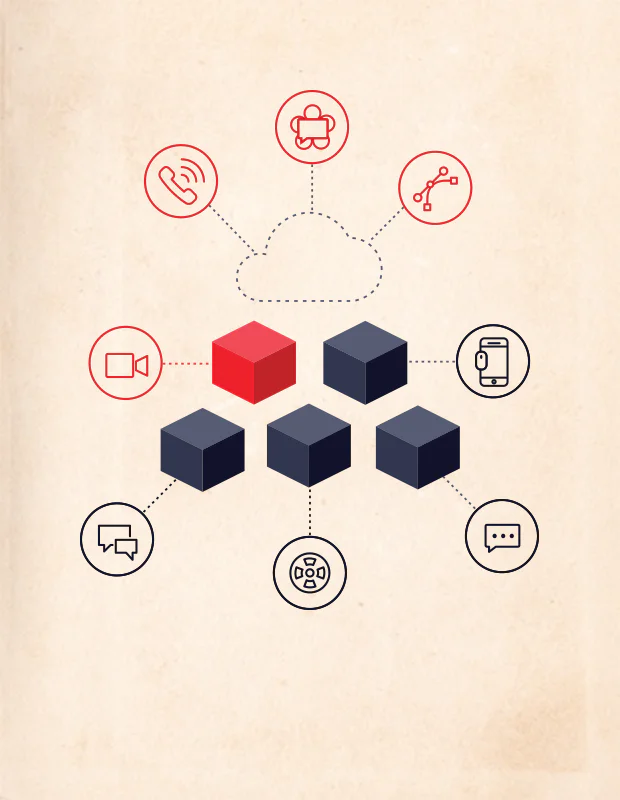 Call Center vs. Contact Center: What's the Difference?
There are differences between call and contact centers, but both focus on customer experience. Learn about the evolution of the cloud-based contact center.

Al Cook, Head of Contact Center Business
Call Center vs. Contact Center: What's the Difference?
For many businesses, the call center is the heart of customer service. It's where customers call in for help and reps call out for sales. We refer to it as a "call center" because traditional customer service models rely on phone support as the main contact method. Today, however, call center agents interact with customers through a variety of channels. Thus, the call center has evolved into the contact center.
In this article, we'll explore the differences between a traditional call center based on legacy premise systems and a modern contact center powered by the latest technologies.
Traditionally, a call center is an office where numerous agents provide customer service over the telephone. Inbound call centers receive calls for customer support and often serve as a knowledge base for tech support, billing questions, and more. These call centers focus on quick resolution times and agent productivity. In outbound call centers, agents make calls rather than receive them. These could be sales calls, marketing offers, surveys, fundraising requests, or debt collection, for example.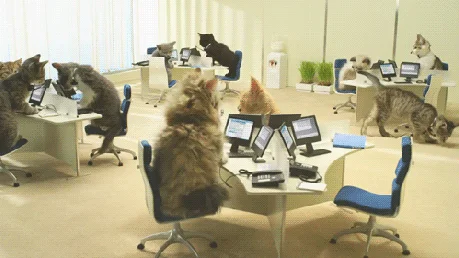 For customers, the term "call center" conjures an image of waiting on perpetual hold or being routed through an endless interactive voice response (IVR) system that never gives them what they need. Because so many consumers have had an experience along these lines, call centers have developed a bad rap. But as legacy phone systems give way to newer digital technologies, call centers are evolving.
What is a contact center?
The term "contact center" reflects that there are many ways to connect with a customer today besides by telephone. Increased customer expectations and newer technologies that allow for many communication channels created a shift in the traditional, decades-old call center model. Consumers want more ways to reach businesses, and businesses want new ways to improve customer experience.
While call center agents generally focus on inbound and outbound calls, either on traditional phone lines or via Voice over Internet Protocol (VoIP), contact center agents handle a wide variety of communications. For example, in a multichannel contact center:
Technical support is delivered over in-app chat or video.
Order status updates are delivered via SMS.
Event promotions are sent as push notifications.

Surveys are deployed over Facebook Messenger.

Sales inquiries received by email are sent directly to an agent to connect by phone.
Companies usually integrate contact centers with customer relationship management (CRM) systems, where it's easy to track, coordinate, and manage all interactions between the organization and the public.
One challenge that contact centers face is that, depending on the infrastructure and ecosystem, it can be an alphabet soup of complex components. This occurs when companies purchase off-the-shelf systems or a highly customized network of technologies from multiple vendors. Some companies may even adopt a few cloud-based solutions, but the contact centers remain siloed from the rest of the company's systems and can't talk to each other. (More on the solution to this challenge below.)
The difference between call centers and contact centers
The difference between a call center and a contact center comes down to the channels each uses. While call centers rely on legacy phone systems, contact centers leverage the many (often digital) channels customers use today to contact businesses.
Customers now expect service and support from brands through an ever-expanding network of channels, contexts, and devices. They expect to connect in a similar way that they communicate with friends, from SMS to Snapchat. And they're willing to pay for it or take their business elsewhere if they don't get it.
Contact centers can provide this omnichannel approach and cut down on the time it takes to solve customers' requests—whether they need help with a technical problem or placing a new order—regardless of the channel. This is critical, given that ultimately, the response time affects the bottom line. Customer surveys reveal that 86% of customers are willing to pay more for a product or service if it means they'll get a better customer experience. In fact, they're willing to pay 13% to 18% more. This is why 88% of businesses prioritize customer experience in contact centers.
So why do so many businesses fail to take contact centers to the next level of customer experience?
In most cases, companies want to keep up with changing user behavior and emerging channels, but existing infrastructure holds them back. However, this is slowly changing as more businesses adopt cloud-based solutions for customer experience. According to Dimension Data, 36.3% of organizations now have cloud solutions for contact centers, and this number will double to 71.9% in the coming year.
Legacy contact center infrastructure
Many businesses built contact centers using products designed nearly a decade ago. This is a lifetime in the digital age. For example, a system launched in 2009 likely began with a request for proposal (RFP) and vendor evaluations in 2007. Given the product development cycles for contact center hardware and software, the product proposed by a chosen vendor in 2007 was probably first released in 2004 and initially designed 5 years before that.
This is how many companies currently find themselves caught in the trap of an aging and costly infrastructure that impedes progress. Contact center systems currently in place were expensive and time-consuming to install and customize, so businesses are, understandably, reluctant to update them.

How often have you called into an IVR and heard, "Please listen carefully because the menu options have recently changed," and knew that the menu actually hasn't changed in a very long time? That's because most legacy IVR systems take an average of 9 months of professional services to make even the smallest changes.
It's difficult to experiment, iterate, and improve a contact center under those circumstances. In the meantime, customer expectations continue to change rapidly as new technologies and communication channels become the norm. When aging infrastructure can't keep pace with customers and the communications technologies they rely on, the result is frustrated customers and agents, along with wasted time and resources.
Modern contact center solutions
Today, a new approach to the traditional call center is available that allows businesses to deliver the caliber of real-time customer experience necessary to win in increasingly competitive markets. Instead of taking an off-the-shelf system from a telecom vendor and accepting inflexible systems with a monolithic feature set, this agile contact center software approach enables companies to build the exact solution needed when the companies need it. It's an approach that offers more than updated technology—it reenvisions how to design and build contact center operations.
Two main factors drive the evolution of the call center: digital innovation and the resulting changes in customer behavior. According to a 2020 Dimension Data report, most organizations engage with customers via 8 different channels, and 23.2% say an omnichannel approach is the driving force behind the customer journey design strategy.
Customers want companies to communicate with them on their preferred channel—whether it's phone, SMS, or Facebook Messenger. And the proliferation of digital channels doesn't lessen the importance of the call center. In fact, the opposite is true. People still want to connect with other people at the other end of an interaction.
Integration is the key to creating an experience that leaves customers feeling like the service is just for them. When an IVR (or agent) knows the entire customer journey—the pages they've looked at, the products they've purchased, their billing situation, etc.—it greatly improves the customer experience.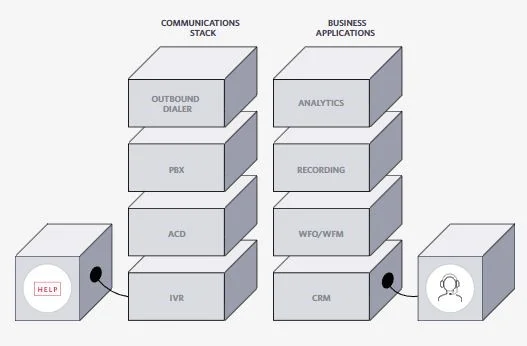 API-based contact center software
So how can companies create the best contact center experience for customers? The answer lies in application programming interfaces (APIs): routines, protocols, resources, and tools developers use to create software applications. APIs communicate between data and devices—it's how software components interact, and it underpins everything we do online today.
API-based software allows real-time customer experiences over multiple channels (voice, chat, SMS, IVR, email, social media, etc.). It acts as an automatic call distributor (ACD) that can route any task from multiple sources. And it maintains the context of the conversation and sends customers to the correct agent through computer telephony integration (CTI) and WebRTC.
When you build your contact center with communication building blocks like Twilio's Programmable APIs, you can choose the channels and features you need and scale up as needed. APIs also give you the flexibility to build the exact customer experience you want and the freedom to iterate your IVR, call flows, and other aspects of your communications as frequently as you like.
There's also a new option on the market: the programmable contact center platform. While based on APIs, this contact center instantly deploys out of the box. Unlike other off-the-shelf contact center solutions that offer limited features and functionality, a programmable contact center platform is fully customizable at every layer of the stack. This allows businesses to both buy an out-of-the-box contact center and build a completely custom experience to meet business objectives today or in the future.
Sign up for a demo of Twilio Flex and learn how to run a fully programmable enterprise contact center out of the box without having to decide between building or buying.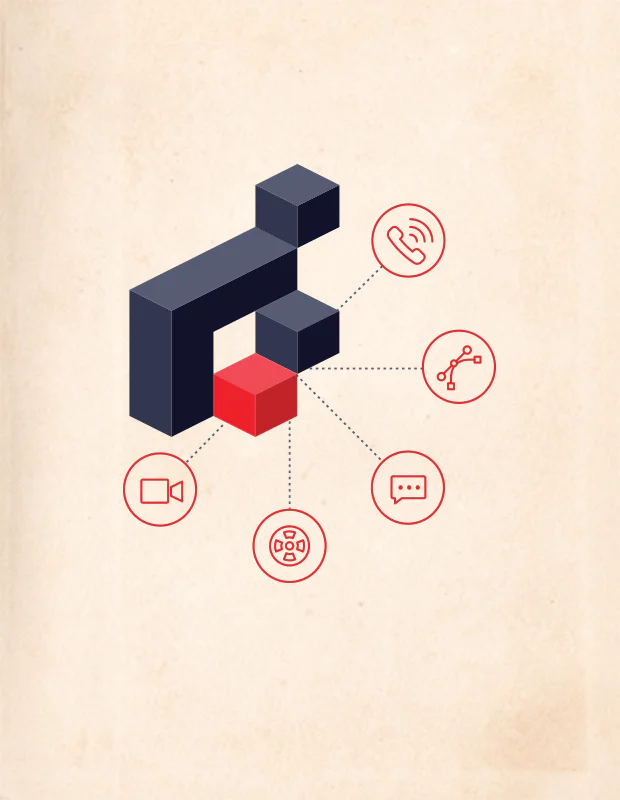 How to Choose the Best Call Center Software Solution
Looking for the right contact center software for your business? With all the options out there, this guide can help you make your decision.
January 2022 • Mauro Failli, Solutions Architect
Twilio Recognized by Mary Meeker's 2019 Internet Trends Report
Mary Meeker's 2019 Internet Trends Report shares insights into how businesses can separate themselves from the competition by taking advantage of the most important technology trends.
June 2019 • Rob Hilsen, Senior Director, Analyst Relations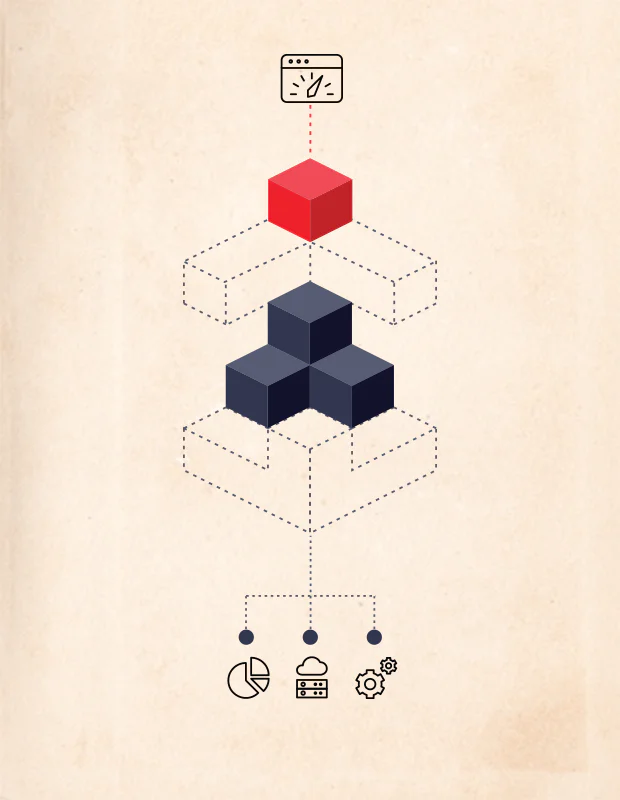 Using Data & Data Analytics To Improve Customer Experience
Learn why using data generated from transactions, communications, and other engagements can help enterprises create better customer experiences, improve ROI, and increase customer lifetime value.
February 2019 • Severine Griziaux, Senior Manager, Content Marketing