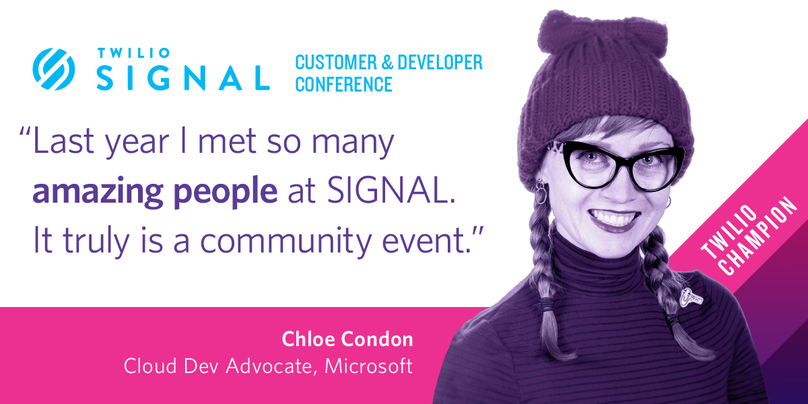 Last year we announced our Twilio Champions Program. A Twilio Champion is a developer who inspires and equips their communities using Twilio. They demonstrate leadership, expertise, advocacy, generosity, and Twilio Magic within the content they create and community building activities they participate in.
Today, we'd like to introduce to you to one of our Twilio Champions, Chloe Condon.
Chloe Condon is a Senior Developer Advocate at Microsoft. She spoke at SIGNAL 2018 along with Bear Douglas on Lessons Learned from 1,000 bots and recently coded a new friend she likes to refer to as "Twilio Smith" into existence in An Ambivert's Guide to Azure Functions.


Why are communications important to you in your career or personal life?
My phone is on me at all times, and I use it for family, work, and personal use 24/7. My job requires me to communicate constantly, and in my personal life I am constantly messaging folks.


Describe one of your favorite apps today and why.
I love Talkspace! It's an app that lets me communicate with a licensed therapist. I just traveled in Europe for a month and was able to send messages with her the whole trip, even on plane wifi!


Will you be at SIGNAL? How has SIGNAL been valuable for you in the past?
Absolutely! Last year I met so many amazing people at SIGNAL. It truly is a community event- it brought me some of my best and closest coworkers, collaborators, and friends!
What are you most looking forward to this year?
Playing more with my fake boyfriend app and adding more messaging features. I'm working with a contributor on a cognitive services bot that'll speak as the fake boyfriend- so cool!
Next Vacation?

Los Angeles for DragCon LA (with April, who I met at SIGNAL!)
Hobbies?

I have an Etsy store where I sell trolls with airplants and succulents in them.
You can apply to become a Twilio Champion by nominating yourself or being nominated by someone else at twilio.com/champions.
Champions are invited to join us for a day-long Summit filled with content geared just for them. This will take place on Sunday, August 4th @ Twilio HQ before SIGNAL. They will also receive a free ticket to the conference.