Operate like an enterprise. Innovate like a disruptor.
70% lower
handle times with SMS for Vacasa
23% increase
in first-contact resolution for FYIDoctors
74% lower
queue wait time for Airspace
188% increase
in sales conversions for College Hunks Moving
Build a contact center tailored to the way you work
Accelerate your digital transformation
Deliver digital-first engagement with the widest breadth of communication channels—all managed on a single platform. Twilio's contact center customers report saving 34% on contact center operational expenses.
Achieve cloud agility
Deploy a 100% cloud contact center in days—not months. Then continually inspect, adapt, and adjust any part of your contact center to stay ahead of changing conditions (and the competition).
Unlock precise personalization
Put relevant, contextual information at your agents' fingertips for highly personalized interactions. Flex customers report lowering handle times by up to 38% after giving agents access to information from multiple backend applications.
"With Twilio, Vacasa achieved 70% lower handle times for SMS and a 3-10x increase in bookings"
Unlimited ability to change, adapt, and iterate your contact center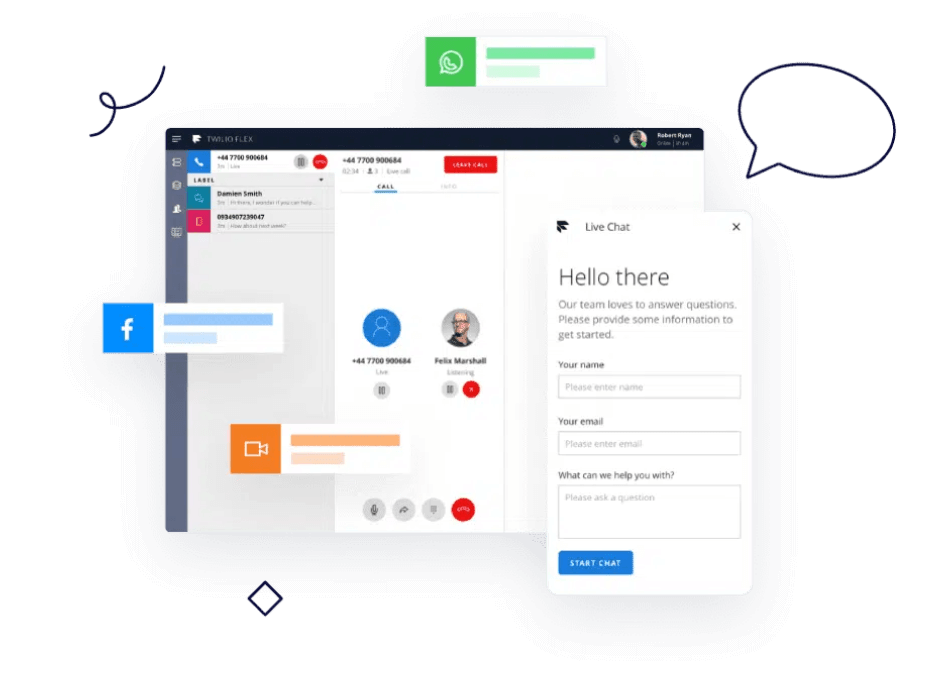 Design the ideal agent experience
Support email, voice, SMS, WhatsApp, Facebook Messenger, WebChat on one platform

Manage tasks across multiple channels with a single user interface

Create engagement workflows and intelligent routing tailored to your business

Integrate with Google Contact Center AI to surface relevant information and recommended responses
Integrate with applications you already use
Embed within Salesforce, Zendesk, or nearly any other CRM

Build and deploy customizations easily

Use API integrations to pull in inventory data, customers' past orders, payments, etc.

Connect with ecosystem partners that provide certified integrations for WFM and campaign dialers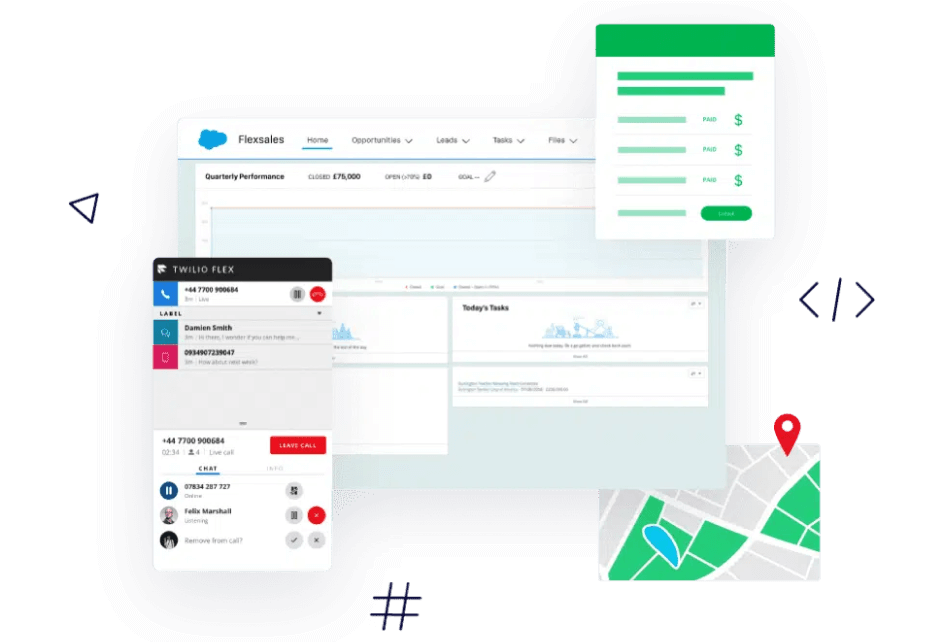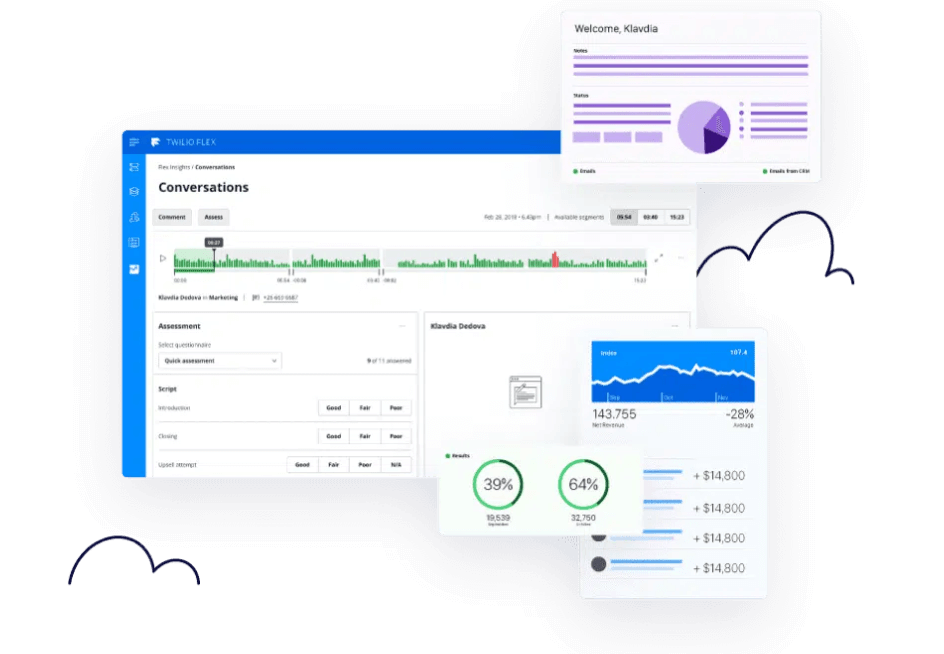 Gain complete operational insight
Create, share, and consume reports with drag-and-drop ease

Add custom metrics and KPI monitoring

Access interaction data with your own reporting tools using export APIs

Use performance trends to further inspect and iterate your contact center
Trusted partners to help you deploy with confidence
Choose from transparent, flexible pricing models
Start for free
Deploy Flex in minutes
You can start prototyping your new contact center today with a free trial. The trial does not include Insights or self-hosted UI.
Pricing options
Per-hour pricing
Pay $1 per active user hour to flexibly scale up or down with seasonal traffic or account for part-time agents.
Per-month pricing
Pay $150 flat rate per named user (agent, supervisor, or administrator) per month for predictable spend, regardless of volume or activity.