Appointment
Reminders
Reduce no-shows
SMS, MMS, and Voice capabilities for existing CRM and backend reservation systems to automatically send confirmations, handle cancellations, and rescheduling.
Handy

On-demand home services

Arkansas Children's Hospital

Medical Appointment Reminders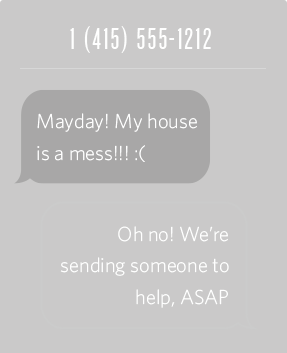 Appointment Reminders benefits
Lower support costs and cancellation vacancies while increasing the read rate
Better than email

Get an open-rate four-fold higher than email with text message reminders. Messages are read, on average, within four minutes.

Increase revenue

Confirm appointments and fill last-minute cancellations with waitlisted customers using a call or text.

Lower support costs

Supply better customer service and provide the option to cancel or reschedule with two-way SMS and Voice.
Step
1

:  

Database

Integrate with the appointment system to find upcoming appointments.
Building blocks
All the components needed to build nimble Appointment Reminders
SMS

Send text reminders to any number while Twilio navigates carriers to ensure the message is delivered.

Voice

Use Text-to-Speech to convey the reminder in 26 languages. Add an interface voice response (IVR) menu for customers to confirm or change the appointment.

MMS

Send branded reminders with pictures and calendar invites using MMS.
Easy integration

Create intelligent reminders with integration to existing business systems. Use any programmming language with the Twilio API to add notification workflows to trusted systems.

Cost-effective infrastructure

Pay $0.015 a minute to call and $0.0075 for every message to contact every locale in the world without an upfront investment. No set rate, all scalable.

Bi-directional messaging

Use fullinteractive voice response(IVR), call-controlled capabilities, and two-way SMS and MMS so customers can respond. Gather responses with a touch-tone and route calls to a live agent.
Twilio 101
How to
Simple code to build Appointment Reminders onto a flexible, easy, and free Twilio API
xml.instruct!
xml.Response do

xml.Gather(:action => @post_to, :numDigits => 1) do

xml.Say &quote;Ahoy! You have an appointment tomorrow at 9 AM.&quote;
xml.Say &quote;Press 1 to repeat. Press 2 for directions.&quote;

end

end
We can't wait to see what you build
Create modern communications with free accounts and advice.