Segment, a division of Twilio, is excited to share the findings of our second annual State of Personalization survey.
We had no idea how quickly consumer expectations and behaviors would change when we first released this report back in 2017. COVID-19 accelerated the move from brick-and-mortar retailers to online stores by up to a decade.
It has set the bar high for businesses in terms of their digital experiences. Personalized customer engagement has become a prerequisite for any business today, no longer a luxury availed by only the best companies such as Amazon and Netflix.
So, how are businesses doing?
More than 3,000 companies, consumers, and marketers worldwide participated in Twilio Segment's study to analyze their attitudes, expectations, and experiences with personalization. In this data set, we learn how consumer behaviors changed over the past year, and how businesses reacted.
The personalization gap: expectations vs. reality
Hundreds of millions of customers migrated to digital channels in 2020. However, many businesses were unable to cope with the resulting change in consumers' expectations.
Suddenly, consumers wanted brands to remember who they were, where they came from, and what they liked, regardless of which channel they used.
The gap between consumer expectations and the reality of digital transformation remains despite many businesses starting to accelerate their efforts. Businesses are notably behind on personalization in our survey, according to our results.
While 85% of the businesses studied by Twilio Segment believe they are offering personalized experiences, only 60% of consumers seem to think that's the case.
Some businesses are benefiting, while others fall behind
The shift to e-commerce is permanent, and businesses that get personalization right will enjoy significant benefits.
More than half (60%) of consumers say they will likely become repeat buyers after a personalized shopping experience with a retailer, up from 44% in 2017.
Simply put, customer loyalty and revenue will be lost to those companies that can deliver true personalization. According to our survey, over a third of consumers say they'll return to a brand following a personalized experience, even if there are cheaper or more convenient options available elsewhere.
Omnichannel is being overlooked
2020 saw businesses communicate and connect with customers through multiple channels like never before.
Covid-induced trends (curbside pickup, telehealth, etc.) saw people move from device to device, and from channel to channel. The result is that customer data may be spread over dozens and even hundreds of different systems in an organization
Our survey found that less than 1 in 4 businesses have the required technology to deliver consistent, personalized experiences across channels. The key challenges were said to be silos within departments and legacy infrastructure.
Personalization and privacy aren't mutually exclusive
Recent government regulations, including GDPR, as well as recent moves from Silicon Valley giants, have sparked a global debate about data integrity.
Third-party cookies have been used by brands for years to track users across the web before serving them personalized ads. The use of third-party cookies has improved advertising efficiency in some instances, but it has declined consumer trust.
The business and consumer world is starting to realize, however, that first-party data is a better alternative.
69% of consumers say that personalization is appreciated, as long as they have directly shared their data with a business.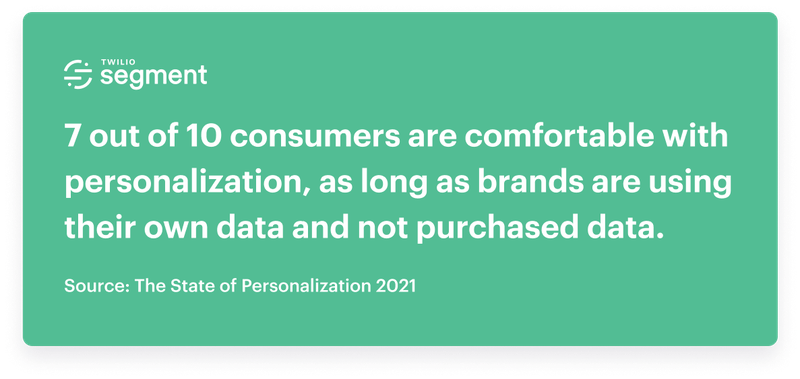 ---
According to The State of Personalization, brands can choose between two options: personalize or perish. In the wake of the pandemic, digital technology has set new expectations and realities. Businesses must adapt, or customers will walk away and support their competition.
For a deeper look into our findings, you can read the full report here.