You've been out there for years asking and answering Twilio questions on Stack Overflow and we salute you for it. We've launched the Twilio Collective on Stack Overflow to make asking and getting answers to those questions an even better experience.
First things first, what is the "Twilio Collective on Stack Overflow"?
The Twilio Collective is a one-stop homebase for all the Twilio knowledge, and the developers sharing it, on Stack Overflow now and into the future. The Collective also allows us to curate the Twilio tags, by highlighting recommended answers to the most burning of questions.
Highlighting answers means we can promote answers even when they don't have the most votes, like this SendGrid question where the library updated but the accepted answer (which was right at the time) has not.
By joining the collective, you'll get easy access to a feed of questions on all things Twilio, including SendGrid and Segment, and the contributions you make will place you on the member leaderboard.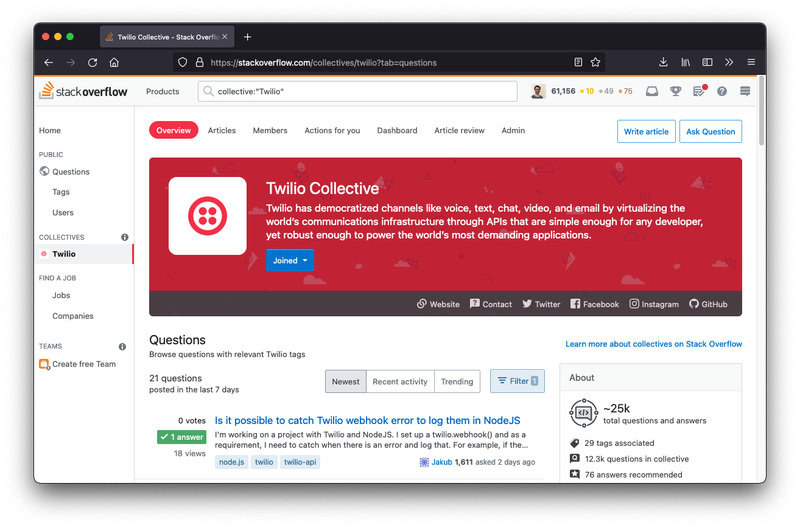 Who can join the Twilio Collective?
Anyone with a Stack Overflow account that's interested in becoming part of the Twilio developer community.
Where is the Twilio Collective within Stack Overflow?
You'll find the Collective anywhere you find questions with Twilio tags, like twilio or sendgrid.
Why should I join the Twilio Collective?
As part of the Collective you:
Will gain Stack Overflow reputation when you ask or answer questions
See your contributions appear on the member leaderboard
Bonus: If your contributions stand out, we can invite you to become a Recognized Member. Recognized Members get extra flair on their Stack Overflow profile and a few extra privileges within the Collective, like being able to recommend answers
Become part of our supportive Twilio community
Whether you're having trouble importing the Twilio Python library, can't send SMS to that one country, need help creating a hash signature of your app, or just want to know whether you can use jQuery with that, the Stack Overflow community is there to help and the Twilio Collective makes it even easier to get that help.
Already on Stack Overflow? Join the Twilio Collective now!
New to Stack Overflow? Sign up and join us, just make sure to check in on how to ask a good question first.
We're building a community on Stack Overflow that supports each other and helps you to share your knowledge. We can't wait to see what you ask and answer!