Twilio Engage, the data-first customer engagement solution, is now generally available.
Twilio Engage uniquely puts the power of a native customer data platform (CDP) and native omnichannel together in one marketing solution to deliver data-driven personalized experiences at scale.
Twilio Engage is helping our marketing customers drive efficient growth by reducing time to value, cutting customer acquisition costs, and increasing customer lifetime value.
Today's marketers are being asked to do more with less—meaning efficient growth is more important than ever and personalized, precise communications are absolutely critical to achieving their goals.
To deepen customer relationships and drive efficient growth, marketers must be able to deliver personalized experiences across the entire customer journey. Yet, data silos and disconnected technologies stand in marketers' way, creating inefficiencies and roadblocks to personalization.
With Twilio Engage, we're breaking down these barriers that have long held marketers back from providing the relevant, engaging experiences consumers want. Twilio Engage uniquely puts the power of a native customer data platform (CDP) and native omnichannel together in one solution so marketers can build data-first, personalized experiences that reduce costs and grow lifetime value.
Simply put, from one place you can act on your data in real time and across any digital channel. This is why we are excited to announce that Twilio Engage is now generally available.
Twilio Engage sits on top of Twilio Segment's #1 CDP (according to IDC's CDP 2021 market share report), which powers Twilio, a leading customer engagement platform (CEP) (determined by Omdia's 2022 market share report), and is connected to Twilio's native channels including email and SMS. While the CDP is about collecting data, Twilio's CEP is all about activating your data, in engagement apps and channels. With the addition of Twilio Engage, Twilio's comprehensive CEP provides everything digital leaders need to engage customers from a single, enterprise-ready, and globally-trusted provider.
Help recession-proof your marketing with "data up" customer engagement
Marketers across industries are being impacted by concerns of a looming recession, with many already experiencing budget cuts while their targets remain unchanged. The only way to adapt to the new economic reality is focusing on long-term sustainable growth by increasing customer lifetime value (LTV) while lowering customer acquisition costs (CAC).
Twilio Segment's 2022 Growth Report revealed that 93% of businesses are taking steps to adapt to current macroeconomic conditions and plan for a recession, and 61% of marketers say that the "growth at all costs" mentality is over.
At the same time, consumers increasingly expect more from their interactions with companies. Twilio Segment's 2022 State of Personalization Report revealed that 62% of consumers say a brand will lose their loyalty if they deliver an un-personalized experience, up from 45% in 2021.
Faced with lower budgets and rising customer expectations, marketers know that unpersonalized and disjointed experiences, irrelevant and repetitive ads, and inefficient workflows aren't going to keep customers happy and costs down—and certainly won't help stand out from the competition.
Without quality, real-time data, marketers struggle to overcome persistent barriers to scalable customer engagement. First, marketers' dependence on other teams to access disparate data creates a time lag between getting customer insights and delivering engaging integrated campaigns. Poor, inaccessible data and disconnected tools also make it difficult to execute the kind of personalized experiences that keep customers loyal. And finally, without really knowing their customer, they could be wasting money on duplicative or broadly targeted ads and communications.
Current marketing solutions are unable to solve these challenges because they are built "campaign down." Without data at the foundation, information becomes siloed and these solutions remain one dimensional, not extensible, and unscalable.
That's why Twilio Engage is built "data up" on Twilio Segment's CDP with native channels, so marketers can power personalized customer experiences with consented, first-party data, journeys, and activation together in one solution.
Twilio Engage helps marketers:
Save time to execution by enabling you to build and activate personalized experiences from one, data-driven solution.
Deliver unified, omnichannel orchestration so you can quickly craft multi-step, multichannel interactions based on real-time customer behavior.
Make data-driven decisions faster by providing visibility into data insights without relying on other teams so you can invest our budget more wisely.
Game-changing marketing comes from a real-time, unified solution
Since the private beta, we've partnered closely with customers to build Engage. What we heard from customers time and time again was that they were wasting significant amounts of time and money by not having actionable, real-time customer data at their fingertips. In times when budgets must go further and productivity must be optimized, activating rich data across best-in-class engagement channels from a unified solution is a game changer. So, we changed the game.
Build a complete view of your customers
In our digital-first world, buyers' journeys are no longer linear and consumers' wants and needs can change at the pace of the latest TikTok trend—leaving marketers struggling to keep up. How can you create meaningful experiences for your customers if you don't have instant visibility into how they're interacting with your company? What ads did they see, how did they find your website, what pages did they browse, have they left you a negative review?
To help you gain that crucial insight, Twilio Engage gives you a complete, real-time view of your customer. By collecting interactions in a privacy-first way across all your digital touchpoints, Twilio Engage allows you to build comprehensive customer profiles and segmented audiences based on dynamic behaviors, traits, and intent signals—no SQL expertise required. Plus, having a unified view of your customers can help you uncover behavioral patterns and discover new opportunities for engagement.
Orchestrate journeys where the data is
Once you understand your customers, Twilio Engage then helps you turn that knowledge into action with journey orchestration. No matter what top-line goal you're trying to achieve—whether acquisition and conversion or retention and loyalty—Twilio Engage can help you build dynamic journeys optimized to drive results without requiring engineering resources.
With journeys, you can quickly craft and scale multi-step, multichannel interactions based on real-time customer behavior. For example, you can automatically suppress customers who recently purchased from seeing ads for the item they bought, dynamically deliver a timely and relevant offer via a preferred communication channel to someone who's abandoned a browser experience, or send a loyal customer personalized rewards based on real-time actions—the possibilities are endless. Plus, experimentation with new communications channels is more straightforward than ever.
Your customers get more meaningful experiences and you save time on execution while optimizing performance across the customer journey.
Not ready to implement data-driven lifecycle and retention campaigns, but still need to scale your promotional emails without sacrificing efficiency? Create an Action Destination for Sendgrid Marketing Campaigns in Segment's Catalog today.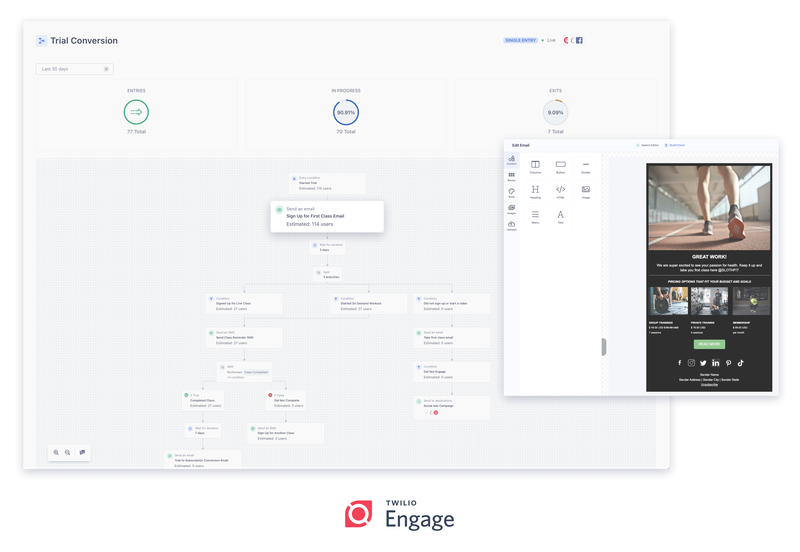 Engage customers in real time—anywhere, anytime
Every marketer knows that a winning customer experience requires you to reach your customers with the right message, at the right time, in the right place. That is exactly what Twilio Engage delivers.
Marketers can now reach customers in real time—anywhere, anytime—by activating highly personalized experiences across our native email and SMS or any of our 400 out-of-the-box integrations using rich customer data so you can go from idea to campaign in minutes, not weeks.
The best part is, as your customers respond to your personalized interactions, you continuously get those important customer signals fed back into the solution. That means you continue to dynamically refine your customer profiles and the experiences you can create for target audiences without needing to rely on other teams.
With the unified power of Twilio Engage, you can create better, data-driven experiences for your customers while making smarter business decisions designed for long-term, efficient growth.
Twilio Engage helps marketers improve lead targeting, increase engagement, and grow customer lifetime value. It helps:
Build a complete view of your customer - Build profiles and audiences without SQL expertise, with real-time customer interactions collected in a privacy-first way across digital touchpoints.
Orchestrate journeys where your data is - Deliver personalized experiences where, when, and how your customers want with our native email and SMS channels, custom channels and 400+ out-of-the-box integrations.
Engage in real time, anywhere, anytime - Activate in real time instead of having to manually reconcile your data and work with other teams and systems to drive insights to action at scale.
Get started with Twilio Engage
Ready to start delivering personalized customer experiences across all your engagement channels with Twilio Engage?
We can't wait to see what you build!
Robin Grochol leads Product Management for the Twilio Engage organization which includes Twilio Engage, Twilio-SendGrid Marketing Campaigns, and Twilio-SendGrid Email. Robin spent 14 years at Salesforce, where, as SVP of Product Management for Sales Cloud, she played an integral role in launching the Lightning Experience for Sales Cloud, Sales Cloud Einstein, and High Velocity Sales. Most recently she led product at SVP of Product Management for Marketing Cloud, where she launched the Salesforce Customer Data Platform.