IT managers charged with migrating their organization to the Zoom Phone service have a new global PSTN connectivity option available to them with the introduction of Twilio Elastic SIP Trunking support for Zoom. You can connect your Zoom Phone service to our SIP trunks in 100 countries and enjoy high-quality global PSTN service with on-demand scalability at competitive prices.
"We're excited to team up with Twilio and add its Elastic SIP Trunking service to the Zoom BYOC solution," said Graeme Geddes, Head of Zoom Phone. "The Twilio team has made the integration seamless; our joint customers are able to turn-up services all over the world."
Featuring centralized management and on-demand scalability, our Zoom Phone BYOC solution provides multinational corporations and medium-sized businesses the agility they need to keep their mobile workforce connected.
What is BYOC?
Technically speaking, Bring Your Own Carrier is an open telephony interface provided by UCaaS and CCaaS providers that connects to a compatible PSTN service provider, such as the Twilio Elastic SIP Trunking service. It enables the cloud communications service provider to send and receive PSTN calls using a third-party service provider as the conduit. The interface adheres to the IETF Session Initiation Protocol (SIP) and each concurrent telephony session is called a trunk. Thus, the PSTN access provider is known as a SIP trunking service provider.
Many cloud communications service providers have introduced BYOC support, including Zoom Phone, TalkDesk and Genesys Cloud. They recognize that decoupling PSTN access from their application services gives customers the freedom to choose SIP trunking services from a preferred supplier.
Zoom Phone BYOC Deployment Model
To implement BYOC, you'll need to add the Zoom Phone Pro license to your Zoom service, which enables a SIP trunking interface in the Zoom cloud. The interface connects directly to your designated SIP trunking service provider.
Both providers use virtualized session border controllers to protect the interface from external threats. All sessions are encrypted using the TLS protocol for signaling and SRTP for media.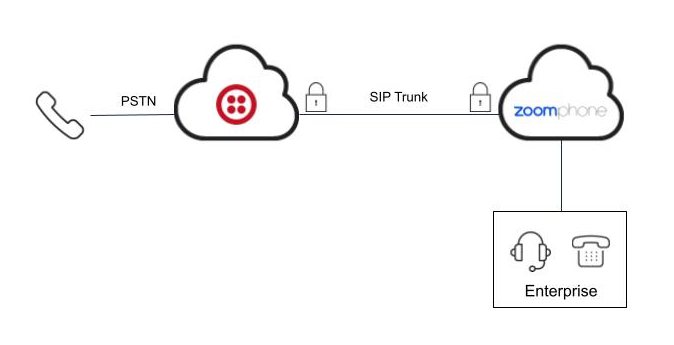 Zoom has verified compatibility between its Zoom Phone service and several SIP trunking service providers. Consult the Zoom website to learn more.
What are the benefits of a flexible solution with Zoom and Twilio?
BYOC provides a flexible option for customers with locations outside the Zoom Phone Plan countries and territories. In many cases, global enterprise customers use a combination of both BYOC and Zoom Phone plans. We've listed below some of the key considerations of each solution below:
BYOC
Expanded global coverage - Depending upon the SIP trunking provider you choose, you may find DID and toll-free numbers are available in more places where Zoom is not yet able to provide a calling plan. Twilio Elastic SIP Trunking offers service in 100 countries.
Calling rates -We recommend you compare prices for inbound, outbound and toll-free services by country.
Routing flexibility - You can leverage your SBC and/or SIP trunking service provider to apply routing policies before session hand-off to Zoom Phone. This enables you to control the experience, including outbound source phone numbers and inbound routing.
Simplified operations - Consolidate Zoom Phone trunks with other trunk services (CCaaS, on-premises VoIP, embedded apps., etc.)
Zoom Calling Plan
A consolidated invoice - Eliminates the time and effort required to select a SIP trunking provider and administer payments for an additional vendor.
No customer SBC required - Zoom applies security policies between the PSTN and the Zoom Phone cloud.
Both PSTN connectivity options can port your existing DID numbers and provide emergency calling (e.g. E911). We recommend you compare the built-in emergency calling capabilities offered by Zoom Calling Plan and your SIP trunking service provider for the countries where your users are located.
BYOC Helps Reduce Communications Complexity
Complexity, the bane of IT managers, can creep into an organization's SIP trunking network as it adds specialized communications applications to its operations. Most organizations deploy discrete UC and contact center applications, plus communications services embedded in a customer app. Each of these applications requires SIP trunks and each user requires a DID number, which can create a complex SIP trunking infrastructure.
Complexity multiplies for multinational organizations and when transitioning from on-premises to a cloud communications infrastructure. Each application may be deployed across multiple office locations and geographic regions, which means you need to provision local trunks and DID numbers for all of them. In addition, each location and the department may be at different stages of cloud migration. If you purchase PSTN connectivity and DIDs from cloud communications providers, you'll fragment your network and further increase complexity.
BYOC helps reduce complexity, improve business agility and reduce costs. IT managers can consolidate PSTN services onto a single SIP trunking provider servicing all their geographic locations, users and communications applications. It gives them more control over their migration from on-premises to cloud communications, too.
Field-Proven Twilio Elastic SIP Trunking for Zoom Phone BYOC
Twilio Elastic SIP Trunking is a field-proven global PSTN connectivity solution for Zoom Phone customers. We have experience working jointly with Zoom to deploy our SIP trunking services in multinational organizations. Twilio can help customers reduce usage costs and extend a local customer experience to users in up to 100 countries.
"Zoom and Twilio have enjoyed a close working relationship that has enabled us to quickly roll-out service for our joint customers," said Donovan Leone, solutions engineer, Zoom Video Communications. "No matter the size of the organization, the number of locations or countries, we're completely confident in this solution."
Twilio is a SIP trunking specialist that brings the scale, innovation and expertise of a global leader to Zoom Phone customers:
Low costs - Twilio Toll-free and DID prices are among the lowest in the industry
Phone numbers in 100 countries - Clean toll-free and DID phone numbers for purchase in 100 countries
On-demand services - Phone numbers and trunk services in any country can be provisioned in minutes through the central Twilio portal or API
Flexibility and control - A range of routing services and complementary applications can be added to your trunks
Consolidation - Twilio SIP trunks can provide PSTN connectivity to all your communications services, including VoIP, UC, collaboration and communications-enabled applications
These advantages, combined with the reliability of the global Twilio Super Network and our auto-scaling capacity, make Twilio Elastic SIP Trunks an excellent solution for Zoom Phone customers.
Twilio provides a global SIP trunking platform that enables you to consolidate all your communications applications, from UC to contact center and embedded customer apps, in up to 100 countries. By deploying a neutral PSTN connectivity solution across your organization, you can centrally manage trunk and DID provisioning and control SIP session delivery for all your users.
The Twilio Elastic SIP Trunking solution for Zoom Phone offers competitive prices across regions and the convenience of centralized management and on-demand scalability. It is fully verified and supported by Zoom so that you can deploy it with confidence. Download the Zoom Phone and Twilio Elastic SIP Trunking Configuration Guide here.