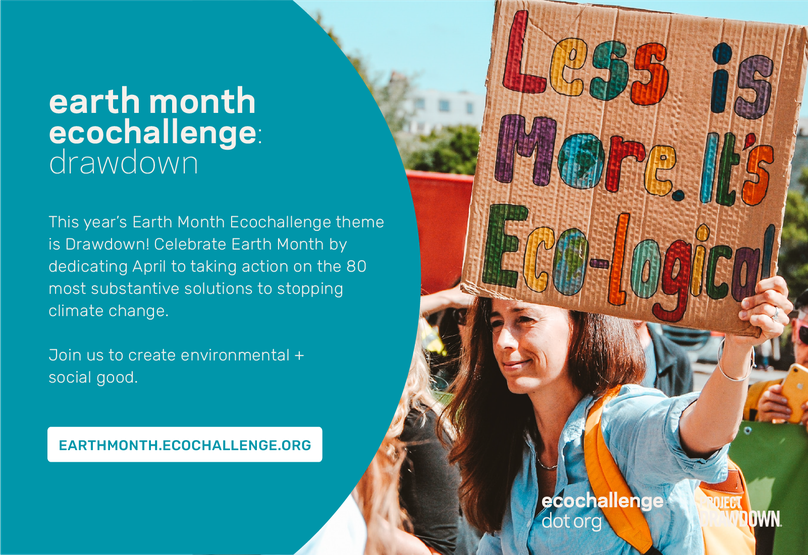 1% makes a world of difference. In honor of Earth Month, we're taking small actions and making large commitments to fight climate change.
To help you live your 1% pledge, we're providing monthly inspiration and tips for doing good in support of the UN Sustainable Development Goals (SDGs). This month Twilio celebrates Earth Month and recognizes Earth Day on April 22nd.
It's no secret that urgent action is required to curb climate change and its impacts. According to the UN, "Climate change continues to exacerbate the frequency and severity of natural disasters, affecting more than 39 million people [globally]."
With Earth Month beginning, there's no better time for all of us to reflect on the role we play in the future of our planet. Many of us want to connect the dots between our values and our actions, but might not be sure how we can make a difference against climate change as individuals.
To kick off our Earth Month celebration, Twilio.org is sponsoring the Earth Month EcoChallenge to make it easier for the WePledge 1% community to adopt lifestyle changes that will help reduce greenhouse gas emissions.
How you can join the Earth Month EcoChallenge:
Join Team Twilio in the Earth Month EcoChallenge

EcoChallenge provides several "challenges," in which you'll learn ways to help protect our environment and commit to taking specific actions.
Those who commit to a challenge can select from actions like purchasing LED bulbs or learning about food waste to calling your elected officials about increasing the use of solar power. Choose your own adventure by signing up for the actions that inspire you most!
Invite friends and family to join Team Twilio or create your own!
In addition to the EcoChallenge, Twilio invites the WePledge 1% community to participate in two interactive ways for builders of all experience levels to help create lasting environmental change. Whether you've never coded a line in your life or if you're a master builder, we have an opportunity for you to help the planet through code.
Here's how you can get started:
If you're new to coding… Play TwilioQuest in April to help us plant 10,000+ trees

TwilioQuest is an educational video game designed to teach new learners how to code! No experience necessary to start playing.
Plant real trees through TwilioQuest! Explore The Cloud and keep an eye out for special trees in the game. Each tree you find and interact with will result in a real tree being planted.

If you're a developer... Submit a coding project concept aiming to make a lasting environmental impact and receive 500 USD in Twilio credit

We know the WePledge 1% community is full of talented developers that are also passionate about the environment. We want to support your ideas and help bring them to life!
Twilio is awarding up to four developers with 500 USD in credits to kickstart a coding project aiming to make a lasting impact on our environment after submitting proof of concept. The deadline for submissions is 11:59am PT on Friday, April 30th. Winners will be announced live on Twitch in May.
We know the fight against climate change will take year-round commitment, and hope this month of engagement energizes the WePledge 1% community to continue putting climate solutions into action throughout the year and beyond.
Take the Pledge Today
Are you ready to join the movement for good? Visit wepledge.org to sign up and learn more. Twilio open-sourced our WePledge 1% program to empower individuals and company employees to build positive change globally by committing 1% of their personal time or resources to do good.
We can't wait to see the impact you build.