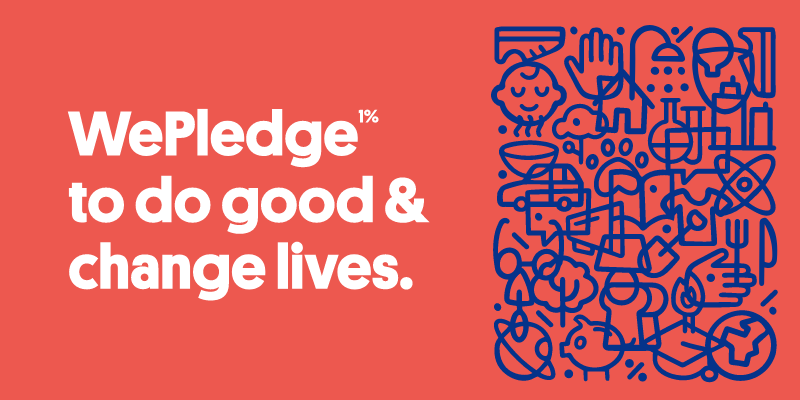 1% makes a world of difference. This month, WePledge 1% encourages you to advocate for human rights.
To help you live your pledge, we provide monthly inspiration and tips for doing good in support of the UN Sustainable Development Goals (SDGs). We're kicking off 2021 by taking the opportunity to reaffirm the importance of human rights in our movement for social good.
The UN defines human rights as the "rights inherent to all human beings, regardless of race, sex, nationality, ethnicity, language, religion, or any other status. Human rights include the right to life and liberty, freedom from slavery and torture, freedom of opinion and expression, the right to work and education, and many more." The protection of diverse identities and backgrounds are at the core of the SDGs because sustainable development cannot be driven without preserving human dignity.
In January, WePledge 1% is highlighting ways to advocate for human rights
Last month, the UN highlighted the COVID-19 pandemic as an example of how human rights continuously require our attention and diligence. A global crisis affecting all populations is seemingly a universal human plight, yet still demonstrates how structural inequalities, rooted in discrimination, cause certain demographics to be disproportionately affected.
Did you know?
This is just a snapshot of how the pandemic is exacerbating human rights violations around the globe. If you want to learn more, we recommend visiting Polaris, Human Rights Watch, United Nations, or Amnesty International.
How can you help?
The power of WePledge 1% is that 1% makes a world of difference. Together, we can lift our voices as a community and advocate for human rights by supporting the organizations below, either with your time or resources, or a blend of both.
Ways to Volunteer Virtually:
Amnesty Decoders (Global)
Amnesty International is a global movement of more than 10 million people campaigning for a world where human rights are enjoyed by all.
Volunteer using your computer or phone to sift through pictures, information and documents and help expose human rights violations.
Missing Maps (Global)
Missing Maps is an open, collaborative project helping human rights activists and first responders supporting people who otherwise would not be reached in crisis.
Volunteer by mapping areas where humanitarian organizations are trying to meet the needs of vulnerable people.
UN Online volunteering (Global)
The United Nations Volunteers (UNV) programme contributes to peace and development through volunteerism worldwide, addressing sustainable development challenges – anywhere in the world, from any device.
Volunteer by providing vital support to the UN's response to COVID-19 with a variety of projects, including translation, research, writing, editing, and more.
Additional Organizations to Support:
We also recommend exploring organizations and opportunities local to your community. You can start with sites like VolunteerMatch or United Way, or research an organization to donate to on Charity Navigator.
Take the Pledge Today
Are you ready to join the movement? Visit wepledge.org to sign up and learn more. Twilio open-sourced our WePledge 1% program to empower individuals and company employees to build positive change globally by committing 1% of their personal time or resources to do good.
We can't wait to see the impact you build.