The business/customer communication landscape has been shifting for the past few years, with new developments to protect consumers and provide more engaging experiences for businesses. Recently, that brought us to the new carrier requirements around US A2P 10DLC messaging. Please note, these changes only apply to businesses sending or receiving SMS over local long codes to consumers in the US.
Now, before we go too deep into the upcoming changes and why they are happening there are a couple key definitions:
A2P means application-to-person. This acronym refers to any text messages coming from a business.
10DLC references 10-digit long codes. These are the local 10-digit telephone numbers you see and use every day.
AT&T is joining Verizon by providing dedicated US A2P 10DLC messaging routes, with T-Mobile soon to follow. With these new routes, carriers are introducing new processes and registration fees to build transparency and trust around the messages that are sent across their networks.
We know this is a big shift, and we're here to partner with you to make the transition as seamless as possible. But, before we dive into what this means for you, let's take a step back and look at the evolving landscape of customer communications, particularly over SMS.
Why the landscape is shifting
SMS is among the most reliable ways to communicate critical information to consumers. Compared to channels like email (14.5% open rate on average) or push notifications (7.8% open rate), SMS boasts a 98% open rate. 90% of those messages are opened within the first minutes. While there is a time and place for other channels, important and urgent information is often best communicated with a text.
However, long codes have traditionally had a low barrier to entry, inviting savvy bad actors to take advantage of SMS as a channel. There are several entities who skip the opt-in process, resulting in high spam reports. And others still who cycle through numbers to avoid carrier filtering (referred to as snowshoeing).
In addition to these negative behaviors happening with long codes, shared short codes (the industry term when more than one business sends traffic over a single five- or six-digit short code) have introduced similar issues, making it difficult to monitor which entity is the bad actor.
If 9 out of 10 businesses using a shared short code are responsibly communicating with their customers and one business is abusing a shared short code, it is impossible for carriers to determine the bad actor.
Moving towards a more trusted ecosystem in the United States
Over the past few years, carriers have worked towards a more regulated ecosystem to keep text messaging a viable channel and maintain a trusted ecosystem across number types.
Short codes require an application and vetting process that takes 8-12 weeks before getting access to a dedicated number. In exchange for this transparency, short codes provide the highest levels of deliverability and throughput. Although not required, you can also register a toll-free number to get a verified number, once again resulting in higher deliverability and throughput. Now, the new regulations add a registration process for 10DLC numbers.
It is important to note that these changes aren't occuring in isolation. There are other Know Your Customer initiatives taking place across the communications industry, such as the SHAKEN/STIR protocols to help reduce unlawful robocalling. All of these initiatives require a similar registration process.
Although these regulations and fees do come with logistical and financial implications for businesses, there are benefits that come with these changes.
Dedicated routes for A2P traffic will result in improved reliability.
Dedicated routes for A2P SMS also will result in increased throughput. 10DLC numbers will no longer be limited to 1 message/second which can reduce the overall number of 10DLC numbers you need to get your desired throughput
Introducing barriers to entry will work towards eliminating spam and unwanted messages, ensuring continued levels of engagement with customers over SMS.
Registration requirements for 10DLC
There are two categories of registration requirements. Registering your brand shares information about your business, the industry, your company type, etc. This registration process results in a trust score, determining the level of throughput (AT&T) and the total number of messages you can send (T-Mobile).
After registering your business you will need to register your messaging campaigns. A campaign refers to a messaging use case such as Alerts or Promotional Marketing. This will determine per message fees (on AT&T), as well as your monthly campaign fees.
For deeper understanding of Trust Scores, Campaign Types, and fees please read our comprehensive 10DLC Overview.
Twilio: your partner navigating these changes
Our goal is to help streamline this process. We will enable registration for both campaigns and your brand within the Twilio Trust Hub, a centralized place of truth to manage all Know Your Customer Initiatives. Within the console, you will be able to easily register all of your business information, and Twilio will ensure it is registered with the carriers – automatically. For up-to-date registration requirements and timelines please visit our A2P 10DLC support page.
For a step-by-step guide on registering using the Twilio Trust Hub please visit our Brand and ISV onboarding guides.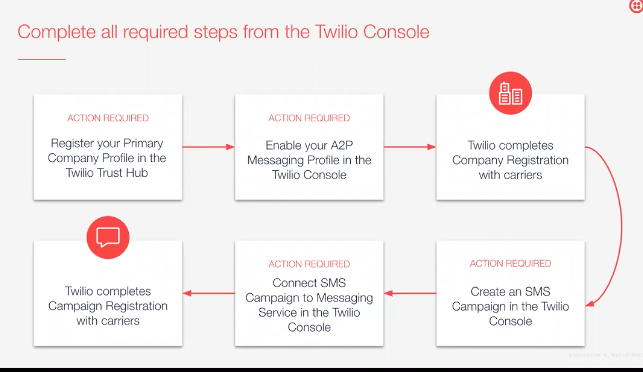 Additional resources:
Taylor Udell is a product marketer at Twilio. She focuses on helping businesses create delightful communication strategies while building trust with their customers.