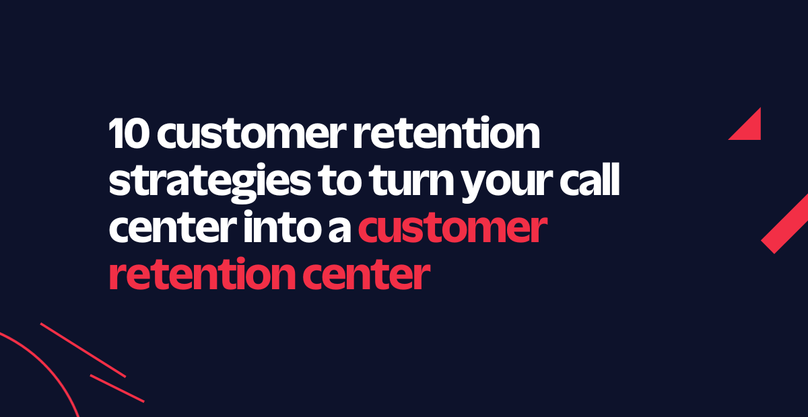 Increasingly, we've seen a massive shift in the consumer/business power dynamic. Traditionally, consumers were limited to the brick-and-mortar businesses in their area for many purchases (especially those in rural areas).
People ended up shopping at the most convenient business, even if the prices and selections weren't great. In this business-friendly environment, customer retention strategies weren't a top priority.
The advent of e-commerce flipped things in favor of consumers. So whether you live in a large city with 20 furniture stores or a small town with a single store, you don't have to shop at any of them. From the comfort of your couch, you can compare prices, research companies, and place an order from a seemingly endless range of options.
With so many options, modern consumers want businesses to wow and woo them. Fail to meet their needs, and they'll hop over to a competitor's website. Consider these statistics:
5x more money is what you'll spend to attract a new customer than to retain one
69% of consumers choose to shop at stores where the customer service is consistent
91% of consumers will consider additional purchases after a positive initial experience
79% of consumers say brand experiences are as important as a brand's products or services
80% of profits come from just 20% of your most loyal customers
10x the value of their initial purchase is what loyal customers are worth
Clearly, your current customers are a prime source of sustainable value. Hold on to them and you'll set your business up for years of success. Your contact center is one of the most crucial touchpoints that can help you make this happen.
10 customer retention strategies for call centers
If your goal is to improve customer retention (and it should be), you need to have a clear plan. Call centers are busy and unpredictable places, so the only way to achieve your desired results is to train your team and implement the right strategies.
Here are 10 ways to elevate your call center to a full-fledged customer retention center.
1. Be proactive about your customers' needs
The hardest time to resolve a customer's issues is when they reach the point of frustration. You can provide a better experience for your customers and agents alike by keeping tabs on where individuals are in the customer journey, then anticipating their needs.
For example, let's say that your company has a popular software product designed to help retailers track inventory. You could use call center data to identify the three most common questions that customers have when using your software. Then, you can create an email that explains how to navigate these three functions.
If your software has a 30-day free trial, you might also consider sending an email to customers a few days before the trial ends. Explain that soon you'll charge their card for your software and reiterate all the key reasons that it's worth their money. That way, you won't have angry people calling in about "unauthorized charges" to their credit cards.
And don't stop there. You could repurpose the FAQ email and free trial email with quality content for your call center agents. The better prepared they are for common issues, the more equipped they are to resolve concerns.
By looking ahead and helping to smooth out the road for everyone involved, you'll deliver better service and reduce headaches.
2. Give customers a clear path to resolution
As part of the customer/business dynamic mentioned earlier, modern consumers expect rapid responses. Rather than drive 15 minutes to a brick-and-mortar location to make a purchase, they tap a button on their phone. And shipping times have dropped from a matter of days to a matter of hours.
In this new e-commerce-driven world, you must deliver a frictionless customer service experience. Draw upon the expertise of user experience professionals to ensure customers can navigate your website and other interfaces so that they don't spend time searching for the right resources, which will only lead to increased frustration.
Your interactive voice response (IVR) system and text messaging platform should address common concerns and direct customers to solutions. For example, if you consistently get calls from customers struggling with payment issues, include that in your IVR script and clearly explain where customers can make their payments.
And if callers have unique questions and require an agent, make sure your IVR system directs them to the right person. Your agents must have access to the full customer view, so when additional people need to join the call, they can quickly access the details and move toward a timely resolution. Going through multiple transfers or being forced to repeat information can be frustrating experiences for customers.
3. Use an omnichannel approach
An effective customer retention center isn't just a call center—it's an omnichannel contact center. Learn how your customers want to connect with you, then provide the best channels for their needs. Not only will it provide crucial convenience, but it also reinforces your brand's commitment to delivering a personalized experience to customers.
But don't offer a channel that you can't service effectively. For example, a business might get angry feedback regarding the lack of text messaging for customer service. Anxious to remedy the situation, the business adds a phone number to its website and invites customers to text them whenever they need help. Without setting up a reliable system and protocols in advance, this hasty effort will only lead to more frustration from customers.
It's also vital that call center customer retention representatives can seamlessly join conversations on the various channels. Your contact center solution should help keep everyone on the same page and silos a thing of the past.
4. Harness the power of self-service
It's easy to get carried away in your desire to provide good customer service and forget that some of the best solutions are available without the help of a call center customer retention representative. Customers care the most about expedited service, so deliver it to them wherever possible.
This approach might begin on the customer service page of your website. Rather than providing your phone number and a call to action that says they should call you, think outside of the box. What resources could you add to the page that would allow people to get answers without making a call or sending you a text?
Effective self-service options include:
User community section with suggestions and answers provided by other customers
FAQ section with your most commonly resolved questions and concerns
Video tutorials that explain more in-depth topics
The self-service approach can be incredibly effective. Not only will customers always be grateful that they can get what they want without waiting in a queue, but there's a real power that comes from figuring something out for yourself. It's not just the feeling of accomplishment, but there's also a higher chance of internalizing the information. Someone who figures out a process is less likely to forget it in the future and seek your support again.
Another reason that this is among the most impactful customer retention strategies is that it frees up your agents to dedicate more time to customer queries that might require more effort.
5. Make it personal
Modern customers not only expect speedy results but also want personalization. This means that boilerplate is out, and customer journeys are in. You need to know your customers' needs and priorities to help them feel valued.
When communicating with customers, all agents should have access to the relevant history and data. By drawing from these resources, agents can provide better, custom solutions.
Additionally, understanding a customer's journey empowers your agents to be more empathetic. They'll know how the customer got where they are and where they want to go. This then helps them to speak in a way that shows understanding and a sincere desire to help.
6. Don't be afraid to apologize
Part of showing empathy is knowing when to apologize. Some brands steer clear of apologies, wary of the culpability and liability it can bring. But you can't deliver personalized service without sometimes expressing that you're sorry someone had a frustrating experience. It doesn't even require you to necessarily admit fault. Instead, you build emotional connections that can pay dividends in the future.
Of course, apologies are incomplete unless accompanied by solutions. So listen carefully to customers' concerns, then let them know how you plan to provide resolution.
7. Create a loyalty program
Many businesses launch loyalty programs to just boost sales. But that's a myopic view, as loyalty programs can help you learn more about your customers and establish bonds that will help you to resolve issues better.
For example, a loyalty app reveals the timing and details of all brand interactions. This goes beyond transactions, as you can also see when customers read news updates that you post or participate in contests. By understanding their engagement level, your agents deliver better personalized care.
From a practical standpoint, a loyalty program can also lead to better resolutions. For example, if a customer wants compensation after a disappointing experience, your agents can quickly add credits or promos directly to an app. There's no need to waste time and money on mailing a gift card.
8. Seek copious amounts of feedback
Even the best customer retention center teams have blind spots, so it's essential that you create channels to gather feedback from customers. For example, you could conduct a brief exit interview with customers who call in to cancel their subscription. While agents assure the customers they are happy to assist in ending their subscription, have them ask a few questions to identify the reasons for the decision.
Imagine how valuable these insights can be. As you identify trends, you'll learn about some of the primary threats to your success. And it's likely that you wouldn't have without such direct access to feedback.
If you're serious about customer retention strategies, you'll also need to get serious about customer feedback. Commit to taking action on what you learn, even when it's uncomfortable to hear. Unfortunately, many companies merely use feedback to confirm assumptions rather than challenging them. But this echo-chamber approach won't get you anywhere.
Finally, be sure to sincerely thank every customer who shares feedback. And let them know you'll take action. Many businesses find it effective to send out quarterly or annual emails highlighting the changes and updates made based on honest customer feedback.
9. Use KPIs to guide your progress
The only way to get where you want to go is to understand where you stand. Key performance indicators (KPIs) help you measure success and convert metrics into action.
For example, your internal data and customer feedback could reveal three major opportunities for retention improvement. Talk to individuals from across your teams to identify challenging but attainable goals for these three areas. Then, target the KPIs that will enable you to track progress.
It's also crucial to have internal buy-in on all performance-related goals. When your teams understand the objective and know their role in the process, they're more likely to contribute in their unique ways.
Call center software can greatly enhance these efforts as well. The best contact center software options provide real-time reports to help you monitor your business. You can customize the metrics and KPIs within the system, then view and share reports whenever necessary.
10. Follow up every time
While the power of following up applies to all aspects of your business, it has special relevance for customer retention. As mentioned earlier, 79% of consumers consider the experiences they have with your brand to be just as important as the products or services you sell. So if you tell someone you'll do something, make sure that it happens when (or before) they expect you to do it.
And while it takes time to build trust with your customers, each time you follow up, know that you add to the positive experiences that customers use to define your brand. Fail to do what you said you would, and that equity can vanish.
This is another area where call center software shines. Agents can enter notes after each customer interaction and manage timelines, helping to align customer expectations with your team's abilities. When software enables individuals from all teams to view and act on the most current information, delivering on promises becomes easier.
The importance of customer retention in call centers
Retaining customers through call center efforts is a core element of any modern business. By personalizing your service and providing positive experiences, you'll stand out and build customer loyalty. This sets you up to maximize the lifetime value of each customer and frees you up to spend less money on acquisition.
You'll also benefit from the insights received straight from your customers. This real-time feedback outpaces anything you could get from expensive panels and provides you with continual opportunities to improve.
Another key aspect of customer retention is that it provides a catalyst to get all your teams collaborating more closely. Traditionally, siloes limited organizations from effectively and consistently sharing internal data and best practices. Modern contact center software helps solve these issues and create additional opportunities for your people to work together to provide good customer service.
By making customer retention a priority, you implement strategies that will help your business thrive well into the future. Because customer retention, while noble and virtuous in intentions, is basically revenue retention. And every business wants that.
Take the next step in customer retention strategies with Twilio Flex
If you're ready to deliver personalized service and retain more customers, Twilio Flex is an ideal solution. Our contact center software reduces friction by helping customers engage with you via their preferred channel. Quick access to data and details then empowers your agents to provide accurate solutions in real time.
With the help of Flex, you can create a better customer experience while empowering agents. And, as any leader knows, those two factors lead to better retention every time.
Contact our Sales team to learn more about what you can build with Flex.