Last month, several Twilions, accompanied by about 12,000 fellow developers, attended WeAreDevelopers World Congress (WWC) in Berlin. The event has become a landmark in the tech industry, gathering thousands of developers, tech enthusiasts, and industry leaders from around the globe. This blog post takes you on a journey through the top five things we liked about the past WWC.
Keynotes on the Main Stage
Undeniably, the primary objective of the WWC is to foster knowledge sharing among developers from different backgrounds. It acts as a hub, bringing together seasoned professionals and aspiring developers alike to learn from one another. Attendees gain invaluable insights into emerging technologies, coding best practices, innovative tools, and industry trends.
One of the most memorable aspects of the WWC was the lineup of renowned keynote speakers. Experts from tech giants, startups, and academic institutions took the stage to share their experiences, wisdom, and visions for the future.
This year, we heard many inspirational talks. For example:
Sir Tim Berners-Lee about how he created the World Wide Web and his vision for the Web 3.0 to address the problems of the coming generation.
Brenda Romero bravely talked about the effects of bad launches on the developers who went through them and shared her own journey of survival.
Prashanth Chandrasekar, CEO of Stack Overflow, announced OverflowAI, which leverages GenAI to improve the problem-solving capabilities of Stack Overflow and revolutionize company-internal information management.
Dan Abramov imagined a parallel world where JavaScript became popular on the server before it was used in the browsers. Would React exist in that world at all? If it had, how would server-first React have evolved over the years? I strongly recommend watching this recording if you'd like to learn more about React Server Components that were released with React 18.
Talks about Every Technical Topic
But the WWC is not limited to the main stage talks. There were twelve other stages on which attendees could listen to expert panels, lightning talks, and technical talks. One of which was presented by me. My topic was focused on the recent innovations that came with Next.js 13.4, namely Tailwind CSS, the Approuter, and Server Actions; it also had a small Twilio footprint.
Workshops
There were also over 60 dedicated workshops for attendees who prefer hands-on coding challenges. One of which was offered by my fellow Twilions Nathaniel and Sam, who covered how to add multi-factor authentication into applications.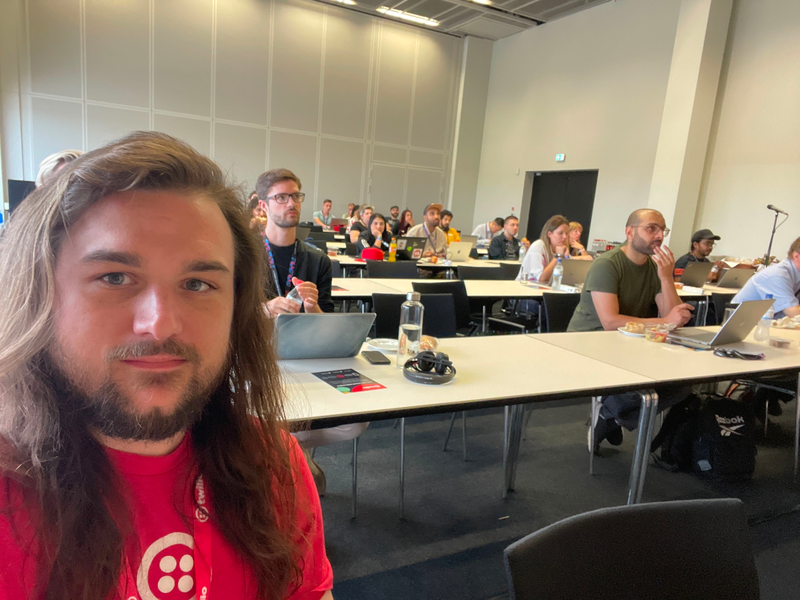 The Gigantic Expo Area
In addition to the educational sessions, the WWC offered plenty of networking opportunities. Developers had the chance to connect with like-minded individuals, potential employers, and even find mentors or co-founders for their ventures. The diverse range of participants from various sectors of the tech industry ensured a vibrant networking environment. The Congress hosted an expo area where cutting-edge technologies, groundbreaking projects, and startups were showcased.
The main attraction at the Twilio booth was our self-service smoothie bar, which was in very high demand, as depicted here:
To order, you had to scan the QR code we positioned throughout our booth. This automatically opened a new conversation with our WhatsApp bot, which used the latest features such as the Content API to respond with all available smoothie options.
Besides the smoothies, we also had some room for deeper technical conversations and a hands-on coding game (see right) in which attendees could use our Messaging and Voice APIs to ping their own phones.
Swag
If you've ever been to a Twilio booth, you might have one of our infamous Twilio developer t-shirts in your closet. We were so excited that developers who love our APIs stopped by and asked us for these t-shirts. Because of the uniqueness of the WWC, we even got co-branded souvenir socks for the attendees and our stylish scrunchies. To our surprise, we learned that these scrunchies are not only popular among developers of all genders but also among robots 🤖.
Overall, the WWC has once again been a transformative event in the tech industry, offering a unique platform for developers to learn, connect, and be inspired. With each passing year, the Congress continues to grow, bringing together even more developers from diverse backgrounds and further solidifying its place as a leading global tech event. And I'm sure we had as much fun at the event as the attendees, who came from all over the world.
You are welcome to visit us next year at the WWC or any other event at which you spot a Twilio booth.
We can't wait to see you!
Do you want to relive what happened at the event? Then check out our Instagram Memory and make sure to follow TwilioDevs to explore the Twilio booths at other major developer events around the world.