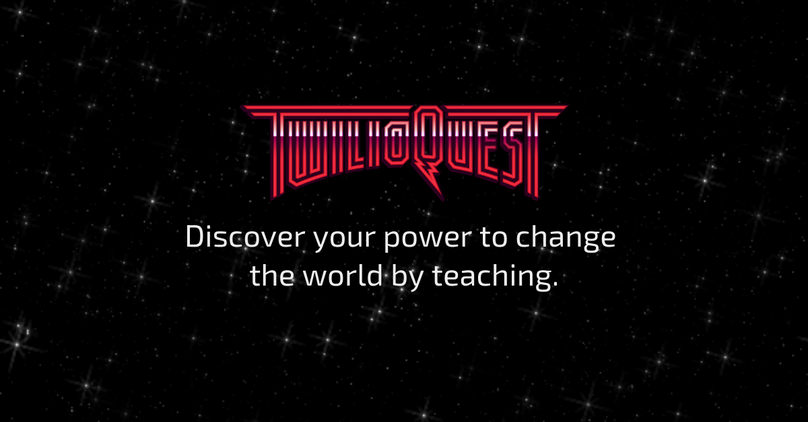 Translation retrospective
My role for the past few months has been as a community developer and content translator for the Japanese-language version of TwilioQuest – two distinct 'hats' that complement each other well, when you think about the skills involved in translating game content. But before I delve further into an explanation of my experience translating TwilioQuest, I want to talk about my appreciation for the game's purpose and the people playing it.
Why this work matters to me
When I first spoke to Margaret about working on TwilioQuest, I was most drawn to the possibilities of the gamification of difficult subjects. I myself am an academic at heart - I've always been at home in academia, and when I am unsure of where I'm going, that's the place I return to. I know all too well, however, that this isn't the case for everyone. Many people are not comfortable in the traditional education system, and it's not hard to see why. I've personally been scared off of subjects that seemed too foreign, too complicated, too far 'out of my league.' That includes, in no small part, programming and computer science. I've always been fascinated by it, but afraid to dive in. And if I, a person who thrives on academic challenges, was intimidated by the subject, I can only imagine how many others have felt the same.
I've seen too many people - brilliant, creative, curious people - who have been failed and left behind by the "traditional" academic system. This can take a lot of different forms - high school teachers dismissing a student's potential, counselors failing to set their students up for success, college departments dominated by a single demographic that feel unwelcoming to outsiders, or professors unwilling or unable to embrace new modalities of teaching.
This is why the emerging EdTech space is so enticing to me. Meeting learners where they are and teaching in a way that works for them is the only way to help them explore their potential, and as a result, create a more diverse and thoughtful mix in fields such as technology and software development. I was drawn to a community-minded role because I want to focus on the potential of EdTech to use new modalities to create effective teaching tools, including audio, visual, and of course (as is the case here) interactive content. Directly communicating with the community you serve, soliciting their ideas, feelings, and suggestions, is the most effective way to understand their needs, and thus create a product that will best fulfill those needs.
My role in the project
Now, to the linguistic and creative part of my job. When you're studying a foreign language, one of the first things you'll learn is that there is no such thing as a "direct translation." Words and concepts don't map neatly onto one another in the 1:1, "X means Y" manner that the word 'translation' usually evokes. Keeping cultural nuances in mind -- those of both the original content and the target audience -- is critical in crafting a finished product that is both faithful in intention and meaningful in practice. This is what translators mean when we talk about 'localization.'
The curriculum I've been working with can largely be broken down into two types – technical and theoretical. These subjects for teaching modules come with their own challenges and require two distinct skill sets to translate effectively. Let's break down some of the unique challenges in translation, for TwilioQuest and beyond!
Technical content
The first kind of content is technical – namely, TwilioQuest's original goal, which is teaching web development skills. This is what I spent most of my time on leading up to SIGNAL 2021. Here are some things to keep in mind when translating this type of content:
I am not a programmer, so I don't have a working knowledge of the topics being covered. This required a lot of learning on my part, so that I understood what I was trying to communicate. As a translator, it's important to have a solid theoretical grasp of the content you're translating.
Building a technical lexicon. Especially if you are unfamiliar with the content, you will have to learn a lot of specific vocabulary in your target language. Understanding the common parlance of the topic is essential.
Consistent rendering. You need to make sure you're communicating the same thing the same way each time. There may be a lot of ways to express something, but it won't be clear to your audience that you're talking about the same thing if you render it differently in different places.
There is an objective "right and wrong," which means you need to be very careful in explaining the concepts accurately. When describing a process, there are a lot of steps that can determine whether or not an outcome is successful.
Theoretical content
The second kind of content is theoretical, which requires a very different approach, and is where the cultural dimension comes in more strongly. The big focus here has been developing an effective teaching module for teamwork skills with a Diversity & Inclusion focus. Some important considerations with this kind of work include:
Some topics will necessarily be taught differently, explained in different terms or using different logic.
Learning is very culturally dependent. For example, Japanese contains a clear distinction between critical thinking and logical thinking, although they overlap. The resources I chose for the Japanese-language version of TwilioQuest emphasize this.
This means some topics may have to be reworked, replaced, or excised completely. The Japanese workplace, for example, is quite different from the American context. Issues that affect employees in America may differ in some respects from those that are prevalent in Japan.
Finding appropriate, high-quality resources takes a lot of extra time and energy, especially when using video content.
Searching for an article on a topic is easy - type in some keywords, then CTRL+F to see if it hits the same points, and if it does, read closer to determine its quality. For videos, you have to participate in active listening before you can even tell if it's going to address the topic in a useful way.
A workaround for this, and a tactic we used in keeping the content as consistent between languages as possible, was to embed code to set video subtitles to Japanese, where available. In another case, I found an article written in Japanese discussing a video presented in English. When neither of those worked, I had to source new content.
There isn't a "right or wrong" answer, as emphasized in the module itself.
What this means for content writing and translation is taking extra care to communicate the correct message. Choosing your words deliberately is the only way to ensure your audience is taking away the message you intended to impart, which only becomes more important as you move away from skills where outcomes work or don't work and towards skills where thoughtful nuance is the goal.
Creating a translation infrastructure
As for the future development of TwilioQuest, I've focused in on a few specific initiatives and resources for future translators to use:
Crafting a directory of translated material for translators and developers to cross-reference for accuracy and consistency.
We always want "Fog Owl" to read as "Fog Owl," rather than "フォッグフクロウ (foggu fukurou)," "フォッグオウル (foggu owuru)" or "霧のフクロウ (kiri no fukurou) for example, though these would all be viable options!
This is in the form of an extensive spreadsheet of "translatable content," that is:
Every line of prose, dialogue, or instructions that appear in the game, plus
separate tabs for repeated phrases ("Welcome aboard the Fog Owl!"), a glossary of terms ("Self-destruct Sequence," "Legacy System," "Neural Interface"), and
a running list of useful resources, including Japanese-language sites for web development or news articles.
A column for hiragana renderings - Japanese includes a "standard" writing system, that is, the kanji or Chinese characters you see in a newspaper, and
a "simplified" or phonetic writing system, hiragana, which is the first thing you learn as a new language learner.
Any kanji phrase can be rendered in hiragana and, early on, we discussed a future version of TwilioQuest written in hiragana, so children or non-native Japanese speakers working in Japan could use it.
These are just a few useful tools that I hope will be helpful for future translators of TwilioQuest, and for anyone else trying their hand at content translation. It's a much more in-depth, and much more culturally-conscious process than many expect at the outset.
Ultimately, what I urge translators to remember in their work is that your audience has to be the focus of your work. No matter how beautifully written or technically accurate your translation is, if it doesn't resonate with your target audience, it's only as useful to them as machine translation.
The human element is, in translation as in education, the key to - and measure of - success.