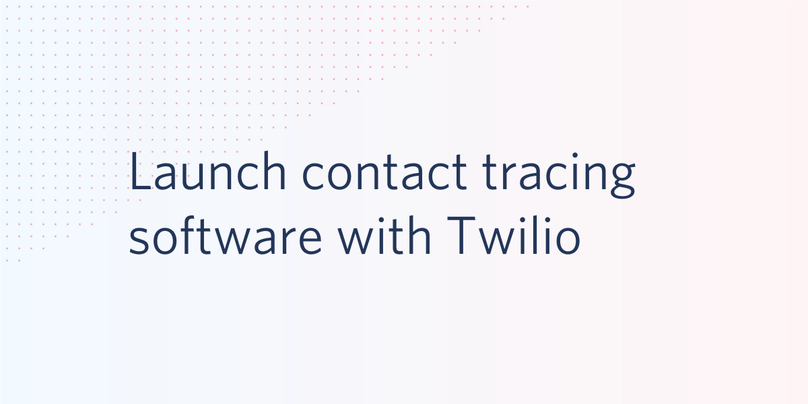 According to the CDC, contact tracing is a critical part of a multi-pronged approach to fight COVID-19. Contact tracing requires public health departments to:
Educate COVID-19 patients on the virus and interview them to identify close contacts
Notify these contacts that they may have been exposed and should start isolating
Monitor the ongoing symptoms and isolation measures of patients and their contacts
When implemented effectively, contact tracing can lessen the impact of COVID-19 by lowering mortality rates and allowing people to safely return to work. That's why most city and state leaders have identified scalable contact tracing programs as key milestones to reopen their economies.
We're here to help.
Twilio is working with public health departments and their tech partners around the globe, including New York City Department of Information Technology and Telecommunications and GovTech in Singapore, to launch and scale communications for contact tracing. Reach out to us here to collaborate. We'd love to discuss what we can build together to deliver this critical public service.
Engagement is critical to contact tracing
As trained contact tracers reach out to patients and their known contacts, engagement is critical to their success. Tracers must be able to place outbound calls to people who've tested positive and also trigger ongoing alerts to their contacts.
This is the communications workflow we've seen most commonly implemented for contact tracing, and how Twilio can help.
1. Patient Education
Contact tracing starts with trained public health officials, or contact tracers, calling a list of people who've tested positive for COVID-19 to educate them on the virus. Twilio Flex, a flexible cloud contact center platform, is built to enable this workflow.
You can integrate Twilio Flex with your CRM or public health data system that is capturing information about who has tested positive. From there, public health staff can place outbound calls to these patients from a dial-pad in Flex or click-to-call links directly embedded into your CRM. You can create "tasks" for public health officials to call each patient as they get added to your database.
2. Contact Elicitation
While on the phone with patients, contact tracers help them think through where they've been and who they've been in contact with recently. The contact tracer could input information about these contacts into their public health database directly. Alternatively, to help automate the process, tracers could trigger an SMS alert from Twilio Flex with survey questions or link to a secure web portal where patients can self-report contacts on their own.
3. Contact Notification
Once tracers elicit contacts, the next step is to reach out and let these people know they may have been exposed to COVID-19. When a new contact is added to your database by a tracer or patient portal, you can set up Twilio Flex to create another "task" for tracers to notify them. If the contact had a high risk of exposure, a contact tracer could place another outbound call to educate the contact about their exposure and potentially even help them find a state-sponsored place to quarantine. If the contact had a lower risk of exposure, a contact tracer may choose to trigger an SMS alert, email, or voice recording with educational materials.
4. Patient and Contact Follow Up
After initially notifying patients and their contacts, the next step is to keep a pulse on how they are doing. This helps public health departments monitor the spread of the virus, the patient recovery rate, and how many contacts have fallen ill. You can use Twilio's channel APIs for SMS, email, and voice recordings, to trigger alerts and notifications for patients and their contacts to fill out daily health surveys. Many groups are using a survey platform like REDCap to capture symptom data and analyze it to understand transmission trends.
Adapt to the unique challenges of COVID-19
Launching contact tracing software is no small feat thanks to the unique challenges created by this pandemic: the need for speed, scale, and privacy.
Due to widespread job losses in addition to illness, states want to reopen as soon as they can—but do so safely. That means they needed to build contact tracing systems yesterday. Speed to implement and onboard new tracers is essential. And, for tracing solutions to be effective, contacts must get notified in 24-48 hours so they can limit exposure to others.
With Twilio, you can quickly launch and iterate on your solutions with flexible APIs. Many Twilio Flex customers, like the City of Pittsburgh and United Way, are able to get up and running in just a few days. You can add new local or toll-free numbers in seconds without needing separate carrier contracts. We're seeing cities and states launch contact tracing with Twilio in days to weeks compared to what traditionally would take them six to twelve months to launch a contact center. Twilio also works with public sector implementation partners who can help you build your solution.
In addition, public health departments need contract tracing software that can scale up to power thousands of remote agents reaching millions of patients and contacts. And, they need flexible systems that can easily adjust to constantly changing rates of transmission.
With Twilio's cloud communications platform, you can scale up and down your communications on demand. For instance, Lyft quickly scaled up to 3,800 agents on Flex. Twilio has scaled to process more than 50 million calls, 200 million messages, and 4.2 billion emails in a single day. Twilio Flex also helps you get your new contact tracers up to speed. You can embed videos or call checklists for new hires right into Twilio Flex.
Finally, privacy is top of mind for public health departments building contact tracing. Twilio will collaborate with your team to make sure you are complying with local privacy regulations and securely handling patient information.
Reopening safely together
Given the promise of contact tracing to help prevent more people from contracting the virus and alleviate the economic fallout from the pandemic, Twilio is fully committed to helping launch these initiatives as quickly as possible.
We're already working with a number of city and state governments to build contact tracing communications, and we'd love to collaborate with you, too. Check out our on-demand webinar to see a demo of our solution, or reach out to connect directly with our team about how we can help.