It's no secret that great customer engagement is 🔑 for business. However, one of the biggest challenges companies face today is bridging the gap between the experience that customers expect, and the reality of what the company can actually deliver.
Helping businesses solve this "communication divide" faster is why we're so excited to introduce you to the newest addition to the Twilio Engagement Cloud suite of services—it's called Twilio Studio.

Twilio Studio is a visual interface that allows companies to accelerate the development of world-class customer engagement applications. With Twilio Studio, software developers and cross-functional teams can collaborate to build a variety of engagement solutions, such as interactive voice response (IVR) systems, conversational messaging bots, or notification workflows in minutes instead of weeks.
If you've used Twilio before, then you have experienced firsthand our dedication to getting you to production as fast as possible. Through our simple, well-documented, and reliable APIs, we've seen you build some amazing customer experiences in record time. Twilio Studio puts that same ability into the hands of even more builders and allows companies to leverage the specialized expertise of every individual.
The result is the power to build, scale, and iterate on communications workflows faster than ever before. 💪💪💪
Companies can now get both the flexibility that only comes from custom software development, and the speed of a packaged solution. Software developer? Build applications and hand them off to business operators for them to iterate on later. Business user? Create workflows on your own without needing the help of a developer up front. Cross-functional teams can now collaborate together—with developers focusing on the higher-order technical problems and business users focusing on the experience and iteration.
A Visual Builder for Communications
Twilio Studio is a visual interface that anyone in an organization can use to drag-and-drop their way to all kinds of engagement experiences, such as interactive voice response (IVR) systems, chat bots, or notification workflows.
Consider what CMS did for web design at companies—it kept developers from having to get involved with every small update, such as swapping an image or updating copy. We see Twilio Studio doing similarly for customer communications. It's the fastest way to build with Twilio and makes tasks that typically take weeks or sprints, possible in a matter of minutes.
You can design and deploy a new appointment reminder service for your business, add SMS chat customer service to your contact center, or even upgrade your IVR phone menu to support speech recognition. It's all made easy using an intuitive drag-and-drop visual editor with a library of omnichannel widgets that handle the underlying communication logic for you.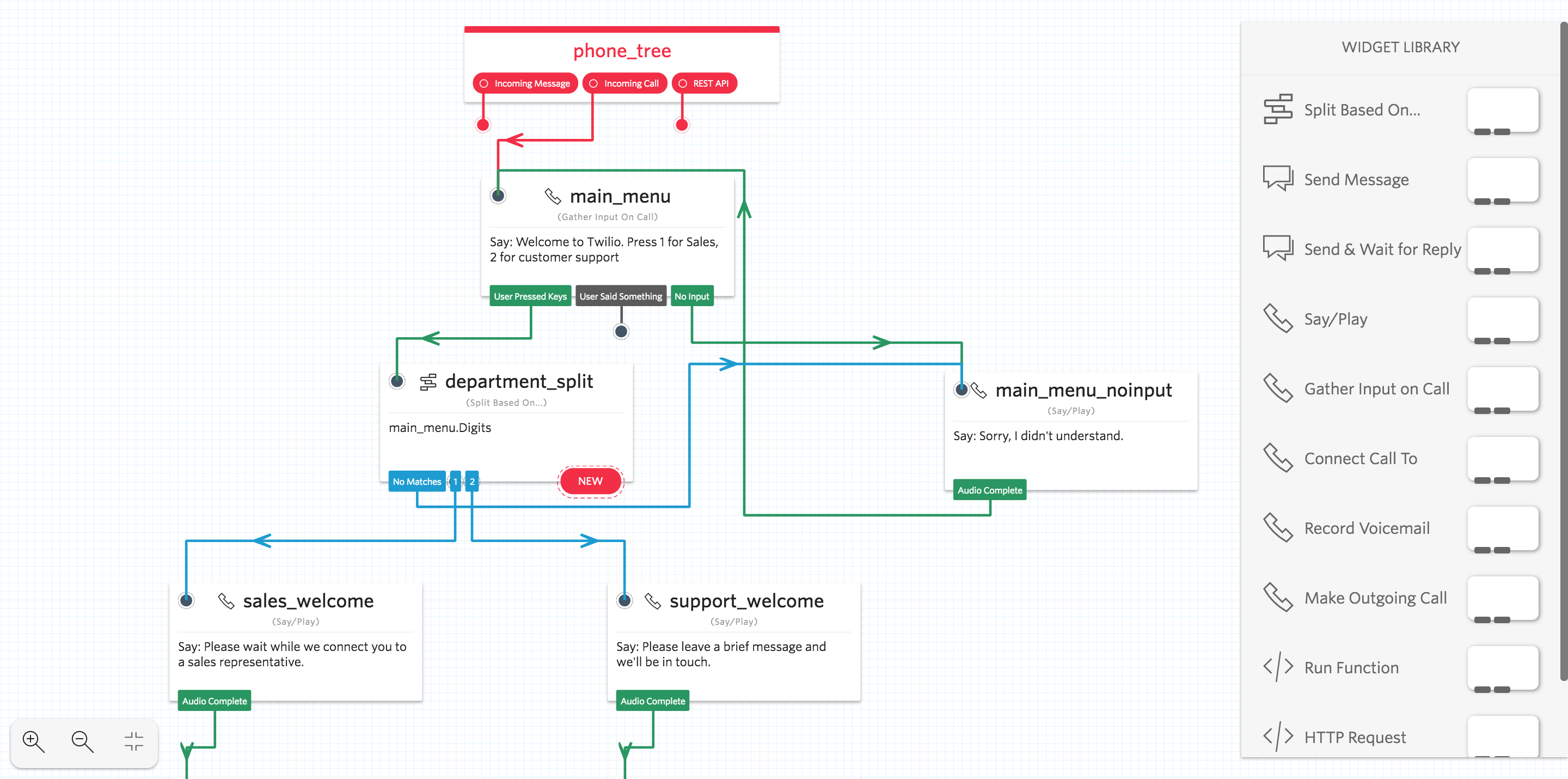 Using Twilio Studio, you'll discover all kinds of untapped potential throughout your organization, particularly:
A faster way to build engaging customer experiences:

A library of widgets represent different communication channels and functions for creating workflows. Building a world-class experience for customers is as easy as dragging and dropping those widgets into the best flow for any situation.
Improved agility to iterate on those experiences as customer needs change:

Changing content and routing logic for an application can now be done visually rather than in code, making Twilio accessible to every department within a business including product, marketing, support, and engineering. Adding a new channel or changing the customer experience can happen quickly without having to write new code.
Rapid development and deployment of new communications use cases:

As end-users around the world demand access to business through a growing range of channels, companies risk losing business if they cannot adapt quickly. Twilio Studio can unlock the creativity of the business to connect with customers in endless new ways much faster than before.
Unmatched scalability and reliability to grow with the business:

Workflows built with Twilio Studio are hosted and run on Twilio Runtime, the same elastic cloud infrastructure that runs the entirety of Twilio's platform. This allows businesses to focus on building great experiences rather than unnecessary infrastructure.
Extendable with Custom Functionality
For developers who want to extend workflows beyond what's available out of the box, Twilio Studio offers a way to configure workflows to do anything that's possible with code. Through an integration with Twilio Functions, our serverless environment for writing and running Twilio code, you get access to a "Run Function" widget that triggers your code once the event occurs.
Twilio Studio is designed from the ground up with extensibility and developers in mind. To read more about extending functionality from within your flows via Twilio Functions, check out the Twilio Studio user guide.
Twilio Studio is available in beta.
We can't wait to see all the amazing things you'll build with Twilio Studio! 🚀