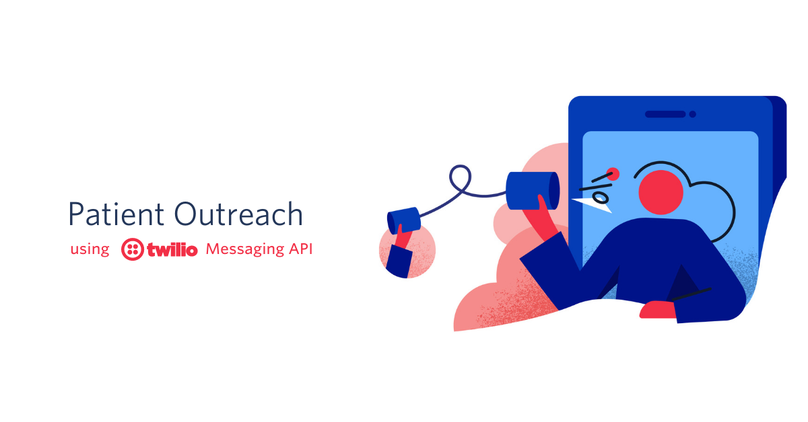 A new CodeExchange app is now available for Healthcare and Life Sciences organizations! The app packs together the core components of a deployable prototype for SMS-based outreach.
This app is intended for prototyping and testing purposes only. Not for use in production environments!
Twilio's Healthcare and Life Sciences (HLS) team is focused on providing partnership and enablement to help you connect the dots between your business challenges, the buildable solutions that Twilio can offer, and a solution that works for you. We're working on a set of solution blueprints to support customers like you along your journey – from a nugget of an idea to successful, widespread adoption.
Today, I'm excited to share our newest HLS solution blueprint, Patient Outreach! The Patient Outreach blueprint packs together the core components of a deployable prototype application for SMS-based outreach, and includes a set of accompanying technical guides to support a successful implementation and customization that fit your unique business needs. This solution blueprint is geared towards a simple and straightforward implementation, requiring only a CSV file upload with recipient contact information in order to start sharing successful outreach.
What is an HLS solution blueprint?
Many enterprise organizations have a strategic desire to use a platform like Twilio for digital customer engagement. We see this in HLS organizations, who want to exploit the business-changing flexibility, lower costs, scalability, and reliability that Twilio-powered, custom-built solutions can provide.
Our goal with HLS solution blueprints is to support healthcare providers, payors, and life sciences organizations interested in building custom innovations to understand what is possible using Twilio and accelerate the path to success by providing core building blocks, workflows, and technical guidance. We also hope to encourage your creativity around the various opportunities where Twilio can impact your business' digital customer engagement.
What is the Patient Outreach solution blueprint?
With the Patient Outreach blueprint, we aim to spotlight the flexibility and diverse applicability of an outreach solution built using Twilio by providing multiple examples of how we can help your organization make connections with patients through different engagement scenarios. In addition, we hope to demonstrate the malleability of building with Twilio, help you connect the dots between specific use-cases and the flexible underlying technology, and even provoke a creative spark so you can kindle your business' success to stretch into other opportunities.
The Patient Outreach app bakes in three example use cases, each tailored to a unique point of view to showcase how we can support your needs whether you're a healthcare provider, payor, or part of a life sciences organization.
Check out the app in action, with the following baked-in scenarios:
Healthcare Providers – post-procedure outreach to patients: checking in on how a patient is feeling and scheduling a follow-up appointment with a specialist
Healthcare Payors – new member outreach: sharing information on available resources and engagement content
Life Sciences/Pharma – outreach to potential research study participants: administering an eligibility questionnaire
These are just a few examples of outreach scenarios that could help HLS organizations, but the blueprint can be manipulated to support numerous other situations.
The architecture of the Patient Outreach app is aimed at getting you up and running as quickly as possible (there are no third party cloud-services requirements, SMS is the sole communication channel leveraged, and EHR integration is not a requirement for a fully-functioning app). Although we had simple implementation approaches in mind as we designed the blueprint's prototype application, you could adapt the solution to integrate with your EHR or to leverage an omnichannel engagement approach.
Looking for an out-of-box, fully-featured patient engagement platform? We also have partnerships with other healthcare technology customers that may be a better fit. Contact our Sales team if you're interested in learning more about out-of-box solutions.
Customers with that are subject to the Health Insurance Portability and Accountability Act (HIPAA) and intend to utilize Twilio's products and services to develop communication workflows containing protected health information (PHI) must execute a Business Associate Addendum (BAA) to Twilio's Terms of Service. Twilio considers HIPAA compliance as a shared responsibility between the customer and Twilio. To learn more about how to build a HIPAA compliant workflow using Twilio's offerings, please refer to our guide on Architecting for HIPAA on Twilio.
This CodeExchange App is not a generally available product and should not be fully deployed in a production environment. The CodeExchange App (including all code and related documentation) is provided "AS IS." Twilio disclaims all express or implied warranties of any kind with respect to the CodeExchange App, including but not limited to any implied warranties of merchantability or fitness for a particular purpose. Twilio shall have no liability or obligation to you or any other individual or entity for any damages of any kind or nature whatsoever arising out of or relating to the use of or inability to use the CodeExchange App, including but not limited to any direct, indirect, incidental, consequential, or special damages, even if Twilio has been advised of the possibility of such damages. Twilio has no obligation to support or maintain the CodeExchange. Use of the CodeExchange App is subject to all of the terms and conditions of the applicable license agreement.
Learn more about building a Patient Outreach solution using Twilio
Let us help you explore the world of Twilio, gain your confidence and understanding with a simple SMS outreach solution, and build momentum and creativity towards other customer engagement opportunities.
Head over to Twilio's CodeExchange to get your hands on the Patient Outreach application. Also, check out the application's Reference Architecture and Implementation Guide for more detailed information.
If you prefer to have a conversation about the application or how Twilio can support your goals, the Twilio HLS team would love to hear from you!
Contact us
And finally, the HLS Product team would also love to hear from you directly! If you're interested in sharing your experience or thoughts around the Patient Outreach solution blueprint, please contact us.
---
Brought to you with <3 from the Twilio Healthcare and Life Sciences team
---
Katie Kippenbrock is a Staff Product Manager on Twilio's Healthcare and Life Sciences team. Her goal is to leverage knowledge gained from professional experiences in public health, data analytics and software development to help improve our healthcare systems through technology, for the benefit of both patients and healthcare professionals. She can be reached at kkippenbrock [at] twilio.com.