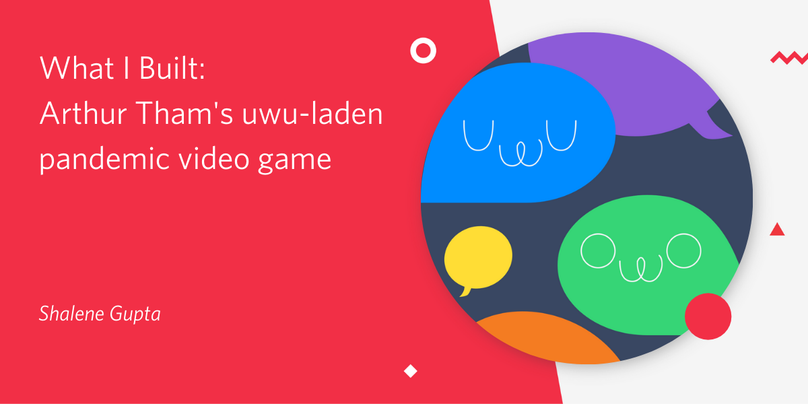 During a pandemic where time has passed slowly and anxieties have multiplied, Arthur Tham's quirky video game fills a much-needed gap. HackUWU is a deceptively simple, but ridiculously addictive, game full of joy. Tham, a recent Masters' graduate of UC Irvine, describes HackUWU's storyline as "finding love in saying uwu, owo, and ewe; while avoiding common university temptations like banh mi, boba and memes."
Tham's hackathon-built video game: A frenetic blitz of owo, uwu, campus buses, boba, and cats
Players click the bubbles that say "uwu", "owo", or "ewe", while pictures of boba, bahn-mi, and memes flash across the screen, while a timer counts down. You earn points by clicking more bubbles, and lose points and gain time if you click on the boba and banh-mi. The bouncy soundtrack and quirky graphics add to the up-beat feeling that despite the stress of the pandemic, you are safe in HackUWU. As you lose yourself in the bubbles and bobas, you suddenly feel that everything will be alright.
Meet the creator: Arthur Tham
Arthur Tham posing with a hackathon buddy at HackUCI
Arthur Tham, a born and bred Californian, understands the joy that video games offer during times of stress. When he was growing up, he escaped into games like Mario Kart for an hour every week. The time spent playing fueled a creative streak-- when he had free time he'd draw Mario Kart courses.
"At the time that's how I thought developing games worked," he said, laughing. "You draw something and put it in the computer."
In college at UC Irvine he had several interests and thought about majoring in film, but ultimately took an Introduction to Computer Science course that featured making mini-games. "I realized I was really passionate about making them," he said.
Tham also realized games were a great way to connect with people. Tham loves meeting new people and in college participated in several clubs—everything from community service to intramural sports. One of his strategies to get people to join the clubs was to build a game to put on the club website. "I love seeing the joy on people's faces. I love making these interactive experiences and seeing how people react to them," he said.
What inspired the project?
In 2019, Tham was participating in a 36-hour hackathon at UC Irvine and needed quick inspiration for a game. In college, his friend group had a habit of ending each sentence with the phrase "owo" and "uwu" such as: "come get a bubble tea with me uwu?"
For the uninitiated, "owo" denotes surprise and excitement, while "uwu" means warm and happy affection.
At first Tham was puzzled and had to look them up. Then, he became a user and found himself adding uwu and owo to the ends of sentences himself. For Tham, HackUWU was not simply a way to create joy through games; it was a way to address the joy and affection that he felt for his friends.
As for "ewe"?
"I needed a third word," Tham said. "I swapped in a new vowel to get ewe." He paused and offered: "If you really need a definition, it's a baby lamb."
How HackUWU was built
HackUWU was Tham's first creation using Twilio and was an instant success. It won the Best Joke Hack award at HackUCI in 2019. A Twilio evangelist was attending the UCI hackathon, and Tham got interested in learning about Twilio's different APIs and playing around with them.
The game is run on GameMaker Studio Engine using PHP/mySQL on the back end. It also uses Twilio SendGrid to create a special feature where players can enter their email addresses and get advertisements from sponsors that have been "uwufied," which means some vowels in words are replaced with "uwu." One ad reads: "Suwu is an ever-evolving community... We believe just one idea can sprout into cuwuless others... changing the world in uwumaginal ways."
An uwu-fied ad for Raspberry Pi
Tham also used the Transposit Giphy API so cats could randomly appear on screen during the game, because why not?
What's next?
Tham graduated from UC Irvine with his master's degree in Computer Sciences this March. At the moment he's taking some time off to explore his passions and look for jobs—preferably in the gaming industry.
In the midst of COVID, Tham followed up HackUWU with another uwu-themed app with the same zany, joyful energy. This one lets users send text messages or emails full of "owos," "uwus" and "ewes" to any phone number or email address they enter. "The idea was the more texts that you send, the more excitement you're sending," he said. "Which will save the world from COVID."
In the true aesthetic of uwu, Tham isn't serious, but he isn't entirely kidding either. He understands something about escaping into the strange and comforting hyperbole of games, friends, and intentionally ridiculous turns of phrase. Uwu won't save the world, but it may add joy during times of stress.
"I was really sad because of COVID depression," Tham said, "and I wanted a way to send my friends excitement and warmth. It wasn't as popular, so we have a ways to go saving the world from COVID, but you know there's still time to send those messages and texts."
Tham is currently in the midst of developing another game—this one based on an exercise for building brain memory muscles—owo!
Arthur Tham is a developer and Twilio Field Operator who leads virtual and IRL events, explores exciting new technologies, and serves student developer communities. You can find Arthur Tham online on Twitter, Twitch, GitHub, and his website. You can also play HackUWU on a desktop or tablet web browser at https://hackuwu.tech. For more information on Twilio Field Operators, check out this site.