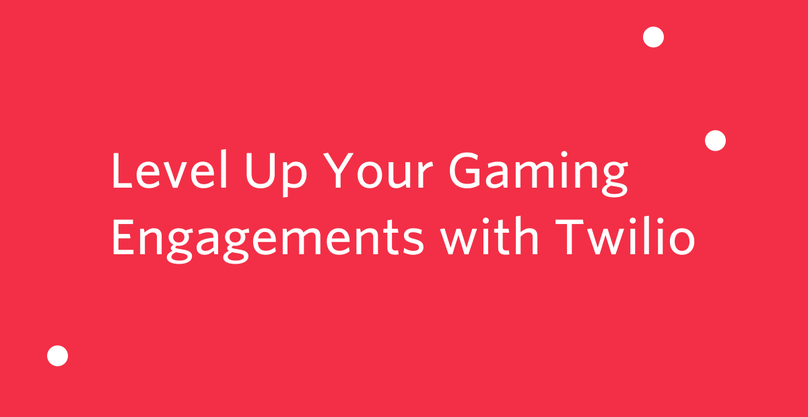 Twilio is uniquely positioned to support the rapid growth of the gaming industry by securing online accounts, providing live engagement through various communication channels, and streamlining contact centers and email marketing. In this blog we will cover a variety of ways to use Twilio to engage with your players and enhance their gaming experiences!
The global gaming market is estimated to be 268.8 billion U.S. dollars annually in 2025, up from 178 billion U.S. dollars in 2021. North America is projected to remain the top-grossing gaming market worldwide despite strong growth in the Asian region.
The gaming industry is accelerating at an unprecedented rate largely due to the pandemic. Both regular and casual gamers wanting to socialize with their friends and family have increased their gaming participation significantly. Many first-time gamers were introduced over the past year. Largely untapped segments such as people aged 45+ have seen an increase in gaming time by over 40%.
Account Security: preventing fraud in gaming platforms
The rise of online gaming requires players to register accounts to attach payment information for subscriptions and purchasing in-game items. Players spend a lot of time progressing through games and acquiring rare items which makes their accounts valuable to hackers.
"Criminals target popular games looking for valid accounts and unique skins, which are used to change the appearance of an item in a video game. Once a player's account is successfully hacked, it can then be traded or sold." according to Akamai research.
In-game purchases are estimated to account for more than 74 million U.S. dollars worldwide in 2025. With 1⁄3 of online gamers having experienced account hacking, two factor authentication (2FA) has escalated from a suggestion to a requirement. Two factor authentication deters hackers by sending a passcode to the account owner's personal device in addition to their original account credentials.
The developers of Rocket League included a patch to restrict players from trading in-game items until they register for 2FA to drive adoption. Learn more about how to incentivize users to protect their accounts with 2FA additional security.
Use Twilio Verify to easily give your global players the option to use Email, SMS, WhatsApp, Push or TOTP (Time-based one-time passwords) to protect their accounts from security breaches.
EpicNPC, a Twilio customer, facilitates the legal sale of gaming accounts with their online marketplace. They utilize Twilio Verify to protect their site and members from potential scammers. Twitch, a popular video game streaming service, has also found success using Twilio to protect their streamers and viewers from account hacking.
Live Engagement: create interactive experiences
Gamers use a variety of channels to communicate with each other such as voice, chat, and video. With the popularity of social gaming, live engagement should be a major part of designing a game or digital experience.
Customers using Twilio for live engagement include
Poker in Place is a social web-based Texas hold'em game. It utilizes Twilio Video to allow people to video chat with each other in-game. This reduces the need for players to communicate using 3rd party software and keep them engaged in the experience. Twilio Video can be embedded into any web, ios, or android application with our SDKs.
Vidpresso, acquired by Facebook, uses Twilio Live to provide high quality streams with professional video overlays. Twilio Live allows you to host live broadcasts using WebRTC. With the ability to embed this into any application allows your viewers to interact with the host in a variety of creative ways.
The Root Experience is an interactive theater that uses Twilio Programmable Voice and SMS to allow audience members to participate in a live performance with their phones.
With Twilio Live and Programmable Messaging you could host a virtual game show and allow audience members to use their phones as controllers without downloading an app!
Programmable Messaging can be used to notify gamers about changes to their account such as billing. You can also send text reminders to make sure your players don't miss in-game timed events such as live concerts in Fortnite, public events in Destiny, or Rocket League tournaments!
Contact Center: improving customer experience
Mobile gaming accounts for 57% of total gaming revenue worldwide. It's popularity is largely due to the fact that mobile games are highly accessible when compared to other gaming hardware since you can use your smartphone!
Many gamers have questions related to billing, game glitches, and security within their mobile games. With Twilio Flex you can directly integrate chat into your mobile game to allow players to contact a support agent within your company.
Once these requests come in your support agents will be able to quickly advise these gamers by viewing their user information on a single screen and responding in a web browser!
You can customize your contact center experience to make it seamless for both your gamers and agents and reduce the need for external systems to route requests.
Email Marketing
Modern gaming has introduced the GaaS(Games as a service) model which is popular with games published by Electronic Arts and Activision Blizzard. The lifespan of GaaS games like World of Warcraft can go on for a decade! With Twilio Sendgrid you can create email marketing campaigns to keep your users up-to-date on game changes or promotional opportunities. Capcom utilizes Sendgrid to provide information related to their game catalog for their subscribers.
In the spirit of building, one hackathon winner integrated the Sendgrid Email API directly into his game using the GameMaker Studio engine!
Conclusion
As games continue to evolve so do the people who play them. Gamers need more security for their vulnerable accounts, want new creative ways to engage with their friends and family, and be provided updates to their favorite games. Twilio's product suite enables game developers and producers to utilize building blocks to quickly solve the future challenges of gaming.
If you have any questions, please get in touch.