If you're reading this article, you've probably heard about all the exciting things, products, and services you can build with a Twilio number. You can send and receive SMS, receive calls, design an Interactive Voice Response (IVR), and code any telecom scenario you can think of in your favorite language. And it all starts with a Twilio phone number.
But, unfortunately, it is sometimes not so easy to purchase a number. We developers are often unaware that national regulations determine who is allowed to acquire a telephone number and under what conditions.
Many legislators prefer this approach because it helps prevent abuse and spam. However, it can be a challenge for us, as some legislators are stricter, while others are more relaxed, allowing easier access to phone numbers.
In this article, I will go into the local specific laws in Germany, Austria, and Switzerland (otherwise known as the DACH region), and also present a plan B if the local laws do not allow you to buy a specific phone number.
What types of phone numbers are there?
Before we get into buying a phone number, it's important to understand what types of phone numbers there are:
Local numbers (also known as landline numbers):

These numbers are used to make and receive calls. Depending on the country, it is also possible to send and receive SMS - but the later one is currently not possible in the DACH region.
These numbers start with an area code, which is determined by the place of residence of the holder, e.g., (0)89 for Munich, Germany.

Mobile numbers (also known as cell phone numbers):

In addition to the functions of a landline number, these numbers can also send and receive SMS. Exceptions for individual countries are also possible here.

Alphanumeric Sender IDs aren't actually numbers at all. They allow Twilio Programmable SMS to be sent using a personalized string (i.e., a brand or company name). Alphanumeric Sender IDs are ideal for transactional SMS messaging (e.g., one-time passwords and account notifications) as they are only available for one-way outbound messages. Recipients cannot reply to messages directly. However, contact information can be added to the message, to which recipients can reply, as you can see in the screenshot below.
For the sake of completeness, I would like to mention that there are also national and toll-free numbers, and short codes. Since these are used far less by beginners, I will not go into more detail here.
The type of phone number can often be read from the number itself.
This help document explains in detail which types of phone numbers are available in which country. It's worth bookmarking this link as features may change in the future.
What are the requirements for these phone numbers?
In many European countries, certain requirements must be met to buy a Twilio phone number. Evidence of these requirements can be Twilio Console using so-called Regulatory Bundles submitted and approved. The necessary requirements for a number are determined by three criteria:
The type of number that is to be purchased (e.g., a landline number or a mobile number).
Whether the customer is a natural person, i.e., a private person, a legal person, or a company. As a rule, natural persons must identify themselves with a passport or similar documents, and companies with a register extract ("Handelsregister" or "Firmenbuch").
In which country the number is to be purchased. This criterion also determines the country code of the Twilio number. So +41 for Switzerland, +43 for Austria and +49 for Germany.
The exact criteria required can be found on the following pages:
The good news, is that for companies it is possible in all the countries mentioned, to purchase both local and mobile numbers. However, at Twilio we also recognize that some developers like to familiarize themselves with a web service privately before using and purchasing it as a legal entity. Therefore, the following section aims to help individuals to purchase a Twilio number.
Buy Swiss Twilio (+41) numbers
Permits for mobile numbers are relatively easy to purchase for individuals in Switzerland. All that is required is an ID card, a passport, or a residence permit. The big advantage is that you can even buy Swiss mobile phone numbers with a passport from another country. This means that private individuals from Germany or Austria also meet this requirement.
However, the disadvantage of Swiss mobile phone numbers is that they can currently only send and receive text messages. Unfortunately, calls are currently not supported.
Regulatory bundles for local numbers are only approved in Switzerland for local individuals living in the respective region. To purchase one, you have to prove your address as well as your identity. Once the bundle is approved, you can purchase local numbers to make calls with.
Buy Austrian Twilio (+43) numbers
Regulatory bundles for mobile numbers can be applied for by anyone living in Austria. All you have to do is prove you identity, via a passport or an ID card, and their address. You can prove the latter with an address confirmation from your landlord, a tax assessment notice, or an invoice from a basic supplier that is no more than three months old. Once these documents have been reviewed and approved, you can buy a +43 cell phone number and use it to make phone calls, as well as to send and receive text messages.
The requirements for landline numbers are the same as for mobile numbers. This means you can reference the existing documents in the Twilio Console and don't have to search and upload them a second time. With an approved bundle, you are then able to purchase a landline number that can make and receive calls.
Buy German Twilio numbers (+49)
Unfortunately, it is currently not possible for German individuals to buy landline numbers or mobile phone numbers. At the moment, these are restricted to legal entities. Although users can start the purchase process in the Twilio Console, they unfortunately end up with the following error message:
"To purchase or transfer this number you must provide a bundle compliant with the rules for the country and number type. More information here: https:/ /www.twilio.com/docs/phone-numbers/regulatory/phone-numbers-regulatory-requirements-customers"
Fortunately, this does not mean that developers from Germany do not have the opportunity to get to know Twilio 🙂. In Germany, Twilio offers free alphanumeric sender IDs that can be used to send text messages without a phone number. What's more, thanks to the EU Roaming Regulation, it is also possible for end users from Germany to communicate free of charge with Twilio numbers from other EU countries — without having to worry about additional costs. You can find more about this in the next section.
What if you can't buy a suitable number?
What can you do if regulations prevent purchasing certain numbers – as in the case of German +49 numbers? What are your options if the number available in my country doesn't give me all the features? What if you just need an uncomplicated phone number for a proof of concept and only decide after a few weeks whether you need a number with a specific country code?
I know from my own experience that these questions are top of mind for many developers. Fortunately, the European Union is helping us here with the EU Roaming Regulation. Thanks to this regulation, there have been no roaming surcharges since June 15, 2017. As a result, Europeans traveling in the EU pay the same prices for calls, texts and data as they do at home. This also applies to Twilio numbers from other EU countries, which are sometimes easier to buy. Communication with such numbers is then possible for other EU participants at no extra charge.
Twilio phone numbers can also be used to communicate across national borders.
If you like this option, I recommend buying mobile numbers from these two countries:
🇫🇮 Finnish +358 mobile numbers are able to make call to initiate and receive SMS. And all this is possible without Regulatory Bundles. These numbers can be purchased and used right after logging into the Twilio Console with only a confirmed address. At the time of writing such a number could be purchased for $5.
🇧🇪 Belgian +32 mobile phone numbers can also be a welcome alternative. These numbers can SMS and make calls. Plus, these numbers const only $1.25 right now. Although the purchase of such a number requires a regulatory bundle, the hurdle for this bundle is quite low. You only need to provide a passport from any country and proof of residence. For this purpose, a landlord confirmation, a tax assessment, or an invoice from a basic supplier can be used.
In addition to these countries, there are other EU member states from which telephone numbers can be easily purchased. If you don't like the above options, here are the requirements for other countries.
No matter which country you choose, though, you should be aware that Twilio disables communication between numbers with different country codes by default. This means that calls and SMS to and from such numbers will not be delivered by default. However, the necessary adjustments to the geo-permissions are minimal and can be made in the Twilio Console.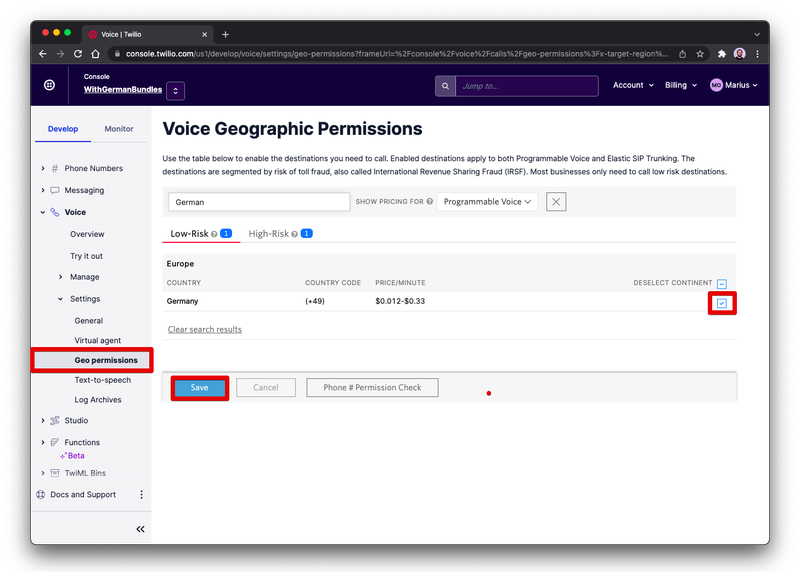 Page for adjusting voice geo-permissions
Page for adjusting SMS geo-permissions
It is possible that the costs of running the Twilio number deviate from the usual costs. You can find more details under the following links:
That's how to buy a Twilio Number in the DACH region
I hope this guide has helped you to dive into the Twilio universe and reserve a suitable Twilio phone number. If you are interested in Twilio and would like to learn more about the possible application scenarios, please visit our events page. If you have any questions about this article or a related topic, please feel free to contact me through any of the following channels: