Twilio's mission is to unlock the imagination of builders
We're the customer layer for the internet, powering the most engaging interactions companies build for their customers. We provide simple tools that solve hard problems, delivered as a developer-first cloud platform with global reach and no shenanigans pricing.
Our core values and
principles: The Twilio Magic
We love hard problems and believe in the indomitable power of people's ability to create a better world through ingenuity and resourcefulness. We reject the "can't be done" and believe bold ideas and fearless iteration can resolve the most challenging problems for our customers and the world they operate in.
We take accountability and see things through. We take the long view, sweat the details, and think about how our work makes Twilio better every day. We recognize that we and others do our best work when we feel both empowered and accountable for outcomes.
We see ourselves as works in progress. We know that we don't have all the answers, humbly seek the truth, and strive to get better every day. As individuals, as a company, and in our products, we seek continual progress over perfection and acknowledge shortcomings as a matter of fact. Progress comes not from avoiding mistakes or hard truths, but in learning from them.
A positron is a positively charged electron. We are genuinely excited to serve and help others. We believe that positive energy is contagious and caring is critical. We seek to be bright spots for the people around us in every interaction, and we stand up and work for what we believe is good and right for our customers, our company, our communities, and the world at large.
Global scale, global presence
With 26 offices in 17 countries and counting, Twilio has the infrastructure to support communications worldwide.
Atlanta
Bengaluru
Berlin
Bogotá
Denver
Dublin
Hong Kong
Irvine
London
Madrid
Malmö
Melbourne
Mountain View
Munich
New York
Paris
Prague
Redwood City
San Francisco
São Paulo
Singapore
Sydney
Tallinn
Tokyo
Vancouver
Washington D.C.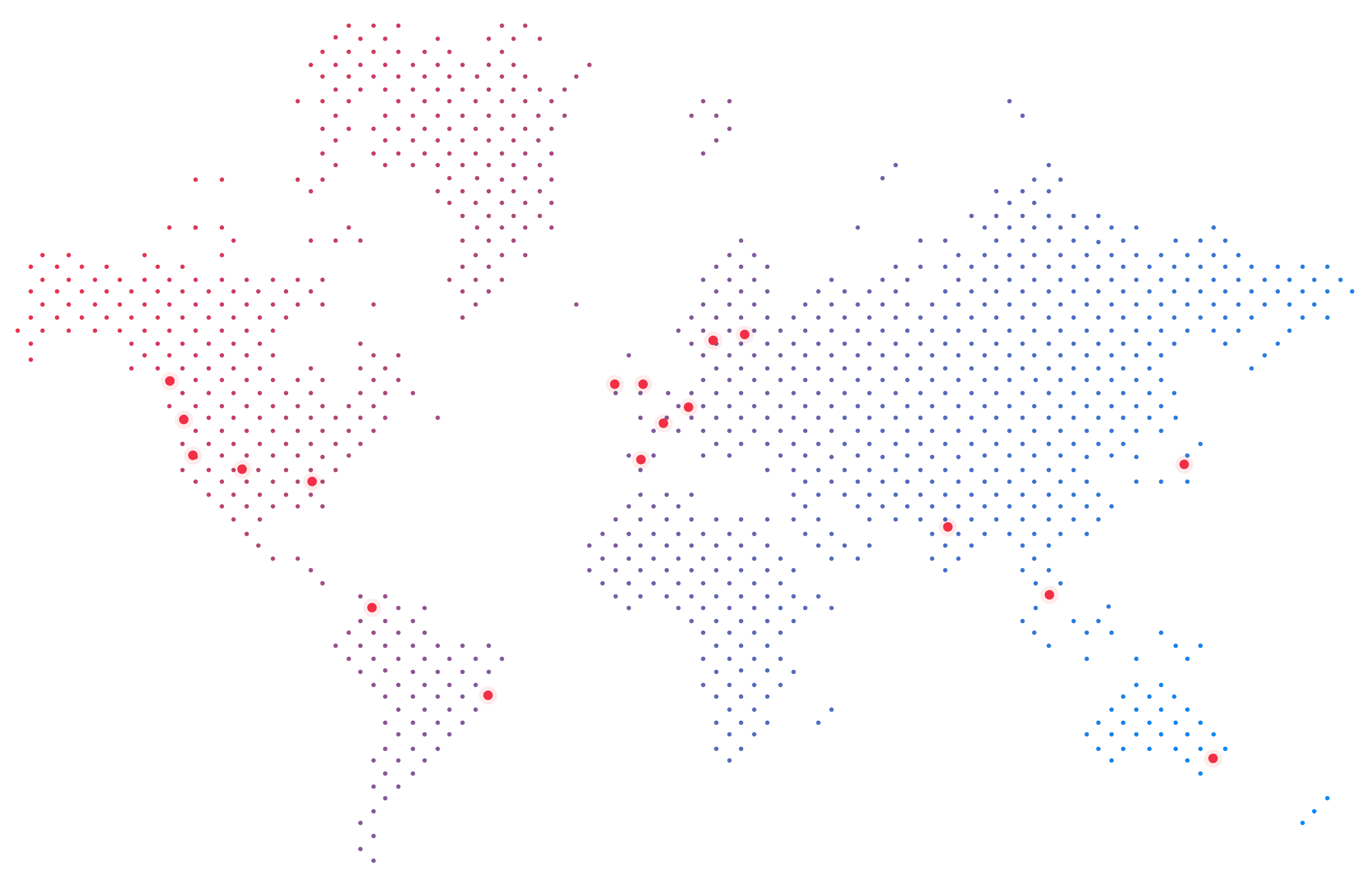 A TEAM OF EXPERTS
The Twilio leadership team and Board of Directors bring years of experience in communications and software.
Management
A serial entrepreneur and a software developer, Jeff co-founded Twilio in 2008 to bring communications into the world of software. Prior to Twilio, Jeff was co-founder & CTO of NineStar, founding CTO of Stubhub.com, co-founder, CEO & CTO of Versity, and one of the first product managers for Amazon Web Services. Jeff grew up in Detroit, started his first company at age 12 doing event video production, DJ'd his way through college, and graduated from the University of Michigan. He is a father of two young boys, enjoys photography, and always makes time to hack on new software and hardware projects.
Michael "Buck" Buckley brings more than 20 years of experience in communications, investor relations, politics, and consulting. He oversees all internal and external communications globally, as well as analyst relations at Twilio. Prior to Twilio, he served as California Communications Director for Mike Bloomberg's presidential campaign, VP of Global Communications at Facebook during several years of hypergrowth, and Managing Partner at Brunswick Group, a leading corporate advisory firm. He is an active angel investor and startup board member, co-founder of Ocean's Halo, a successful food company, and serves on the non-profit board of Brady United, a leading gun violence prevention organization.
Lybra S. Clemons is a seasoned c-suite executive with over 15 years of Human Resources, Talent, and Diversity & Inclusion experience at Fortune 500 companies. She is responsible for guiding and scaling inclusion strategy and diversity initiatives across Twilio's global workforce. Prior to Twilio, Lybra was Global Head of Diversity & Inclusion at PayPal, where she managed and oversaw all global diversity initiatives. Lybra has held critical roles in Diversity & Inclusion with Morgan Stanley, The Brunswick Group, and American Express. She serves on the Board of Directors of @Makers, How Women Lead Silicon Valley Executive Board of Advisors, and has been recognized by Black Enterprise as one of the Top Corporate Women in Diversity.
As President of Revenue for Twilio, Elena is responsible for scaling solution selling, driving leverage in sales, and supporting Twilio's path to profitability.
Elena's career spans 25 years at multiple tech companies with a track record of product innovation and enterprise GTM leadership at global scale. At SAP Concur, in her role as President, Elena oversaw all of go-to-market, product and engineering. Elena drove sustained growth for Concur over the years across markets, channels, and geographies and assumed the President role when Concur was acquired by SAP for more than $8B. During her time as CEO of Axiom, revenue doubled as the business further penetrated the Fortune 1,000 across several key industries.
As Chief Marketing Officer, Joyce leads global marketing as Twilio executes its vision of becoming the leader in the emerging customer engagement category. Joyce brings over two decades of experience scaling commercial innovation and growth in the technology sector through large scale digital transformation and brand elevation strategies. Her expertise spans all facets of Go-To-Market including digital, brand, communications, channels and product strategy for global technology and SaaS companies.
Previously, she served as the Chief Marketing Officer for Genesys and was responsible for driving market expansion and revenue diversification strategies including customer acquisition, engagement and channel growth.
Joyce is passionate about increasing brand value and revenue growth by advancing a data-driven organization and demonstrates her thought leadership as an active member of the CMO Council, Executive Council Member of the Forbes CMO Practice, Wall Street Journal CMO Network, and as part of the Fast Company Executive Board. She also serves as a member of the board of directors and the audit committee at Quicklogic corporation (QUIK), and member of the board for Bring Me A Book, a non-profit focused on bringing the joy and transformational power of books to all children in under-resourced communities.
Joyce has two bachelor of science degrees in Business Finance and Architecture from California Polytechnic State University.
Christy is Chief People Officer at Twilio where she leads the company's global People team. She is responsible for driving the talent development and acquisition strategy, and building infrastructure to support a thriving culture of belonging, diversity and inclusion across the company. Previously, Christy was Senior Vice President and Chief People Officer at Box, which she joined with 20 years of experience in culture development, talent strategy and learning and development. Prior to Box, she held human resources leadership positions at Medallia, HP Software and The Home Depot. Christy holds a Bachelor of Arts in Political Science from the University of Connecticut.
As Chief Product Officer Eyal oversees the execution of Twilio's future product roadmap, working to deliver on its vision to build the leading customer engagement platform. Previously, Eyal was a Vice President of Engineering and Product at Google Cloud, where he leads a portfolio of products and technologies including Kubernetes, Hybrid & Multi-Cloud, Istio security Mesh, Billing, Cloud Functions, Cloud Run, Marketplace, Monetization and other products. In his previous roles with Google, Eyal led YouTube's engineering teams, and prior to that spearheaded the development of Display Advertising products, including starting up Advertising Exchange and Real Time Bidding. Before joining Google, Eyal founded Voice and Video SaaS streaming startup and was in the IAF Research Group after graduating from Tel Aviv University.
As Chief Social Impact Officer at Twilio, Erin drives the company to use its unique assets - products, people, and funding - to do good. She also runs the business unit that empowers nonprofits to use Twilio to scale their impact. Through her leadership, thousands of social impact organizations using Twilio are helping more than 100 million people each year. Erin's work proves that social impact can be a sustainable business by lowering costs for nonprofits to access Twilio, while delivering meaningful revenue growth and continued investment in social impact. Over the course of her 20+ year career, Erin has driven social and environmental change while working at Google, Yahoo!, and Nike. She was named one of the 50 Most Powerful Women in Technology by the National Diversity Council, for her leadership in the social impact space and accomplishments in corporate citizenship. She holds a BA in Human Biology / Environmental Management from Stanford University and an MBA from the University of California, Berkeley.
Khozema brings over 20 years of experience in finance, most recently serving as GE Digital's chief commercial officer. In his role as COO, Khozema oversees several operational areas including Finance, Business Operations, Corporate Development, Corporate Security, Health and Safety, IT, Real Estate and Workplace, and Sourcing. Khozema previously served in a variety of positions within GE, including as the chief financial officer and EVP of corporate development at GE Digital and the vice president of corporate audit staff of GE. Khozema earned his bachelor's degree from the Indiana University Bloomington and graduate coursework at The University of Chicago Booth School of Business.
Reeny comes to Twilio from Autodesk where she was the Chief Security Officer. She was responsible for driving the company's security and trust strategy for its infrastructure, products, and services. She previously led security engineering for EMC, now part of Dell. Reeny also serves on the board of Rapid7, a growth business in cybersecurity. She made a transition to security after many years in product management launching multiple hardware and software products. With over 25 years in technology, Reeny enjoys building teams that bring pragmatism and creativity to complex problems and can inspire others toward one vision.
Dana Wagner has worked in a variety of senior positions in technology companies and in government. Most recently, he was the Chief Legal Officer at Impossible Foods, where he oversaw the company's legal, policy, quality control, and security operations. He currently sits on the Board of Directors of the Centre Consortium, a cryptocurrency organization focused on stablecoin technology, and on the board of a nonprofit devoted to teaching computer literacy to young adults in Oakland, CA. Wagner received his undergraduate degrees in Economics and Comparative Literature from the University of California, Berkeley and his J.D. from Yale Law School.
Aidan Viggiano is SVP of Finance at Twilio where she leads the company's global finance team. In this role, she is responsible for FP&A, Commercial Finance and Treasury globally. Aidan is an experienced financial leader with expertise in technology, FP&A, investor relations and more. Previously, Aidan held several finance leadership roles at General Electric. Aidan has 20 years of experience in finance and investor relations at enterprise technology companies. She earned her bachelor's degree from the Wharton School of the University of Pennsylvania.
Glenn represents the voice of the customer, with responsibility for Twilio's technical support, customer success, customer experience, professional services, and systems integrator partner teams. Before Twilio, Glenn was co-founder of Appirio, a leading cloud consultancy and top global partner of Salesforce, Workday, and Google, and he has also led consulting and support teams at numerous public software companies. Glenn received a BS in Computer Science from the U.S. Naval Academy, and an MS in Computer Science from Rensselaer Polytechnic Institute.
Board of Directors
Jeff is a serial inventor with over 15 years of entrepreneurial and product experience. Prior to co-founding Twilio, Jeff was Founder & CTO of NineStar, Founding CTO of Stubhub.com and Founder, CEO & CTO of Versity. He was also one of the original product managers for Amazon Web Services. At every business, Jeff identified the fundamental need for a platform for developers and companies to easily build communications-based business solutions. Jeff grew up in the suburbs of Detroit, started his first company in middle school, and earned his BS in Computer Science & Film/Video from University of Michigan.
Mr. Richard Dalzell was Senior Vice President and Chief Information Officer of Amazon.com, Inc. until his retirement in 2007. Previously, Mr. Dalzell served in numerous other positions at Amazon.com, Inc., including Senior Vice President of Worldwide Architecture and Platform Software and Chief Information Officer from 2001 to 2007, Senior Vice President and Chief Information Officer from 2000 to 2001 and Vice President and Chief Information Officer from 1997 to 2000. Prior to his employment with Amazon.com, Inc., Mr. Dalzell was Vice President of the Information Systems Division at Wal-Mart Stores, Inc. from 1994 to 1997.
Mr. Dalzell brings to the Board extensive experience, expertise and background in internet information technology gained from his service as the Chief Information Officer of Amazon.com, Inc. He also brings corporate leadership experience gained from his service in various senior executive roles at Amazon.com, Inc.
Byron Deeter, a partner at Bessemer Venture Partners, leads their global cloud practice and has been involved in cloud computing since 1999. In addition to BVP's Twilio investment, he has lead Bessmer's investment in Cornerstone OnDemand (CSOD), Criteo (CRTO), Eloqua (ELOQ), Adap.tv (Acq => AOL), Playdom (Acq => Disney), Box, Clearslide, DocuSign, and SendGrid. Prior to joining Bessemer, Byron was a successful entrepreneur, investor, and most recently worked as an executive at IBM after the acquisition of Trigo, where he served as president & CEO.
Donna is a serial entrepreneur best known for her work as CEO of Palm Computing and then Handspring, pioneers of the first successful handheld computers and smartphones. Previously, Donna spent 10 years in a multitude of sales, sales support, and logistics functions — both at Apple and at Claris, an Apple software subsidiary. She founded Numenta with her long-time business partner, Jeff Hawkins, in 2005. Numenta has a two-pronged mission — to figure out how the brain works and then apply it to create more powerful machine intelligence.
Donna earned a B.A. from Yale University, and an M.B.A. from Harvard Business School. She currently serves on the boards of Numenta and Twilio (NYSE: TWLO). Donna also served on the board of Yale University from 2006-2018, including two years as Senior Fellow.
Jeff Epstein is an Operating Partner at Bessemer Venture Partners, where he specializes in marketplaces and enterprise software. He serves on the Boards of Directors of Kaiser Permanente, Booking Holdings, Twilio, Shutterstock and several private companies. He is also a lecturer at Stanford University.
He is the former Executive Vice President and Chief Financial Officer of Oracle, one of the world's largest and most profitable technology companies, with a market value of over $150 billion.
Prior to joining Oracle, Jeff served as Chief Financial Officer of several public and private companies, including DoubleClick (sold to Google), King World Productions (sold to CBS) and Nielsen's Media Measurement and Information Group. Earlier in his career, he was an investment banker at The First Boston Corporation.
He holds an MBA from the Stanford University Graduate School of Business, where he was an Arjay Miller Scholar, and a BA from Yale College, where he graduated summa cum laude, Phi Beta Kappa.
Jeff joined NEA in 2018 as a Venture Partner on both the technology and healthcare investing teams.
Jeff served as chairman and CEO of GE for 16 years where he revamped the company's strategy, global footprint, workforce and culture, transforming it into a simpler, stronger, and more focused digital industrial company. During his tenure, he led several innovative transformations which doubled industrial earnings, reshaped the portfolio, re-established market leadership, grew a strong share position in essential industries, and quadrupled emerging market revenue. Prior to being appointed Chief Executive Officer in 2000, Jeff held several global leadership roles at GE in the Plastics, Appliances, and Healthcare businesses and became an Officer of the company in 1989. He has been named one of the "World's Best CEOs" three times by Barron's, and while he was CEO, GE was named "America's Most Admired Company" by Fortune magazine and one of "The World's Most Respected Companies" in polls by Barron's and the Financial Times. He has received 15 honorary degrees and numerous awards for business leadership.
Jeff earned a B.A. degree in applied mathematics from Dartmouth College and an M.B.A. from Harvard University. He currently serves on the board for NEA portfolio companies Collective Health, Desktop Metal, and Radiology Partners, and is a member of The American Academy of Arts & Sciences. He and his wife have one daughter.
Originally from the South Side of Chicago, Patrick came to Massachusetts at 14, when he was awarded a scholarship to Milton Academy through the Boston-based organization A Better Chance. After Harvard College and Harvard Law School, he clerked for a federal appellate judge and then launched a career as an attorney and business executive, becoming a partner at two Boston law firms and a senior executive at Texaco and Coca-Cola. In 1994, President Clinton appointed Patrick to the nation's top civil rights post, Assistant Attorney General for Civil Rights.
In 2006, in his first bid for public office, he became Massachusetts' first African-American governor. In his two terms as Governor, Patrick oversaw the expansion of affordable health care to more than 98 percent of state residents, launched initiatives stimulating clean energy and biotechnology, won a national Race to the Top grant, and steered the state out of recession to a 25-year high in employment.
From April 2015 to December 2019, he served as a Managing Director of Bain Capital LLC, where he focused on investments that deliver both a competitive financial return and significant positive social impact. He is the Founder & Chairman of TogetherFUND, a political action committee to support progressive politics and grassroots groups working to drive turnout and engagement among disenfranchised and marginalized voters.
Patrick is a Rockefeller Fellow, a Crown Fellow of the Aspen Institute, and the author of two books, A Reason to Believe: Lessons from an Improbable Life and Faith in the Dream: A Call to the Nation to Reclaim American Values.
Erika Rottenberg is the Former General Counsel for the Chan Zuckerberg Initiative (CZI).
Erika brings more than 15 years of experience in the boardroom, and expertise in privacy, cyber security, intellectual property, policy, M&A and corporate governance. She also brings extensive experience as a global operational technology executive and General Counsel at leading, fast-growing, disruptive technology companies with global scale.
Operationally, prior to CZI, from 2008 to 2014, Erika was Vice President, General Counsel and Secretary of LinkedIn, the largest professional network on the internet. As LinkedIn's first and long-term General Counsel, she was responsible for LinkedIn's global legal and regulatory affairs, privacy and policy. . Prior to LinkedIn, Erika was Senior Vice President, General Counsel and Secretary at SumTotal Systems, a talent management enterprise software company, and she held several roles at Creative Labs, including Vice President, Strategic Development and General Counsel. Erika began her legal career at Cooley LLP, where she practiced corporate and employment law.
In addition to serving on the Twilio Board, Erika serves on the boards of directors of Girl Scouts USA and the Silicon Valley Law Foundation. Erika also served on the Board of Nasdaq-listed Wix.com, a cloud-based web development platform, from 2014-2020.
Erika holds a bachelor's degree in Special and Elementary Education from the State University of New York at Geneseo and a juris doctorate from the University of California, Berkeley, Boalt Hall School of Law.
twilio.org
Giving a helping hand
We believe the tools we build can improve lives everywhere. That's why our social impact arm, Twilio.org, provides technology, funding, and time to help organizations expand their impact using communications technologies.

Read about Twilio's Impact
Interested in becoming a Twilion?
Whether you are the queen of code or the maestro of marketing, we are always looking for passionate individuals to join our expanding global team of Twilions.
Visit our jobs page
Press coverage
Visit our press page to learn about Twilio's recent company announcements and press coverage or to get in touch with Twilio's Public Relations team.
The Twilio brand
Are you looking for the official version of our logo, colors, and images?