Customers today expect businesses to communicate with them instantly—no one wants to spend hours on hold on the phone just to get a quick answer to a simple question. That's why real-time messaging is so important for businesses to provide a positive customer experience.
Email and phone calls can be great tools for reaching your customers with marketing messages or engaging in longer conversations. But when it comes to addressing customer questions and concerns, businesses need a more immediate touchpoint.
This post will explain what real-time messaging is and how you can use it in your business.
What is real-time messaging?
As the name suggests, real-time messaging is instantaneous communication between 2 or more participants, such as a customer and a customer service agent or a patient and a registered nurse.
This type of messaging occurs via channels such as live chat on a website or app, an over-the-top messaging platform such as WhatsApp or Facebook Messenger, or an internal instant messaging platform such as Slack or Microsoft Teams.
Real-time messaging can also refer to communications between smart or autonomous devices. But for this post, we'll focus primarily on messaging between humans or a human and a chatbot.
Modern vs. traditional real-time messaging
Remember AOL chat rooms? Those were the early days of real-time messaging—synchronous communication that could only occur if all participants were online in the app at the same time. Today, real-time messaging can be either synchronous or asynchronous, which means it functions whether all users are online or not.
Let's take a closer look at these 2 types of messaging:
Synchronous messaging
Means both parties are in the chat at the same time
Has a defined beginning and end (the conversation ends when the chat window closes, and messages don't typically save)
Can lead to quick, efficient conversations
Asynchronous messaging
Means each party can drop in and out of the conversation as needed
Has no clearly defined beginning and end, and the messages typically save so that either party can access them at any time
Can allow for more flexibility for each party to respond, but that can lead to longer wait times
Live chat, one of the most common forms of real-time messaging for business today, typically relies on chatbots and live agents to provide real-time communication that feels synchronous to the customer. For example, while the system might search for an agent to handle the inquiry in the back end, a chatbot or virtual assistant might ask or answer a few simple questions to get more context on the customer's needs in the front end, like in the below example from TripActions.
As it has evolved, real-time messaging has acquired new features. Back in the day, it was just a plain chat window where we made our own emojis ;-), but modern real-time messaging has a host of useful features, such as read receipts, automated replies, multimedia capabilities, group chats, and more. This allows for clearer communications and can lead to quicker resolutions. For example, if a customer contacts a customer service representative about a damaged item they received, uploading photos can help add context to the conversation.
Benefits of real-time messaging for business
Many customers don't want to pick up the phone—they'd rather communicate digitally with businesses. Don't believe it? Our 2022 State of Customer Engagement Report found that 36% of consumers would rather endure some inconvenient experiences (like lose internet for a day or go through airport security) than call customer support.
Real-time messaging provides a digital touchpoint that makes it easy for customers to reach out, which is crucial to creating a positive customer experience. Offering some type of live messaging has essentially become the norm, and customers are quick to go to another business if you don't provide the support they need. In fact, 56% of consumers say a single frustrating customer support experience is enough to send them to the competition.
Additionally, investing in digital customer engagement can have an impact on your bottom line. Companies that made this investment saw top-line revenue growth of 90% on average.
How businesses can use real-time messaging
There are many ways to leverage real-time messaging for customer engagement, as any easy-to-resolve customer interaction that doesn't need to be in person can benefit from it. Here are some of the most popular use cases for businesses.
Customer support
Live chat on a website or app is the most popular use of real-time messaging because it combines chatbots with live agents to make the experience smoother for the customer and the agent. This type of communication is ideal for replying to simple questions (e.g., "What's your return policy?") and resolving straightforward requests (e.g., "Can you change my payment method on my subscription?").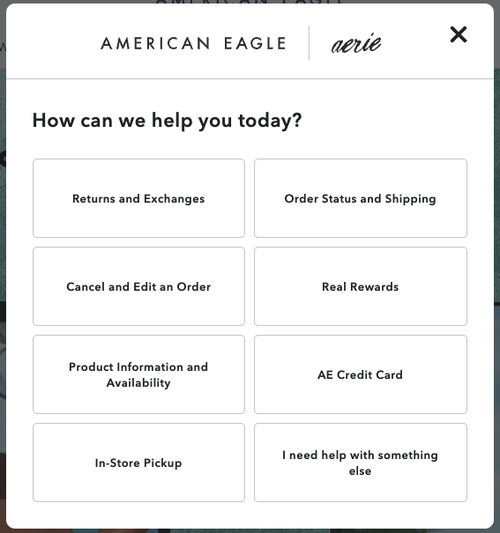 Often, as in this example from American Eagle, the customer has the option to self-serve before even reaching an agent. While the customer could navigate to the FAQ page to find the answer to their question, the convenience of the chat window offers a more seamless experience overall. And if they can't find the answer, they can always reach a live agent for more information.
Healthcare
Sometimes you just need to ask a healthcare professional a question, but it doesn't feel significant enough to schedule a doctor's appointment. For nonemergency situations, real-time messaging can be an effective way to quickly address patient concerns.
For example, a patient could message a registered nurse to ask whether a new medication can have adverse effects when combined with existing prescriptions. Plus, if the platform supports different types of media, patients can even send photos or videos.
Keep in mind that when using real-time messaging for healthcare purposes, it's vital to ensure you comply with HIPAA guidelines.
Sales
Today, it's common to see real-time messaging embedded on websites for products and services. That's because it's a simple and effective way to engage with potential customers who already show an interest in your business.
Rather than making customers jump through hoops and provide a slew of personal information before they can learn more about your business, real-time messaging makes it easy for sales representatives to answer visitors' questions and point them to the right product or service.
Real-time messaging allows you to communicate with potential customers at the right moment when they're deciding whether to do business with you—it can make all the difference in closing the deal. In fact, in a case study by Neil Patel, he saw a client's conversion rate improve by 45% thanks to live chat.
While customers rarely make a purchase within the chat itself (as the user experience is usually not streamlined), real-time messaging can help them get all the answers they need to make a purchase.
Real estate
In real estate, there's a lot of back and forth between customers and agents. For customers in the early stages of research, real-time messaging can help alleviate long wait times and promptly provide potential buyers or renters with the information they need.
For example, rather than emailing an agent for a tour appointment and waiting hours or days for a response, customers can use real-time messaging to book an appointment. Typically, a chatbot can handle this interaction without the need for a live agent to jump in. But a hybrid real-time messaging approach—with a chatbot and live agent available for more complex questions—is ideal to ensure you can quickly resolve inquiries and help customers finalize their decision.
Explore Twilio's Messaging APIs
Ready to give real-time messaging a try? Twilio's Messaging APIs empower you to build communication flows for every type of customer interaction, including customer conversations in real time. The Conversations API offers multimedia support, participant management, conversation states and timers, custom opt-ins and opt-outs, and more. Plus, it's HIPAA eligible, so you can have peace of mind when using real-time messaging for your healthcare organizations.
Learn more about Twilio Conversations and try it today.