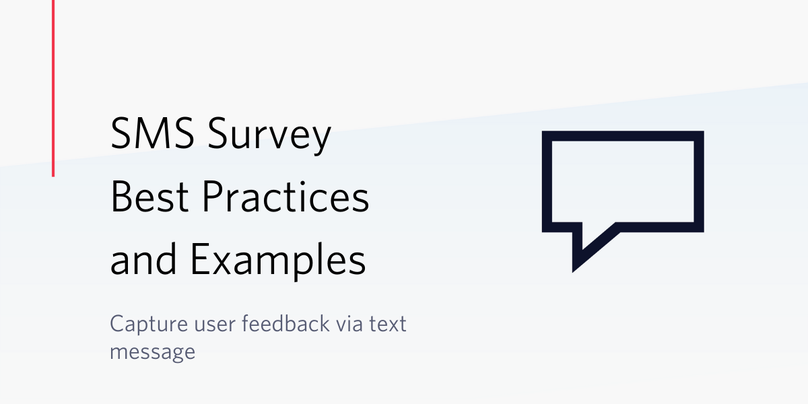 What is an SMS Survey?
An SMS Survey allows you to capture user feedback via text message. Customer feedback is a critical part of doing business and SMS surveys are a cost-effective method of collecting data quickly and efficiently. With an SMS survey, you can reach your customers in a timely manner in order to organize user information into actionable insights.
When you create an SMS survey, customers can text your number to access the survey or, if you have permission, you can send the survey with SMS directly to their phones.
To better understand how to use SMS surveys, we chatted with the Twilio Customer Experience (CX) team to get their expert opinions. Let's get started—read on for best practices for building SMS surveys.
Best Practices for SMS Surveys
According to the Twilio Customer Experience (CX) team, SMS surveys are best used for timely and recent events since SMS is an immediate communications channel with a high open rate. While all use cases are different, the most important step is to make sure your SMS survey adheres to SMS best practices to ensure compliance, deliverability, and overall customer satisfaction. Below are some additional best practices to consider from our experts.
Set Your Goals
Determine what you want to learn and what you would like to do with data from your SMS survey before you start building. Define your goals first and then begin writing your questions to help you reach your stated purpose. Your respondents' time is valuable, so once you know what your goals are, research what data might already exist that could inform your research goal (or even answer it). Then you can determine the unique questions you want your respondents to answer.
Know Your Audience
Knowing your audience is much more than identifying a list of names to reach out to. In addition to who you are surveying, you'll want to consider your sample size, the timing, and permissions required to send the survey.
Timing: Consider timing for when it is best to send the survey, especially if your survey is related to a specific event or user action.
Sample size: Make sure your sample size is large enough to warrant a survey, otherwise you may want to consider interacting with users directly via phone calls or email.
Permission: Always provide an option to opt-out and make sure you have the correct permission to contact your users for surveys before sending.
Keep Your Message Simple and Concise
A common mistake is making your survey too long. Keep your messages and questions short and consider making answers quantifiable. For example, it may be more actionable to measure an answer on a scale from 1-10 than to ask for qualitative feedback. Also, don't forget to thank your respondents for their time!
Example Use Cases for SMS Surveys
There are a number of ways you can leverage SMS surveys. Here are a few use cases that we've seen recently.
Collect Feedback on Events and Workshops
On the Twilio Startups team, we like to use SMS surveys to get feedback on our events and workshops so we can improve our offerings. We give participants a Twilio number to text at the end of the event and they can respond to a simple survey in order to provide an overall score and qualitative feedback via text. (Check out the example below.)
The information is sent to a spreadsheet where we can see it immediately, so we can organize it, analyze it and ultimately, understand our audience better. With Twilio you can build a simple SMS Survey in Twilio Studio without coding or check out the Twilio docs for more information for a step-by-step guide.
Customer Engagement SMS Survey
Customer experience (CX) refers to the interactions between a customer and an organization throughout all points of contact. A good customer experience is strongly correlated with customer loyalty and company revenue growth. An SMS survey is an easy way to gather transactional information about an event or experience. For example, rather than asking a general question, you can measure a Net Promoter Score (NPS) or Customer Satisfaction Score (CSAT) score for a specific event or experience immediately after it happens. You can set up automated surveys to collect information at the right time, on the right channel for your audience.
Voting SMS Survey
You can use an SMS survey to collect and tally votes quickly at scale. For example, Salesforce built a Twilio-powered SMS survey for their "audience choice" award at their annual conference. Powered by Twilio SMS and Force.com, the app received and tallied votes from the 19,000 Dreamforce participants and responded in real time with SMS confirmation messages.
Covid-19 Health SMS Survey
Collecting timely data is critical to contact tracing for Covid-19. For example, a team of researchers from University of Arizona's Data Science Institute (UADSI) developed an SMS survey to help reduce the spread of COVID-19 powered by Twilio Programmable Messaging. The UADSI needed to deploy and scale its screening survey in less than a week. Using the SMS survey, residents of Pima County could simply text "JOIN" to the system's phone number to opt in. Next, they could reply to a confirmation text with their zip code in order to receive the survey in either Spanish or English. The survey allowed participants to report on the health status of their households weekly. With Twilio, the team was able to easily scale its SMS survey and make updates ongoing as new information became available.
Build an SMS Survey
Ready to get started building your own SMS Survey? After you've determined your audience and goals, the next step is to confirm the questions you want to ask. Once you have this information, you can start building your survey using the survey template in Twilio Studio. (See below.)
Twilio Studio is a visual interface where you can use drag and drop tools alongside custom code to craft and iterate prototypes and go live quickly. The template provides a shortcut to a pre-made Studio flow with three questions, check response widgets, and of course, a thank you at the end.
You can always build your SMS survey from scratch, but by starting with the template you can save time and still customize the questions and modify any widgets to fit your needs. You can also set up how you want responses to be saved so you can best organize your data. Once you edit the Studio flow, connect it to your Twilio number and test it before sending it to your audience.Then, share your survey and start measuring your feedback instantly.
Check out this blog post on how to build a simple SMS Survey in Twilio Studio without coding and the Twilio docs for more in-depth tutorials on how you can use Twilio Programmable SMS to create actionable SMS surveys.