Need text message templates for your marketing campaigns? We've got just the thing.
It can be difficult to know where to begin when starting to use SMS, but it may be the hero of your marketing communication strategy. With the opportunity for versatile content and creative campaigns, as well as high average open rates, SMS should be a priority in your outbound messaging communications with customers.
To help you get started, we've compiled everything you need to know, including a wide variety of text templates and text message examples, like:
Best practices for messaging templates
Appointment reminder templates
Order confirmation templates
Delivery notification templates
Abandoned cart reminder templates
Marketing and promotions templates
Best practices for text message templates
The first and most important thing to remember when writing SMS text messages (whether one-off messages or text message sequences) is that there's a character limit of 160 characters per message. That said, most modern devices can accommodate up to 1,600 characters, but the best text message format is to stick with 160. Knowing that you have this character limit should empower you rather than limit you—you have a real opportunity to get creative with these messages because of it!
Templates are a great way to optimize your campaigns with best practices. For instance, using an appointment reminder template will ensure you never forget to include the date, time, and place. But a template for an order confirmation text message will naturally include a link to the product order and perhaps a discount code for the next order. Employ the automated text message template as part of your standardized procedures, but still have fun with your text messages.
To learn how to set up SMS for your business, check out our article Getting Started With Twilio Free SMS for Businesses, and use the following text message templates to build your next campaign.
In addition to the use cases in this post, SMS can be a great communication tool for nonprofit organizations. Social impact builders, look no further to scale your reach and impact. Twilio.org can help you achieve your goals by utilizing digital technology and available financial resources. Get started today at no cost by signing up here for your Impact Access Program product credits. Eligibility criteria apply.
Appointment reminder templates & text message examples
When writing appointment reminders for SMS, highlight the most important information for subscribers. Usually, that's the date and time of the appointment, the name of the person associated with it, and anything the person may need to bring or prepare ahead of the appointment. But remember the character limit with SMS. Other important information, like links to your website or opportunities to make changes to the booking, can go out in follow-up messages to work around the character limit.
In this context, SMS notifications and reminders leading up to the actual appointment can be effective. You don't want to inundate your recipients with reminders, but sending them sparingly can be helpful. After the initial confirmation, we recommend sending your first reminder a week before the appointment, then again on the day of the appointment. Use the following reminder message sample to strengthen your series of well-timed communications.
Appointment reminder example
COVID-19 vaccine appointment reminder example
As appointment reminders are standard cause for communication, you can start with these basic text message samples to customers, then customize them to suit your business needs.
Appointment confirmation template
Hi [CUSTOMER NAME],
Your appointment on [DATE] at [TIME] is confirmed. View the details of your booking here: [LINK].
Appointment reminder template – One week away
Hi [CUSTOMER NAME],
Your appointment on [DATE] at [TIME] is coming up. View the details of your booking here: [LINK].
Appointment reminder template – Day of
Hi [CUSTOMER NAME],
Your appointment is today, [DATE], at [TIME]. See you soon! View the details of your booking here: [LINK].
Order confirmations & delivery notification templates
Order confirmation messages should provide the most important information to recipients. As you can see in this confirmation message sample, the customer will need the order number, tracking link, and estimated delivery window. When adapting a delivery notification template to your business needs, indicate your business name in each message clearly to avoid the recipient thinking it's spam.
Order confirmation text message example
Delivery notifications should provide the same information as order confirmation messages, in addition to a reminder of the time and date of delivery. These messages are most effective when sent the day prior to estimated delivery and again on the day of delivery. Once you've used our notification text message example to assure buyers the shipment is on the way, you can have a bit of fun with the copy of your messages. Consider how you might expand upon the SMS example below, using some of your brand flavor and finesse.
Delivery notification SMS examples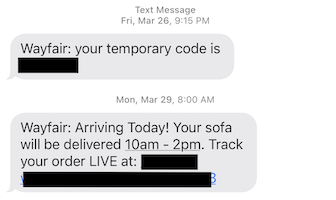 Order confirmation template
Hi [CUSTOMER NAME],
Thank you for your business! Your order number is #[ORDER NUMBER]. We will send you a tracking link once your order has shipped.
Tracking link template
Hi [CUSTOMER NAME],
Your order #[ORDER NUMBER] has shipped! Track your shipment here: [TRACKING LINK].
Delivery notification template – Day before delivery
Hi [CUSTOMER NAME],
Your order #[ORDER NUMBER] is scheduled to arrive tomorrow. Track your shipment here: [TRACKING LINK].
Delivery notification template – Day of delivery
Hi [CUSTOMER NAME],
Your order #[ORDER NUMBER] is out for delivery. Track your shipment here: [TRACKING LINK].
Delivery confirmation template
Hi [CUSTOMER NAME],
Your order #[ORDER NUMBER] has been delivered. Enjoy!
Abandoned cart reminder SMS
Abandoned cart reminders via SMS are versatile and can be mini-nurture campaigns in a sense. Remember that we have limited characters to work with in sending SMS messages, but feel free to have fun with the copy. You're trying to entice people to come back and complete their purchase, and the best way to do that can be with clever copy.
However, before you can send some fun reminders, there are a few crucial pieces of information you'll need to include. Using the customer's name in the text message sample can be an effective way of grabbing their attention and personalizing the SMS. The message will also need to include a link to complete the purchase, as you'll see in the following SMS sample.
Abandoned cart reminder text message example
If you choose to create a mini-nurture campaign with your abandoned cart reminders, your follow-up messages should also include the cart link. Here, you'll see discount message examples and other follow-up incentives designed to encourage purchase completion.
Abandoned cart reminder template
Hi [CUSTOMER NAME],
Something was left in your cart! Come on back and grab it before it's gone. [LINK TO CART]
Abandoned cart reminder template – Nurture
Hi [CUSTOMER NAME],
Looks like you've forgotten something in your cart! Complete your purchase today and get [DISCOUNT AMOUNT]% off with code [DISCOUNT CODE].
Let's shop: [LINK TO CART].
Marketing and promotions SMS templates
SMS is a great channel for promoting special offers and discounts, especially for those in ecommerce! Don't be afraid to get creative with these messages. The most important information to include in your copy is the special discount or offer and the link to start shopping, but for the rest, you can vary and personalize.
Black Friday SMS promotion example
Addressing the subscriber by name can be a great way to get their attention, and in messages like the sample text message above, the reference to "VIP customers" or "VIP access" is even better. The message also states clearly who the message is from so that it leaves no question in the recipient's mind about the sender or legitimacy of the deal.
This SMS text template also demonstrates how the recipient has the chance to opt out of future marketing communications, which can help keep your list engaged. Keep in mind that while your recipients opted into receiving communications, they still don't want to be inundated with texts. It's also important to remember that receiving too many promotional communications can feel intrusive, making the recipient feel spammed. Instead, try to send these kinds of marketing SMS messages sparingly, as these can greatly impact the customer experience.
Marketing and promotions welcome template
Hi [CUSTOMER NAME],
Thanks for signing up for exclusive promotional texts! To welcome you, here's a code for [DISCOUNT AMOUNT]% off your next purchase.
Shop now: [LINK].
Not interested? Reply [UNSUBSCRIBE KEY]
Marketing and promotions ecommerce SMS template
Hi [CUSTOMER NAME],
We've got a huge sale right now for our VIP customers, and you're invited! With [DISCOUNT AMOUNT]% off all regular price items, you won't want to miss this.
Shop now: [LINK].
To unsubscribe, reply [UNSUBSCRIBE KEY]
Start sending with Twilio SMS templates
Remember, although you have a character limit, the most important part of SMS strategy is providing accurate information to recipients. Clever marketing campaigns can help grab the recipients' attention and entice them to engage with your messages, but avoid spammy language that'll turn them off your communications.
Whether you're a developer by trade or don't code at all, Twilio has SMS templates to help you send to your recipients. Powering over 66 billion messages per year, Twilio's SMS API has your back. Sign up today and start building with our text message templates for free!